The Community Effect:
Dr. Smita Pakhale's participatory approach to improving tobacco usage among Ottawa's vulnerable population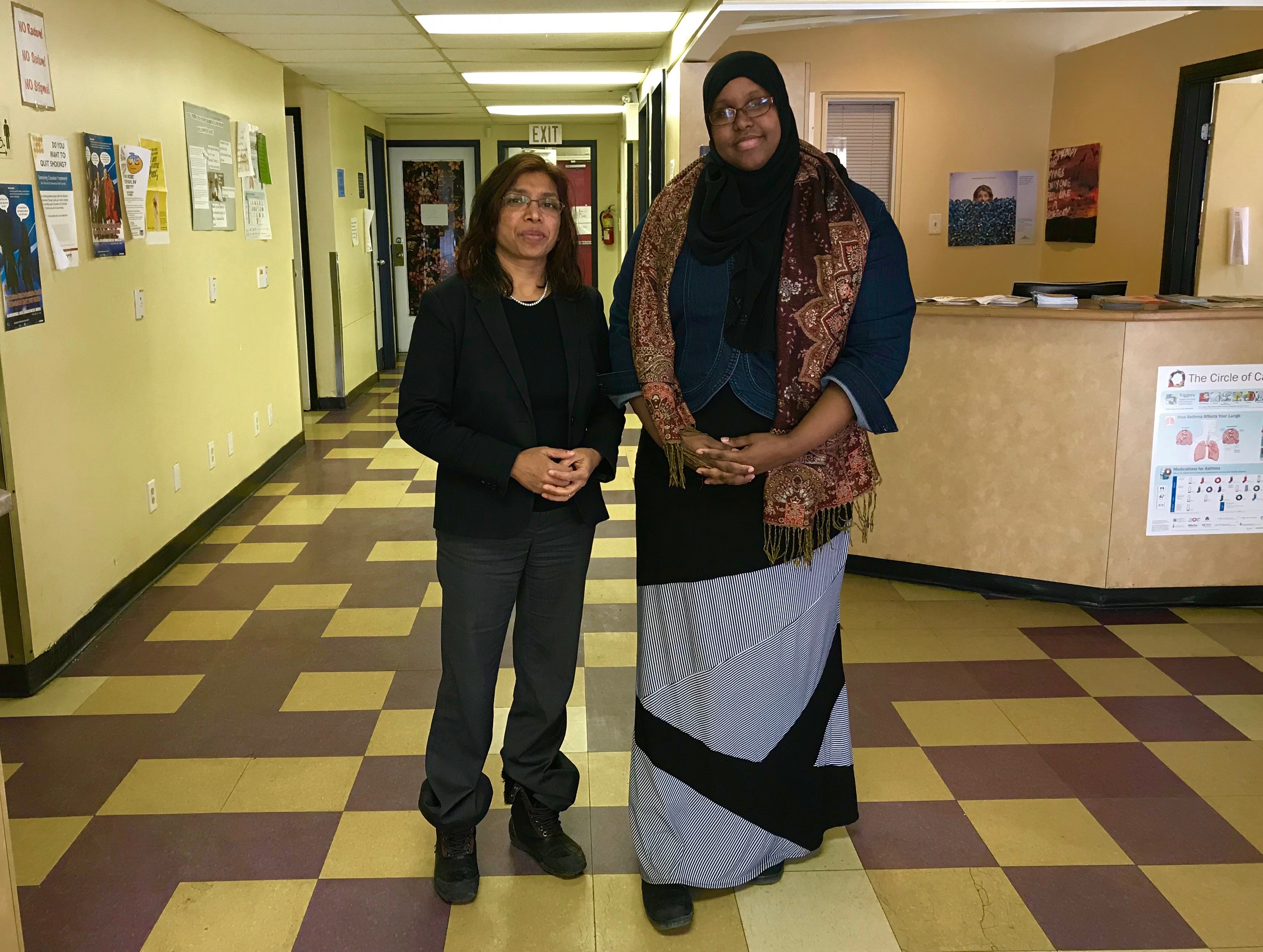 Dr. Smita Pakhale (left) and Sadia Jama (right) at the Bridge Engagement Centre in downtown Ottawa [Photo © Lia Pizarro]
Located on Murray Street, just beyond the periphery of Ottawa's touristy Byward Market, the bright red doors are hard to miss. The Bridge Engagement Center, as its name suggests, aims to reach across the divide that threatens to separate those coping with homelessness, poverty and drug use from the rest of the community. And it's where Dr. Smita Parkhale is battling one of the most serious but overlooked health challenges affecting  society's most vulnerable: tobacco use.
Upon entering through the doors of the Bridge, visitors find themselves within a comfortable and safe space of rounds tables and chairs, a full kitchen, and a number of community health and wellness resources from posters and pamphlets, to Dr. Pakhale herself.
Through her collaboration with members of the Bridge, Dr. Pakhale's work on community participation and patient engagement defines her approach towards achieving adequate and effective health care for tobacco users in Ottawa amongst vulnerable populations – recognizing that there are gaps amongst members of the community that have not been well served.
"I've done a lot of work with tobacco, and we know what devastating effects it can have on your whole life, so by providing support towards tobacco we find that people transform their drug use habits, and even transform their lives," she said.
Tobacco studies and vulnerable populations
In her early years, Dr. Pakhale attended medical school in India. She was given the opportunity to execute her own research projects in rural areas of the country and focused on asthma in middle-school children
She continued her education throughout North America, studying medicine at Columbia University in New York, fulfilling her respirology fellowship at the University of Manitoba and completing her master's degree in Epidemiology and Biostatistics at the University of McGill.
Today, Dr. Pakhale's work predominately involves clinical research. As a staff respirologist at the Ottawa Hospital, she established the first severe asthma clinic for the Ottawa-Gatineau region and has shared responsibility of the cystic fibrosis clinic, alongside four other clinicians.
Her involvement with tobacco-related issues in vulnerable populations stemmed from research she conducted with Dr. Mark Tyndall, now director of the University of British Columbia's Centre for Disease Control.
She was the co-investigator for a community-based research project he was leading on target populations such as the homeless, precariously housed, and multi-drug users. Through this project, she discovered that tobacco and tobacco-related diseases were the leading cause of death among these populations.
According to Dr. Pakhale, "Tobacco is a very strong physiological addiction, and there's a lot of neurobiological and structural changes in your brain that makes it the hardest to quit".
The research comes decades after landmark legislation passed 1989, when the federal government officially accepted the addictive nature of tobacco. But while this helped to dramatically curb the use of tobacco across the Canadian population on average, the transition has left behind many who are living on the margins, with significant consequences for health.
Now also working as the lead health-researcher at the Bridge, Dr. Pakhale highlights that those who are socially and economically segregated from their communities, including low income, low education and homeless individuals, racialized minorities, the LGBTQ, and so on, are smoking at a higher rate than the rest of the Ottawa population.
Members of these targeted populations also often find themselves stereotyped for smoking tobacco, further challenging their integration with the rest of society.
"Once you are homeless, once you are a drug addict or once you are picked up by a cop, you are stigmatized for the rest of your life," Dr. Pakhale says. "That population has less health care access even though you may say there is a universal healthcare system."
While Ottawa has one of the lowest smoking rates in all of Ontario, the PROMPT study found that there is approximately a 96% smoking rate amongst the drug-induced and vulnerable population of Ottawa.
The PROMPT Project
Under the leadership of Dr.Pakhale, the Bridge carried out a community research initiative called the Participatory Research in Ottawa, Management and Point-of-care of Tobacco (PROMPT) study.
Through the support of the Ottawa Hospital, the Ottawa Hospital Research Institute and the University of Ottawa, the research study is a response to the alarming rate of smokers within Ottawa's drug-using community. PROMPT aims to understand factors that impact how drug-induced and at-risk populations are able to manage, reduce and quit smoking tobacco in Ottawa.
"There is a lot of stigma and stereotype around it (smoking), and a lot of judgement. People don't want to come to the hospital, so I always wanted to do the study in the community around tobacco," says Dr. Pakhale.
The study involved participatory action from representative of the study's target populations. 80 individuals were enrolled and over the course of six-months, a nurse from the Canadian Mental Health Association would visit the Bridge twice a week to provide nicotine patches and gum, as well as counselling.
"We also did weekly, life skills workshops for individuals who needed banking advice, financial literacy, pet care, HIV education, cooking, arts, mindfulness, meditation," says Dr. Pakhale.
Impact of PROMPT
Results of the study came as a surprise for both researchers and the community members involved.
"What we saw even though we provided support for tobacco but a lot of safe space in a non-judgemental kind of environment, was that a majority of those people who came not only reduced and quit tobacco, but a lot of them reduced all other drugs," says Dr. Pakhale.
According to the physician, a third of the participants "improved their general socio-economic situations" by obtaining better employment, finding a better place to live, enrolling in school and even reuniting with family.
Four of the study's youngest participants enrolled in drug rehabilitation programs on their own.
Research coordinator Sadia Jama, who works closely with Dr. Pakhale at the Bridge, joined in at the end of PROMPT. According to Jama, working with Dr. Pakhale was a rewarding experience.
"There's not a lot of researchers out there who tackle these issues, and who do it from a scientific perspective. Even in the field of epidemiology, it's skewed to some of the more popular elements like infectious diseases, elements that we see on TV," she says.
While she was not there to see the full implementation of the study, Jama assisted with compiling data for analysis and some of the writing for the study's manuscript.
She was inspired by Dr. Pakhale's resilience to pursue work against the stigma and her ability to garner more attention over the general lack of health care services available for targeted populations.
"It's interesting working with Dr. Pakhale. She has an incredible amount of energy, very passionate, and truly believes in these causes. To be honest, she's a visionary," says Jama.
Major challenges
Of course, Dr. Pakhale is not without her share of obstacles in the medical research field.
Systemic barriers by funders and policy makers have made it quite difficult for her work to be as effective.
Major sources of funding in the past have come from organizations such as the Ottawa Hospital, the Canadian Institutes of Health Research (CIHR) and the Champlain Local Health Integration Network. However, Dr. Pakhale admits that there is still a struggle, especially when funding is sparse for city-wide medical studies.
"There's a lot of pressure from drug companies because everything costs a lot of money and because they are approving these new drugs, but there's no money for other things like what we're working on," says Dr. Pakhale.
There are also many day-to-day issues in trying to provide basic resources for marginalized populations, and even scrutiny from people who do not see the urgency of working with at-risk, tobacco users.
According to Dr. Pakhale, mechanisms currently in place to deal with these issues are not effective and not reaching the population most in need.
"There are a lot of challenges inside and outside from different groups. When I say that contemporary data we measure shows that almost everybody smokes, some people brush that away," she says.
Outside Perspective
Dr. Jeffrey Turnbull's work underscores the importance of Dr. Pakhale's vision towards a more inclusive health care system for all members of society.
Since his days as the chief of staff at the Ottawa Hospital and chief of critical quality at Health Quality Ontario, Dr. Turnbull has become a key figure in launching many of the city's healthcare services and education initiatives for the homeless.
He devoted more time working with homeless shelters and is now the medical director for Ottawa Inner City Health.
"I've always worked with the homeless, that's always been something that's had a lot of meaning to me," says Dr. Turnbull.
When looking at the overall health crisis for the homeless and vulnerable populations of the city, Dr. Turnbull says that there are a number of impediments we may not recognize such as the lack of education, transportation, stigma, access to English services or different culturally appropriate care.
"We have a very good health care system by and large…for you and I," says Dr. Turnbull. "If you happen to be in a vulnerable population whether in a rural remote setting, the indigenous community, or the very poor and elderly, those vulnerable populations suffer a great deal."
Similarly, Dr. Pakhale believes that systemic changes are necessary to change our current health care model.
"If you look at the European model for example, a lot of European countries have universal health care but their primary and preventative health care is very strong and their social fabric is much stronger, that may be what we're lacking," she says.
The Next Step
Dr. Pakhale's concentration in participatory engagement with the community stemmed from her long-standing interest in the root causes of inequity and her empathy for those who are disadvantaged.
"I always tell people that I work with, I was never homeless, I was never evicted, I was never a smoker, so how would I know? But I say they (the vulnerable population) are the experts. They've got to teach me," she says.
Recently, Dr. Pakhale was rewarded two grants from CIHR, and hopes to pursue pilot projects similar to PROMPT.
She also hopes to expand the study's target population, including members of the Indigenous community of Canada.
According to Dr. Pakhale, the Indigenous population is overrepresented in the cohort of the vulnerable population in Ottawa.
"With the urban-indigenous issue, no one knows how to solve that beast because people come from reserves and they come with big hope but find themselves racialized and marginalized. They become homeless, they get into that rut. It is so common," says Dr. Pakhale.
By dealing with these issues in our major inner cities, she says that "we will be able to accomplish so much on so many fronts of indigenous and non-indigenous issues of homelessness and poverty".