Could language apps slow dementia progression in Indigenous communities?
A First Nations-led study hopes to uncover a link between Indigenous language use and dementia progression in a population that is aging rapidly.
By Caroline Mercer and Raisa Patel
The File Hills Qu'Appelle Tribal Council language apps were originally created to help share Indigenous languages. Here, common Cree phrases are displayed. [Photo © Raisa Patel]
Miyo-kīsikāw pētāpan — good morning. The Cree greeting is read aloud by a language learning app developed by the File Hills Qu'Appelle Tribal Council, a community of 11 First Nations in Saskatchewan. The sound recording is accompanied by a photo of a young girl smiling and waving her hand.
When another phrase is tapped, a school-aged boy with his finger on his chin in contemplation appears. He's looking up at a speech bubble that contains Einstein's relativity equation, E = mc2. Ninisitohtēn — I understand.
The app is replicated in four languages besides Cree: Nakota, Lakota, Dakota and Saulteaux. Instead of swiping through stock photos, the Council chose images of familiar faces from within First Nations communities where possible.
Although they were designed to help First Nations peoples learn their languages, the apps could be useful to an aging Indigenous population — a group Statistics Canada predicts will more than double by 2036. That's why researchers at Morning Star Lodge, an Indigenous community-based research centre in Regina, teamed up with the Tribal Council to see whether regular use of the apps might reduce dementia progression in First Nations adults with the disease. The project was launched in March and was spurred by a recent rise in dementias affecting Indigenous Peoples — something researchers say communities are experiencing, but can't explain.
"We've never seen that rate, the increase," said Danette Starblanket, the project lead. "It's pretty well unheard of, prior to 10 years ago. We need to know why there's a spike."
According to the Public Health Agency of Canada, more than 7.1 per cent of Canadian seniors were living with dementia as of 2014. Dementias — a class of brain diseases that influence the way people think and recall information  — include symptoms ranging from memory loss to personality changes. The disease is caused by damage to nerve cells in the brain and can reveal itself in a number of forms, the most well-known of which is Alzheimer's disease.
A 2018 literature review from the National Collaborating Centre for Aboriginal Health reports that dementia rates will jump by 4.2 times for First Nations and 3.3 times for Inuit from 2006 to 2031. Another study on the emergence of dementia in First Nations communities also suggests the disease has an earlier age of onset in Indigenous peoples versus the general population.  Available evidence — which is limited and primarily focuses on First Nations as opposed to Inuit or Métis populations — suggests that the incidence of dementia in First Nations populations is also rising at a faster rate compared to the general population.
Funded by Toronto's Centre for Brain Health and Innovation, the Morning Star project follows 10 participants and their caregivers from 11 First Nations in Saskatchewan for 15 months. Participants' stages of dementia range from early signs of the disease to patients who have been diagnosed for a number of years.
Bringing back a protective factor
Language is considered a protective factor against dementia, which means it can potentially counter the development of the disease. The hope is that practising First Nations languages might slow early-onset dementia and stimulate brain activity in patients who are experiencing the condition.
Language learning has been linked to dementia before. One research study from 2013 found that dementia onset was delayed by four and a half years in bilingual patients compared with patients who spoke only one language. A leading theory behind this finding is that switching between two languages and suppressing the other results in continuous brain training.
In Indigenous communities, the relationship between language and identity could introduce benefits that go beyond brain stimulation. Starblanket said language brings community members to "a happy place…whether it be ceremony when they were children or whether it be their grandparents telling stories in that language."
Starblanket added that hearing First Nations languages could comfort agitated participants, calming feelings of frustration that are common with dementia patients.
Historical policies —  including the residential school system — actively tried to stop Indigenous languages from being spoken. Today, just one in six Indigenous people can converse in an Indigenous language, according to Statistics Canada. Starblanket said that encouraging young people to use language is a secondary goal of the study.
Carrie Bourassa — another researcher leading the study and the scientific director at the Institute of Indigenous Peoples' Health in Saskatoon — said there is a sense among First Nations communities that the rise in dementia is linked to the disappearance of other cultural protective factors, like ceremony, beading and song. Bourassa cited knowledge keepers, healers and elders in the community who have retained these factors, passing them on to the younger generation in an attempt to ensure a protective effect "going forward".
The legacy of residential schools, the removal of Indigenous children from their families during the Sixties Scoop, environmental degradation of traditional lands and inadequate nutrition may have led to the disappearance of protective factors which contribute to the emergence of dementia, Bourassa said.
"[Community members] just feel like those protective factors were in place and then something happened, some kind of trigger happened, or there was some kind of wearing down of those protective factors over time," Bourassa said.
Research has suggested that trauma caused by the residential school system could play a role because people with Post-Traumatic Stress Disorder are more likely to develop dementia.
A second childhood
Growing dementia rates might simply reflect shifting attitudes towards the condition. Memory loss is considered a natural part of the life cycle in some Indigenous communities, often referred to as a "second childhood."
But some First Nations and researchers argue dementia was not typically seen in these communities in the past at all.
Jennifer Walker, Canada Research Chair in Indigenous Health at Laurentian University, said literature points to increased rates of dementia in Indigenous groups internationally. Walker also mentioned local communities have shared their own experiences with increasing dementia cases.
The community on Manitoulin Island, for example, "highlighted dementia as a priority ten or fifteen years ago, because they saw the rates increasing," Walker said.
"[Community members] just feel like those protective factors were in place and then something happened, some kind of trigger happened." – Carrie Bourassa
Bourassa isn't sure whether dementia is truly a new phenomenon in Indigenous populations. However, she said that some community members believe that the disease really didn't exist until recently.
Health factors could be partially responsible. Hypertension, heart disease, stroke and diabetes occur especially frequently in First Nations communities, conditions associated with an increased likelihood of developing dementia. The precise link between these conditions and dementia is not fully understood, though research suggests disrupted blood flow to the brain could play a role in dementia development.
But Bourassa cautions that research dominated by discussions of suffering takes away from the Indigenous community's resilience.
"It marginalizes communities even more than they already are. To start doing asset-based, strength-based, resilience-focused research is essential."
This resiliency can be found deep within Indigenous culture, Bourassa said, but it's also found in those who practice it.
"We ask [communities] a lot about their problems," Bourassa said. "We forget to ask them, 'What do you see as the solutions?' Because guess what? They know."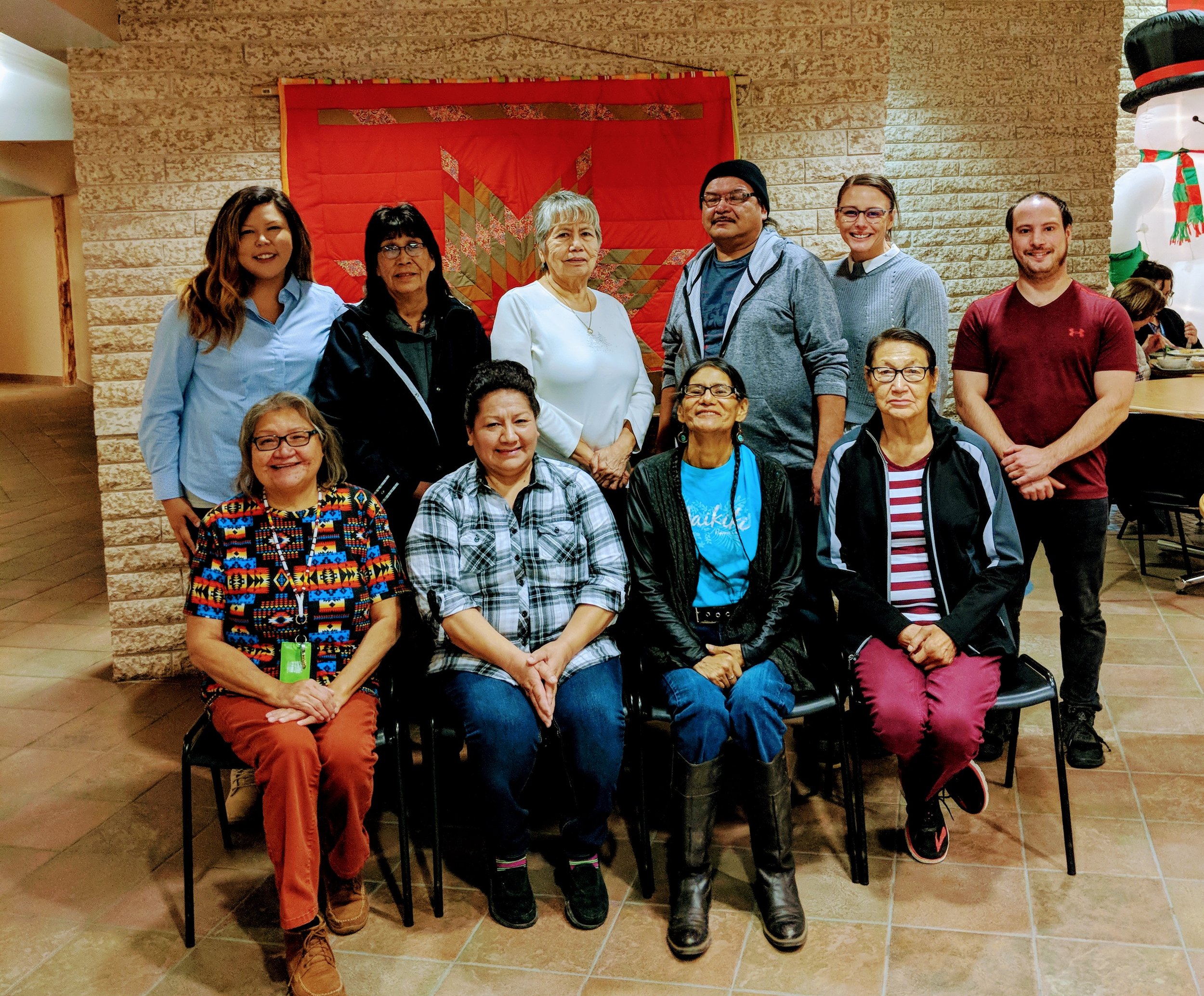 Morning Star Lodge researchers and the File Hills Qu'Appelle Tribal Council Community Research Advisory Committee. [Photo courtesy of Morning Star Lodge]
It was the File Hills Qu'Appelle Tribal Council that suggested creating the language apps, for example, and developed "culturally safe" activities like puzzles and colouring books for community members with dementia.
Morning Star Lodge's researchers also hope that technology like the apps might make it easier for older adults with dementia to age at home. This is important for Indigenous communities in remote locations, but it's also in keeping with cultural family values.
"Indigenous knowledge systems are really broken when we remove our elders from [communities]," Starblanket said.
Indigenous families don't regularly put older adults in care homes, Starblanket explained. But even this, she said, is changing. Care homes are now being built in Indigenous communities.
"We're becoming more and more mainstream all the time," Starblanket said. "We're acculturating to those systems."
Starting a national conversation
The federal government is working towards a national dementia strategy to address rising incidence of the disease. In 2016, the Senate recommended that the Indigenous community be represented as the strategy takes shape.
Walker, who is a member of the ministerial advisory board on dementia, said that the Public Health Agency of Canada is "really trying to make space and listen to Indigenous perspectives." That said, Walker said the dementia strategy needs to be inclusive of Indigenous experiences when talking about risk and protective factors, beyond behavioural factors like smoking and exercise.
Colonization, the impacts of trauma and connection to the land need to be considered when talking about Indigenous-specific strategies to address dementia, Walker said.
The federal dementia strategy is expected later this year with a more concrete action plan to follow. Walker said that the government will collaborate with Indigenous groups to develop the action plan.
For Walker, helping Indigenous communities deal with dementia means more than just diagnosing people who have the disease; it means supporting people who are living with dementia, and making sure their communities have the resources to do that.
"That's what I would love to see, that a diagnosis of dementia doesn't mean that people have to leave their home," Walker said.
Language learning apps could be a step in that direction.