Dirty secrets: The battle to label harmful chemicals in household cleaning products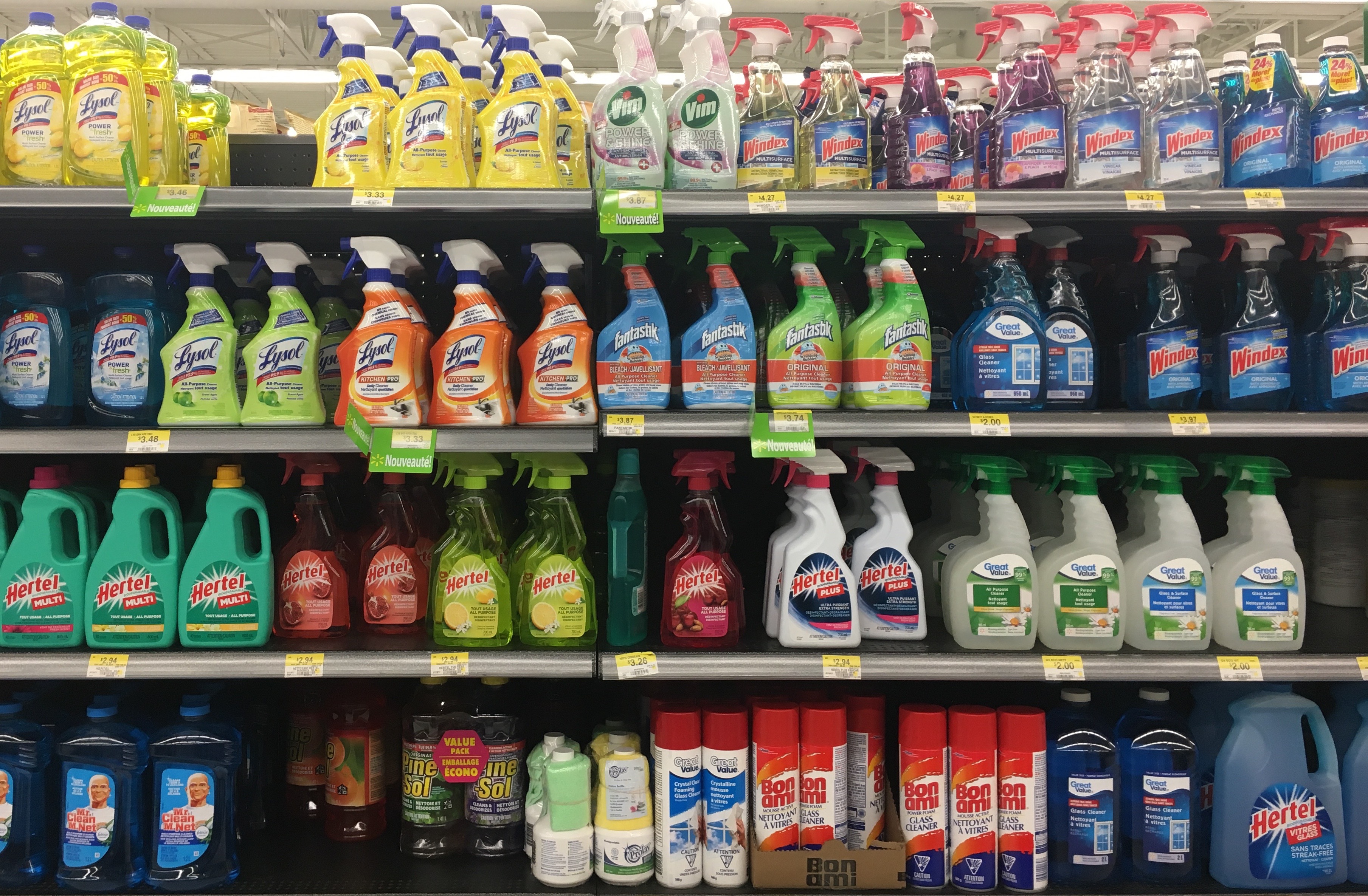 [Photo © Cassandra Plourde]
Have you ever wondered what ingredients are in your household cleaning products?
Take a moment and pick up the nearest cleaning product you can find. How hard is it to figure out what's in it, based on the labelling? What about in the bathroom? Does the toothpaste tube tell you everything it contains?
If a complete ingredient list is not present it's because, unlike some other countries, Canada does not require mandatory labelling on cleaning products.
However, if consumer groups have their way that could soon change.
Changes to modernize and improve the Canadian Environmental Protection Act (CEPA), the federal law for regulating pollution and toxic substances, are currently underway.
"Canada is falling behind the European Union and U.S. jurisdictions like California when it comes to product labelling and ingredient disclosure," says Muhannad Malas, Toxics Program Manager at Environmental Defence, in a press release.
Cleaning up toxic chemicals
Canadian consumers are becoming more aware of the health and environmental impacts of chemicals in household goods and are interested in finding safer alternatives.
However, due to regulatory gaps it is very difficult for consumers to know for certain whether a cleaning or personal care product contains harmful ingredients, as consumer product labelling rules in Canada often do not require complete disclosure of ingredients on product labels.
Bisphenol A, also known as BPA, is a substance used to make plastics that was banned from baby bottles, while triclosan, which can be found in toothpaste and soap, poses a risk to plants and fish, according to the federal government.
Phthalates, a group of chemicals, may pose a risk to reproductive and developmental health, the government says.
Canada already acknowledges that triclosan poses a risk to the environment, that newborns and infants are most vulnerable to BPA, and that some phthalate substances may have common, concerning health effects.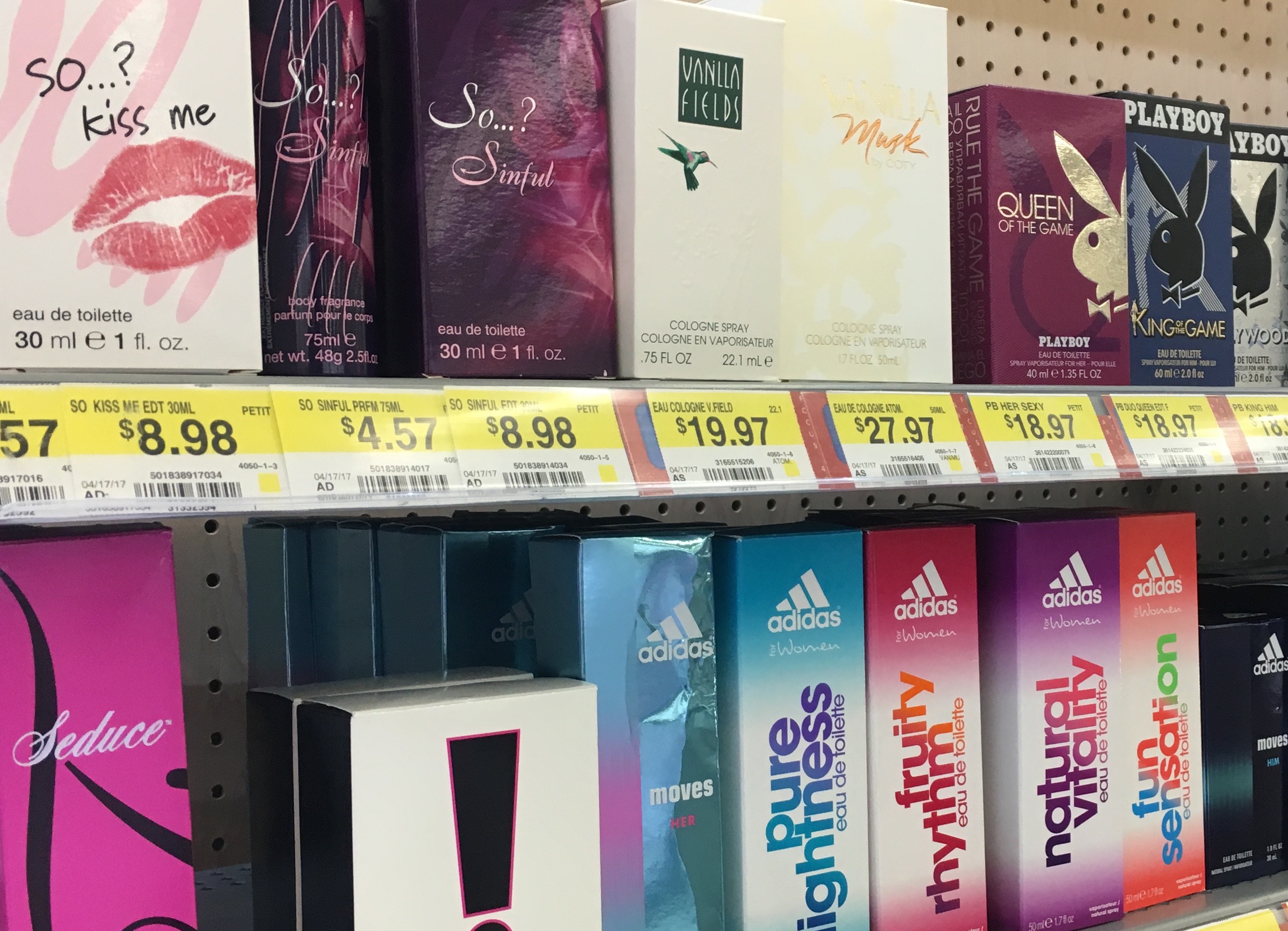 Many perfumes include harmful chemicals such as phthalates and synthetic musks. [Photo © Cassandra Plourde]
Disclosure of ingredients in household cleaners and in fragrance mixtures used in personal care products is not required, leaving consumers unaware of the potential presence of toxic chemicals in these goods.
Synthetic musks are also toxic and persistent environmental pollutants that have been detected in Great Lakes fish and sediments.
Despite public pressure and voluntary commitments by companies to disclose and eliminate chemicals of concern, many companies continue to use phthalates and synthetic musks and other potential harmful fragrance ingredients in their products.
Toxic chemicals continue to linger in products Canadians use daily, and long-term use is often linked to chronic health issues like allergies, endocrine or hormone disruption – and even cancer.
The report titled, 'Full Disclosure: The case for stronger household product labelling', hopes to reduce Canadians' exposure to harmful chemicals in products they use every day.
To do this, it recommends industry action to take harmful ingredients out of consumer products and government action to ban and restrict toxic chemicals.
"Canadian law does not require cleaning products and many cosmetics to feature a complete ingredient list," said Malas.
"Focus group results indicate that Canadians don't want to unknowingly expose themselves to cancer-causing and endocrine-disrupting chemicals in household products."
According to the research conducted by Environics on behalf of Environmental Defence, results show support for the introduction of health warning labels like those in the European Union, which warn consumers of potential health risks associated with certain harmful chemicals.
"Canada is falling behind the European Union and U.S. jurisdictions like California when it comes to product labelling and ingredient disclosure," said Malas.
In 2013, California updated its furniture flammability standards to require the disclosure on the product label of the use of flame retardants 
– a group of chemicals linked to endocrine disruption and adverse impacts on neurological development in children.
Since then, the use of some of the most common and harmful flame-retardants has significantly declined across the United States.
"Canadians deserve stronger labelling rules that enable them to avoid toxic chemicals that put their health, families and environment at risk," said Malas.
California also requires warning messages on all consumer products containing toxic chemicals known to cause cancer or reproductive health.
Updating CEPA
In June 2017, the House of Commons Standing Committee on Environment and Sustainable Development concluded a 16-month review of CEPA by making 87 recommendations to strengthen the law.
This includes requiring mandatory labelling of all consumer products containing toxic chemicals.
Environment and Climate Change Minister Catherine McKenna responded, indicating that the government is committed to examine potential amendments to CEPA and improve the implementation of the law.
CEPA regulates the release of pollution and the use of toxic chemicals in consumer products — a main source of Canadians' daily exposure to toxics.
In its current state, the Act is not equipped to successfully address the impacts that these low doses of toxic chemicals have on human health.
Exposures to chemicals such as BPA and flame-retardants have been linked to many chronic health conditions including cancer, infertility, and behavioural problems in children.
CEPA weakly protects vulnerable populations, like babies and pregnant women, who are more susceptible to the harms caused by toxics.
According to the Society of Obstetricians and Gynaecologists of Canada, the only way to protect women and children from the unknown effects of BPA is for the government to adapt CEPA.
"The Canadian public should be advised of the presence of known endocrine disruptors in consumer products, so that they can protect themselves," said Dr. Jennifer Blake, CEO, in a letter to the standing committee.
"Failure to provide clear labelling is paternalistic, and inappropriate in 2017," said Blake.
The government intends to report back on progress by June 2018.
Environmental Defence is a strong supporter of updating CEPA. [Tweet originated @envirodefence]
Groups across Canada seek change
Other organizations like the David Suzuki Foundation have also been working to publicize this issue.
In the spring of 2012, they invited Canadians to "expose the skeletons in their cleaning closets and participate in an online survey of toxic ingredients in their home cleaners."
More than 10,500 individuals participated in the survey, providing information for more than 15,000 home cleaning products.
The goal was to determine what information is available to Canadians about the ingredients in their cleaning products.
What they found was similar to the results of the Environmental Defence study –Canadians want more information about what's inside their cleaning products, but details can be hard to find.
According to the report, 99 per cent of participants want manufacturers to be required to disclose the ingredients in their products, and to have warning labels on cleaning products to identify ingredients linked to chronic diseases.
It also lists a series of recommendations for Canadians to avoid unnecessary exposure to toxic chemicals in household cleaners.
Some recommendations include reading labels carefully (don't buy products that list 'parfum' or 'fragrance', as these have been linked to chronic allergies), and look for third-party certification on products making environmental or 'green' claims.
Lisa Gue, a Senior Researcher and Analyst at the David Suzuki Foundation, says these recommendations are for what consumers can do in the meantime and also calls on the government to strengthen requirements so that we don't have to shop defensively.
"One of the empowering elements about this issue is there is something we can do in our homes while we're waiting for the government to institute regulations," said Gue.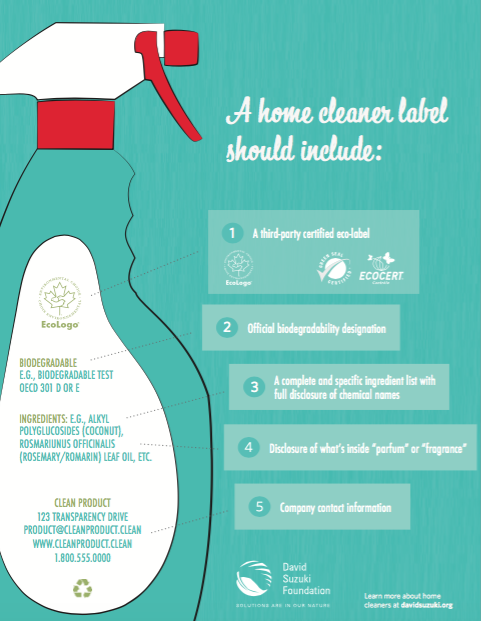 While waiting for improvements to CEPA, there are a number of things Canadians to do to limit their exposure to toxic chemicals in household cleaning products. [Photo courtesy of davidsuzuki.org, "Searching for a List of Ingredients in our Home Cleaning Products."]
Only 42 per cent of products analyzed in the report contained a complete ingredient list and 70 per cent of products entered contained some kind of claim to being 'green' compared to just 47 per cent that displayed an eco-certification.
Canada's 'Ecologo'
Third-body eco-certifications in Canada help companies become officially recognized as 'green'.
For example, EcoLogo® grants their seal of approval after reviewing and auditing the operations and products of various companies that meet specified requirements.
While Canadians wait for updates to CEPA to be made, the most they can do is search for products with complete and specific ingredient lists, official biodegradability designation, disclosures of what's inside 'parfum' and 'fragrance', and a third-party certified eco-label.
And although we may not have complete disclosure just yet, Gue says we are making progress.
"The fact that companies are going out of their way to bear the green seal is a positive sign for this issue," said Gue.
According to Shyam Ramrekha, the Environment Product Manager at UL, the group managing the Ecologo program, third-party certification helps standardize products with an environmental claim so that consumers can trust the brands they purchase.
"One of the effective ways we can make an impact is through educating the public, and helping the consumer to make a better choice," said Ramrekha.
"In the long term, we must find the sweet spot between health, environment, and finance."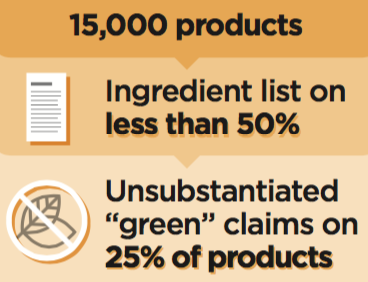 Results from the David Suzuki foundation survey found that many products claim to be 'green', even though they have not been certified. [Photo courtesy of davidsuzuki.org, "Searching for a List of Ingredients in our Home Cleaning Products."]