Saying goodbye to coal
Canada is taking the lead in getting the world to shift away from coal-fired electricity. But the road to a low carbon future must first begin at home.
Two Sydney Coal Railway locomotives leave the Lingan Generating Station, located on Cape Breton Island, Nova Scotia, after unloading a load of coal for the plant. [Photo © Ken Heaton, CC BY-SA 3.0]
Catherine Abreu was pleased last month when Environment Minister, Catherine McKenna, declared that Canada would help lead an international push to phase-out coal-fired electricity, after working closely with McKenna's office on this project.
The announcement, made at the latest UN climate conference in Bonn, Germany, stands in stark contrast to what is happening in the United State, where Donald Trump has doubled down on coal and withdrawn the United State from the Paris climate agreement. But while Canada's position on coal is the opposite of Trump's, its power grid is not yet coal independent and the pathway to getting there varies by region.
However, last year McKenna pledged to phase-out coal in Canada by 2030. Technically speaking, the shift should be easy, says Abreu, who is the Executive Director of Climate Action Network Canada, and who worked with McKenna's team before and during the Bonn meeting. But it means "holding every single province and territory with coal-fired electricity in this country at the same level of ambition," she says.
Abreu says that Canada is ready to take the lead on the coal-phase out, but this means that the government has to take the necessary steps to make this happen.
Among the Canadian provinces, Ontario was the first province to phase-out coal. A feat that took 17 years, according to Jack Gibbons, the head of the Ontario Clean Air Alliance and the lead on the phase-out of coal in Ontario. The Ontario phase-out, which ended in 2014, was the first jurisdiction in North America to eliminate all coal-fired electricity.
Today, there are only 5 provinces that still use coal-fired energy: Alberta, Saskatchewan, Nova Scotia, New Brunswick and Manitoba. However, Alberta has already begun the process of phasing-out coal. According to Abreu, while the global alliance was being announced, Alberta coal plants were handing out the first set of lay off notices.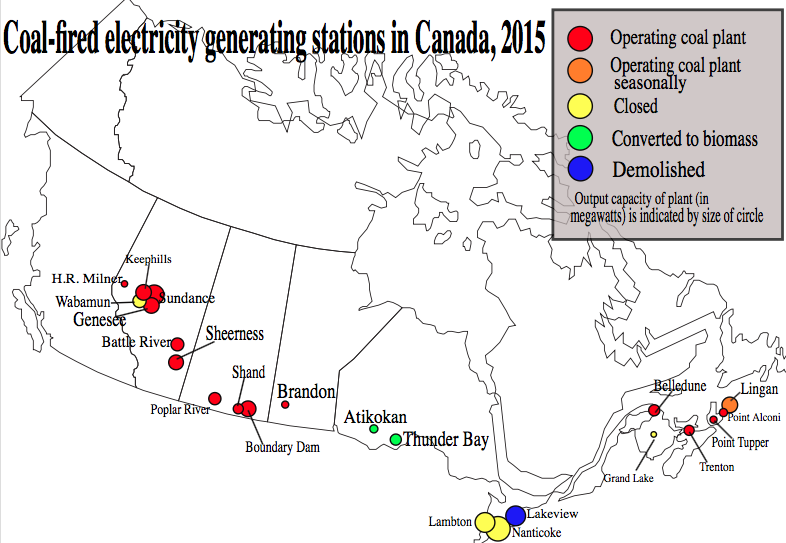 Since coal energy is on it's way out, Abreu says that it will be important to have a good transition strategy to help the workers who'll be displaced. As a global leader in the coal phase-out, the federal government will have to partner with the provinces to help with some of the necessary funding that will come up during the phase-out, says Abreu. Phasing-out coal will involve closing down coal plants in each provinces, according to recent research from Natural Resource Canada, Alberta will have the biggest phase out because they produce 65.7 percent of coal energy in Canada. Following Alberta, Saskatchewan generates 15.6 percent.
Abreu also mentioned, "in some provinces phasing out coal is going to mean having a better electricity grid that can connect different provinces with each other, so that electricity can flow more easily across provincial boundaries." The only thing to worry about, says Abreu, is if a province decides to switch from coal energy to natural gas, "which isn't ultimately the best solution" to help with climate change. Natural gas is known for being the cleanest fossil fuel, however, it's important to note that burning natural gas might not emit as much CO2 as coal, however, transporting and storing natural gas can have some impact on the environment. According to a CBC article, "there are concerns about the processes used to extract shale gas. The use of huge amounts of fresh water in the extraction process and the danger of leaks and pollution connected with drilling are the main causes of worry." Abreu says that the federal government will need to provide more access to renewable energy so that provinces are able to have an easy and environmentally friendly transition. In Ontario, Gibbons says the hardest part about phasing out coal is to try to convince owners of coal power plants and coal power worker unions to stop what they are doing and close their doors. Gibbons and his team had to go against "Ontario Power Generation, which owned the 5 dirty coal plants [in Ontario]," he says. "We had to demonstrate a broad coalition of support; we had to educate people about why the coal phase-out made sense for the people of Ontario." But most of all, Gibbons says it came down to the research, "We did good analyses that showed that phasing out coal was the lowest cost option to get a dramatic reduction in air pollution." The federal governments first step to phasing-out coal in the rest of the country should be "unveiling the relevant regulations that will govern coal phase-out and natural gas performance standard from the Federal government to the provinces," according to Abreu. The government needs to implement regulations that will allow Canada to meet its 2030 goal. Today, the global alliance has been signed by 20 countries, 7 American states and 4 Canadian provinces including Belgium, United Kingdom, France, Italy and many more
China and the United States have decided against signing the alliance, even though according to Natural Resource Canada, they were ranked first and second in world producers of coal in 2016.

Chart showing world production of coal, in 2016, adding up to 7.3 billion tonnes of coal that year. Source: Natural Resource Canada
The United States dropped out of the Paris Agreement back in June. Then in October, Trump's administration announced that they would repeal Obama's Clean Power Plan, a major climate change plan that was implemented to reduce carbon emissions coming from coal plants.  Abreu says, "Trump's administration's attitude [towards coal], I mean is discouraging and it's regressive and ridiculous," but, she says "there are more jobs being created in the solar industry in the US than it currently exists in the coal industry." According to the latest U.S Energy and Employment Report, solar energy employs 43 percent of the energy sector workforce, compared to 22 percent for fossil fuels. Because the U.S is holding back on this issue, Canada has decided to step up to the plate. Canada ranks twelveth, with a total of 1 percent of the worlds production of coal. Even if that number seems low, Canada must set the pace for the coal phase-out. "The leadership that this coalition is showing is only as good as Canada's ability to implement its own objectives on the ground," says Abreu.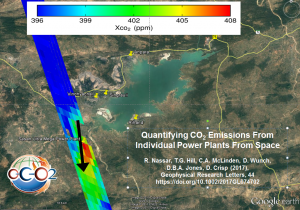 Photo courtesy of Ray Nassar
Ray Nassar is a Research Scientist in the Climate Research Division for Environment and Climate Change Canada. Nassar and his colleagues published a
study
, on October 13, that used satellites from NASA to quantify the CO2 emission coming from coal plants. "The idea of having a system to monitor emissions has been discussed at international climate meetings for many years and people have talked about different ways of doing that, including satellites or potentially other things," says Nassar. "The idea is that we are showing that with the current satellite observations we have, in select cases we are able to use those observations to do the type of monitoring that we would need to do if we wanted to have a monitoring system from space." According to Nassar, under the Paris Agreement, the data gathered would simply be "contributing information to help those countries reduce their emissions." However, Nassar says that under a policy like this "emissions reduction aren't really enforced in any way. […] But if we had a different system one where emission reductions were binding, and that would mean that if you didn't make the emissions reductions [goal], there would be a penalty of some form, whether that's a monetary price to pay or some other legal implications," then we would have full transparency of CO2 emissions around the world. As far as Canada goes, Nassar says that there aren't that many coal plants here. So it's fair to say that Canada is on the right track to completely phasing out coal energy, as long as Canada leads by example by allowing the monitoring of CO2 emission in the north.