Radar love : Canada's weather forecasting technology is about to get a boost
By Lindsay Campbell and Bianca Chan
On August 21, 2011, residents of Goderich, Ont., were left with little time to know that their town would be left in pieces. What was initially issued as a risk for a non-severe thunderstorm, quickly became hail, heavy rain and gusts of wind ranging from 250-320km/h. It wasn't until 10 minutes before the severe outbreak that meteorologists informed locals of what was to come.
A super cell tornado ripped through the centre square, damaging years of town history and homes in the surrounding area. A super cell tornado is a thunderstorm with a deep rotating updraft. The one that hit Goderich proved to be the strongest tornado to hit Ontario in over 15 years. It left one person dead and 37 injured, along with $130 million in damages to the town.
Despite the storm's potential ferocity, meteorologists lacked the data to see what was coming and inform residents until ten minutes before disaster stuck. Six year later, a new era in Canadian weather forecasting is set to turn the tables on extreme weather.
Last  February, Catherine McKenna, Minister of Environment and Climate Change announced the government would be improving weather radar technology in Canada. Twenty "state-of-the-art" radars will be supplied and installed by a German information technology firm, Selex ES.
One impact of the new installations will be more advanced and more location-specific warnings for extreme events. The technology will allow for distant coverage and close storm tracking. The information will be available so that anyone in a storm's path can potentially view the approaching outbreak at the scale of their own neighbourhood.
Why now?
Canada's current network consists of Doppler radar that provides coverage up to 120km past its situated location. While the use of radar for weather prediction dates back to the Second World War, it wasn't until the 1980s that Doppler radars became standard for North American systems.
The $83 million contract will address the problem with the existing radar network, which is ageing and has experienced outages. Nineteen out of the 31 existing radars throughout Canada will be swapped for advanced technology and although the new radars have more reach and therefore provide double the coverage, there is the option to implement 13 more.
The change may be coming just in time. Environment Canada meteorologist Geoff Coulson, says severe weather events are likely to become more frequent in the future. "It's certainly one of the concerns that climatologists have… It has been said that generally there's going to be more outbreaks," he explains.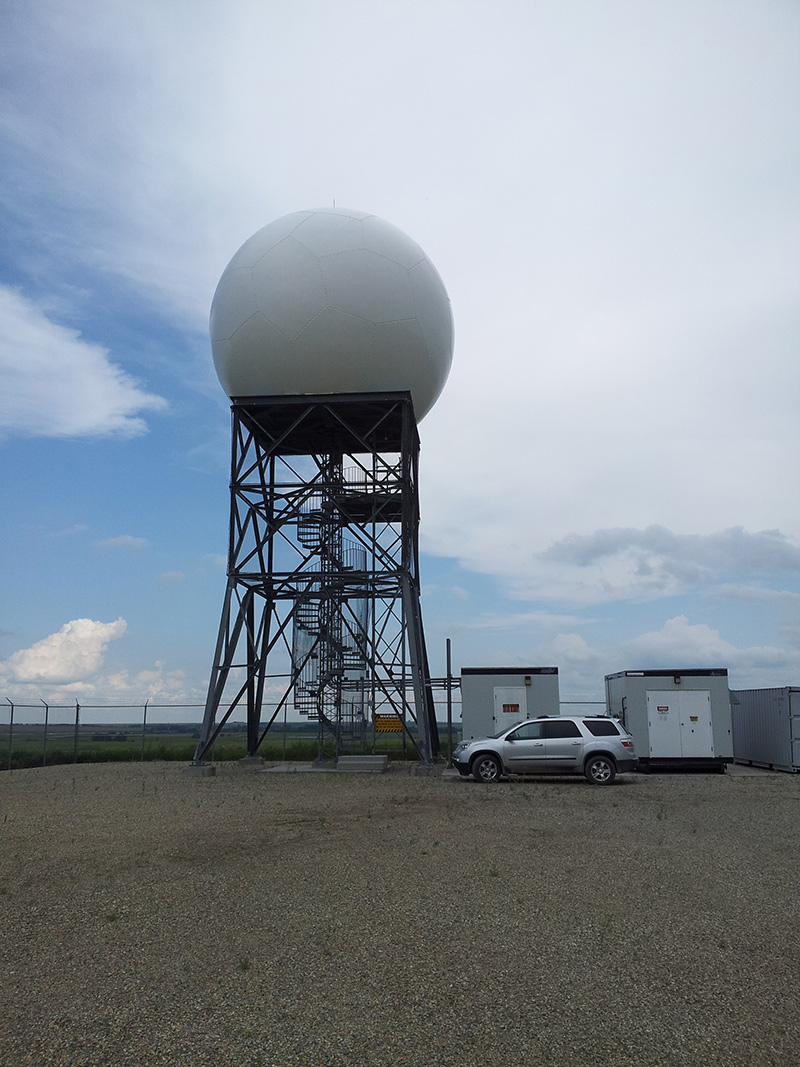 One current Doppler radar pictured above at a site in Alberta. This site as well as the 29 others across the country are being considered for replacement. [Photo courtesy of Environment and Climate Change Canada]
Weather Predictability: What's now and next
Radar installations in the current network operate by sending horizontal pulses of radio energy out into the atmosphere. Once the wave hits a target such as precipitation particles, it returns back to the radar antenna. Using the data collected from the energy upon returning to the radar, forecasters are able to know the target's size and intensity.With the Doppler effect, the radars provide information on the movement and positions of the target. After the radar releases a pulse, it tracks the change in the wave between the transmitted wave and the echo that is sent back. By tracking this change, meteorologists can tell what direction the target is moving. They can also detect rotation in the atmosphere, possibly identifying the formation of a tornado.
For new Selex ES radars, the detection capacity will reach up to 240km. Coverage that is double the amount of current radar will aid in monitoring areas of neighbouring stations in the case of an outage and better track incoming extreme weather in advance. A modern technology called dual polarization will also be incorporated.A dual polarization upgrade means the radar will send and receive horizontal and vertical pulses of energy. Because the radars are scanning in multiple directions, they can provide a more complete picture of the atmosphere.
Unlike current technology, Coulson says the images translated from the radar scans will be able to find more specific details, including the ability to characterize the kind of precipitation."It will give the forecasters a better ability to find out how much rain is in a given rain cloud that's approaching," he adds."In the winter months it can also help us with hail or snow or to determine if there's an area of freezing rain for a given area."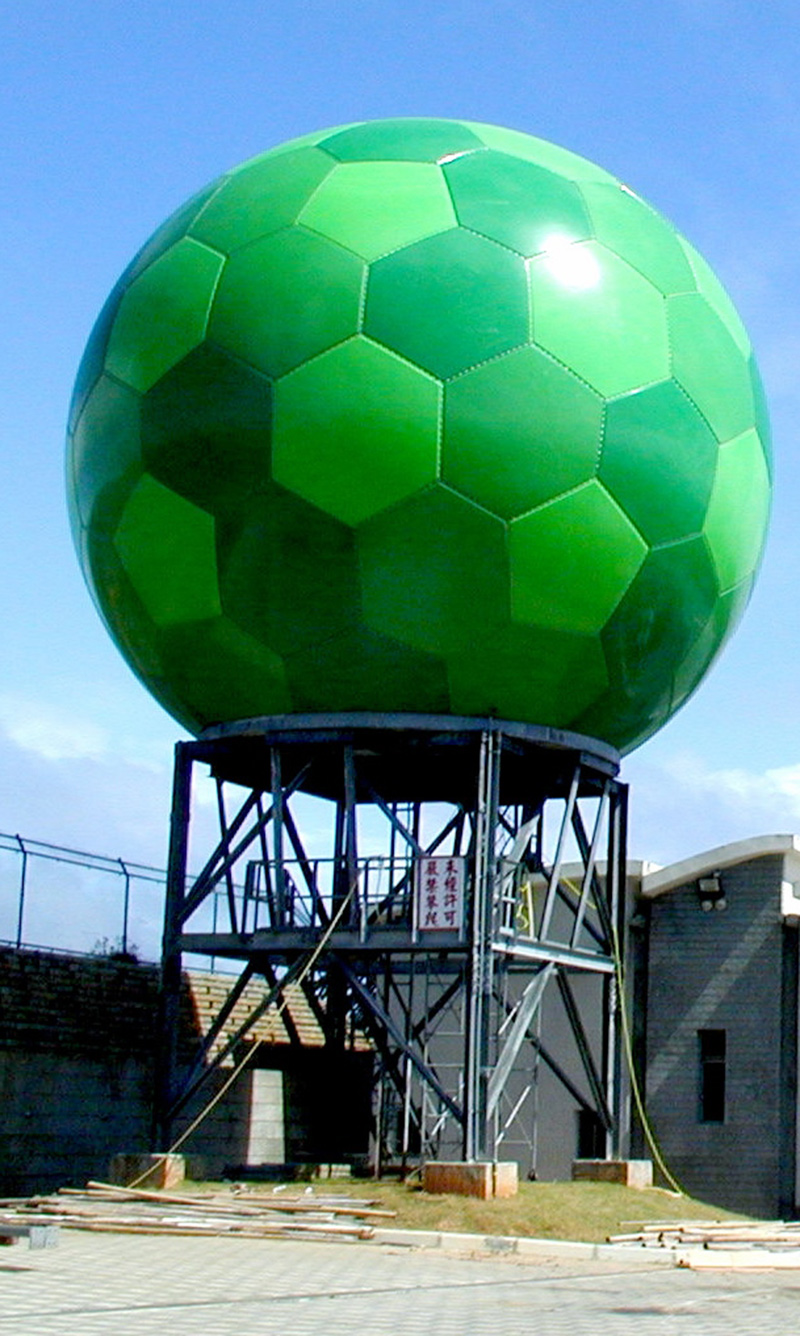 An example of "state-of-the-art" weather radars supplied by information technology firm, Selex ES. [Photo courtesy of Leonardo S.p.A]
Improved technology on expert's radar
Dr. Luke Copland, professor at the University of Ottawa specializes in Geographic Information Systems and Climate Change. Copland says he's seen monitoring networks around the world and it's about time Canada updates its weather prediction technology.
"In terms of emergency preparedness, this is something that Canada has really been lacking in." – Dr. Luke Copland, GIS and Climate Change specialist
"Instead of being generically told 'today is a day that has the potential for severe weather,' you will be able to see severe weather coming through individual neighbourhoods and streets. People will be much more aware and much better prepared for it coming. So this is definitely heading in the right direction."
With two dimensional image projection, meteorologists will also be able to accurately detect of airborne tornado debris, meaning that it can be confirmed when tornados are on the ground and causing damage. Other notable outcomes of the upgrade include the ability to tell the difference between the types of precipitation in the air. While the additional technology will contribute considerably to the meteorological front, Copeland adds the government's investment will only guarantee short-term information.
"They don't tell us if five years, 10 years into the future if there will be more long-term effects. When we see a big thunder storm coming through, these radar systems can tell us what will the impacts be locally from those storms," he explains. "But, there's definitely a need for these radar systems… It's a well proven-technology in the U.S., and it's been working very well in many other places."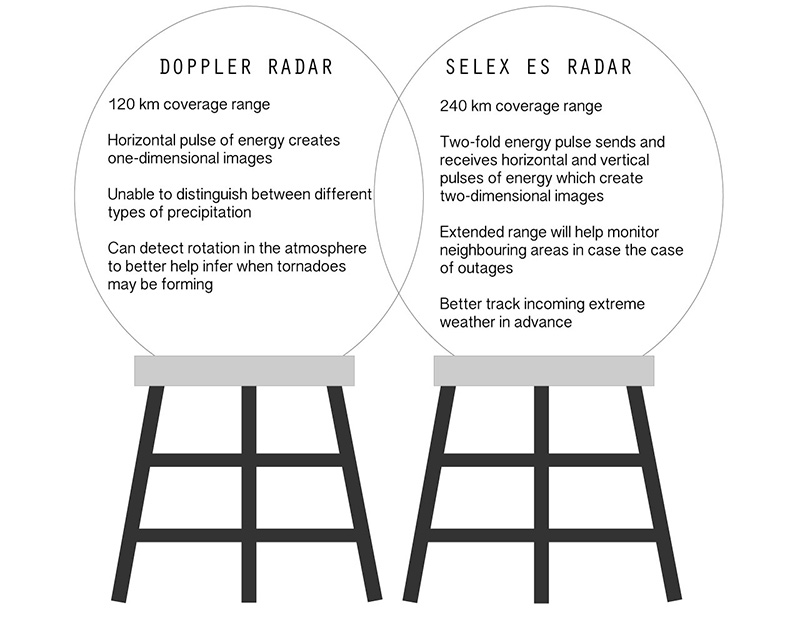 Location, location, location
With Canada's current 31 radar sites, Marie-Elaine Boivin, radar replacement director at Environment Canada and Climate Change says ECCC is in the process of reviewing each location to determine which radars will be replaced. Factors being considered right now are the operation ability of current systems, the frequency at which severe weather can be seen and the accessibility to each site. A site operated and owned by McGill University will not undergo a renovation. However, Boivin indicated that there are plans to install new radar in the Greater Montreal Area to ensure there is appropriate coverage. Added site locations announced by the government include Fort McMurray, Alta and an unconfirmed location in lower Quebec. There are currently no sites in Northern Canada due to the sparse population.
A forecast for the future
Dr. Madhav Khandekar is a retired Environment Canada meteorologist who still works as a consultant on extreme weather events.  Khandekar says he's confident in the new system's ability, but he cautions people not to expect too much.
"The radars will help us improve prediction and issue operationally useful warnings ahead of time, particularly 12 to 24 hours ahead of time, " he explains. Khandekar adds that beyond a 24 hour warning, accurate predictions for extreme weather becomes difficult.
Like Copland, Khandekar points out the system won't be able to address questions relating to the bigger picture of severe weather. He says scientists should be looking at climate around the world to understand the bigger picture of metrological patterns and find lasting solutions.
"We need to improve our database and our technology, but we have to look at this knowledge we've been able to collect for the past 100 years as well as weather around the world," he says.  "We need to analyse all these things and we must understand how the mechanics of weather work. Maybe then we can fully understand extreme weather and how climate is changing."
FUN FACT: The United States began updating its Doppler Radars with dual polarization technology in 2011 and by April 2013 all sites were equipped with the technology.