Help in hand
An Ottawa company is seeking to connect mobile device users with mental health services
By Manuela Bacenas and Mateo Peralta

Photo provided by Snapclarity.
After 15 years of working in the mental health industry, Terri Storey has learned firsthand how the most distressing cases were often the ones that never made it to her door.
As the founder of the Terrace Youth Residential Services (TYRS), Storey built more than 10 homes to provide supportive environments for youth at risk.
"I worked with a lot of youth from remote communities, a lot of aboriginal communities," said Storey. "The number one killer for young people under 29 was suicide, and that shouldn't be the case."
Storey's passion to help others also inspired her to create the Terrace Wellness Group, a family mental health clinic that offers various counselling services across Ontario.
However, while working at her brick and mortar locations, she realized that there was a gap in the system for patients who were seeking immediate and tailored help.
"Even though we had this plethora of mental health awareness and stigma campaigns, we still weren't seeing people being able to access the supports when they needed them," said Storey.
According to data from the Canadian Community Health Survey–Mental Health (CCHS-MH), ten per cent of Canadians experienced a mental disorder in 2012. However, more than 600,000 Canadians reported that their mental health needs were unmet.
This is why Storey decided to take a new direction and launch Snapclarity, a mobile app that will offer Canadians access to immediate mental health support and specialized therapists that match their personal needs.
For $150 a month, Snapclarity will offer patients 75 minutes of unlimited text messages and 20 minutes of video chat sessions with a mental health care provider.
After downloading the app and completing a mental health assessment, users will receive a personalized wellness strategy outlining possible risk levels for 13 different mental health disorders.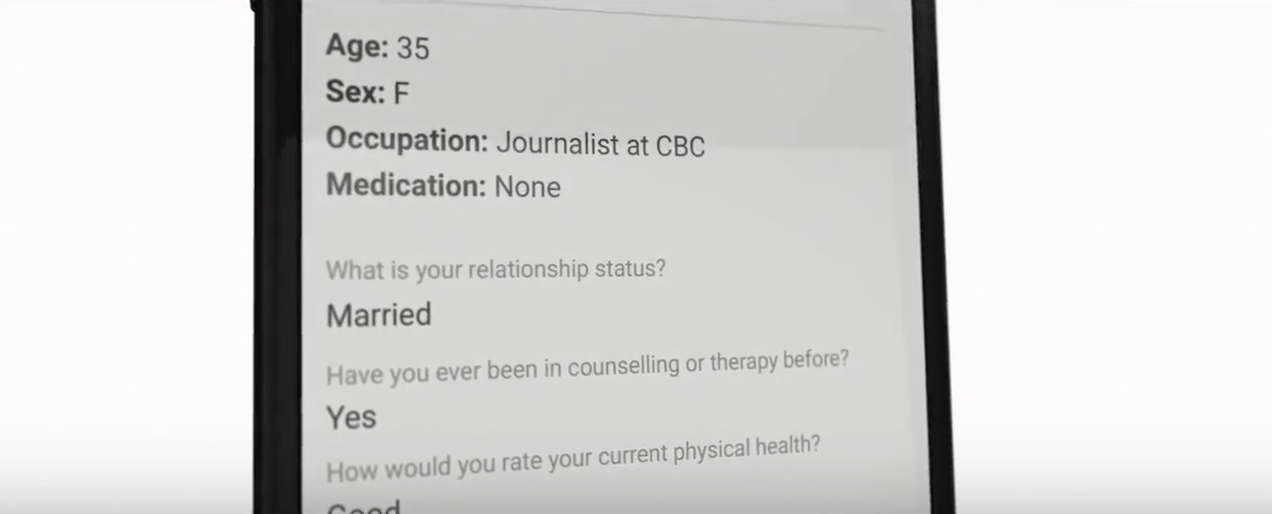 Photo provided by Snapclarity.
According to Joel Grenier, COO and co-founder of Snapclarity, the app will assess if users may have disorders such as anxiety, post-traumatic stress disorder (PTSD), attention deficit hyperactivity disorder (ADHD) and substance abuse.
As a final step, users will be matched with an accredited and specialized therapist that matches their specific needs.
"You're doing it at your own time, on your own terms, wherever and whenever you feel comfortable," said Grenier. "Versus having to book an appointment a month from now, in the other side of town, where you may or may not feel comfortable in the environment that you're put in."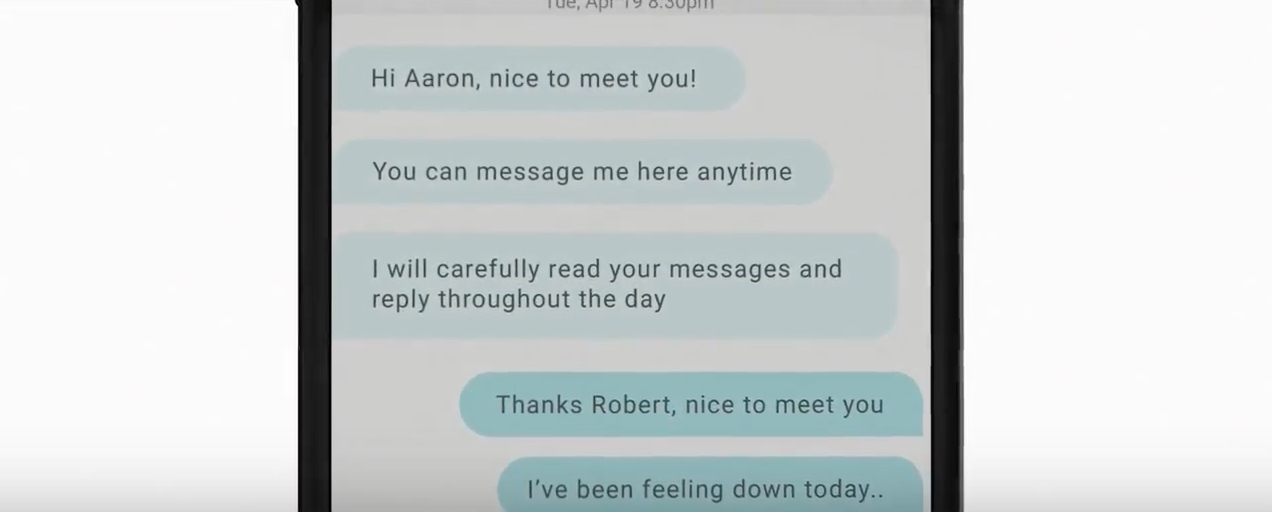 Photo provided by Snapclarity.
The therapists behind the app are contractors that have worked with Storey at her counselling locations in the past.
According to her, the app's algorithms will speed up the process of both seeking and providing for mental health care.
"The algorithms have already improved so much that we can actually have risk levels like high, medium or low," said Storey. "What we do from there is match you with a therapist with the experience that you need. So if you have high risk of anxiety, you go to an anxiety specialist."
A burdened health care system
Snapclarity's upcoming launch is set against the backdrop of a system under serious strain.
Heather Garnett, the clinical director of the mental health program at The Ottawa Hospital, says that a lack of public community-based services and the high prices of private mental healthcare have led to overwhelmed hospitals struggling for a solution.
"All of these folks end up coming to emergency departments and we have huge backlogs of people competing for the same amount of resources," said Garnett. "Many of the people who come don't get admitted because they just don't meet criteria for admission."
Environment and differing levels of understanding towards mental health treatment options go hand in hand in connecting patients to the resources they need, according to Garnett in an analysis of local health clinics.
"What often happens when you have a mental health issue is that you might have a family doctor who doesn't have a lot of knowledge and skill in that area and because they can't help you, you might have to turn to long waitlists to have access to a hospital based mental health professional," said Garnett.
Whether or not Snapclarity is a solution to the burdened mental health system in Canada is still to be seen, according to her.
"There is definitely a gap to be filled and we're still trying to fill," said Garnett. "I think the question is if online resources are enough."
Jason Pham is a team member of Bell Let's Talk, a campaign designed to break the silence around mental illness across Canada.
Pham became an advocate for mental health awareness after experiencing PTSD, anxiety and depression as a result of a car accident at the age of 15. In his opinion, Snapclarity is a promising alternative for supporting people residing in isolated communities and rural settings in Canada.
"For example, if someone lives in Renfrew County and has to drive all the way to Ottawa to seek counselling, it's just a huge barrier for them to get access to that mental health resource," said Pham.
Canadians are the heaviest internet users in the world, according to a report by the Canadian Internet Registration Authority (CIRA).
For this reason, a briefing document published by the Mental Health Commission of Canada states that "e-mental health makes sense, with nearly 80 percent of Canada's population having online access."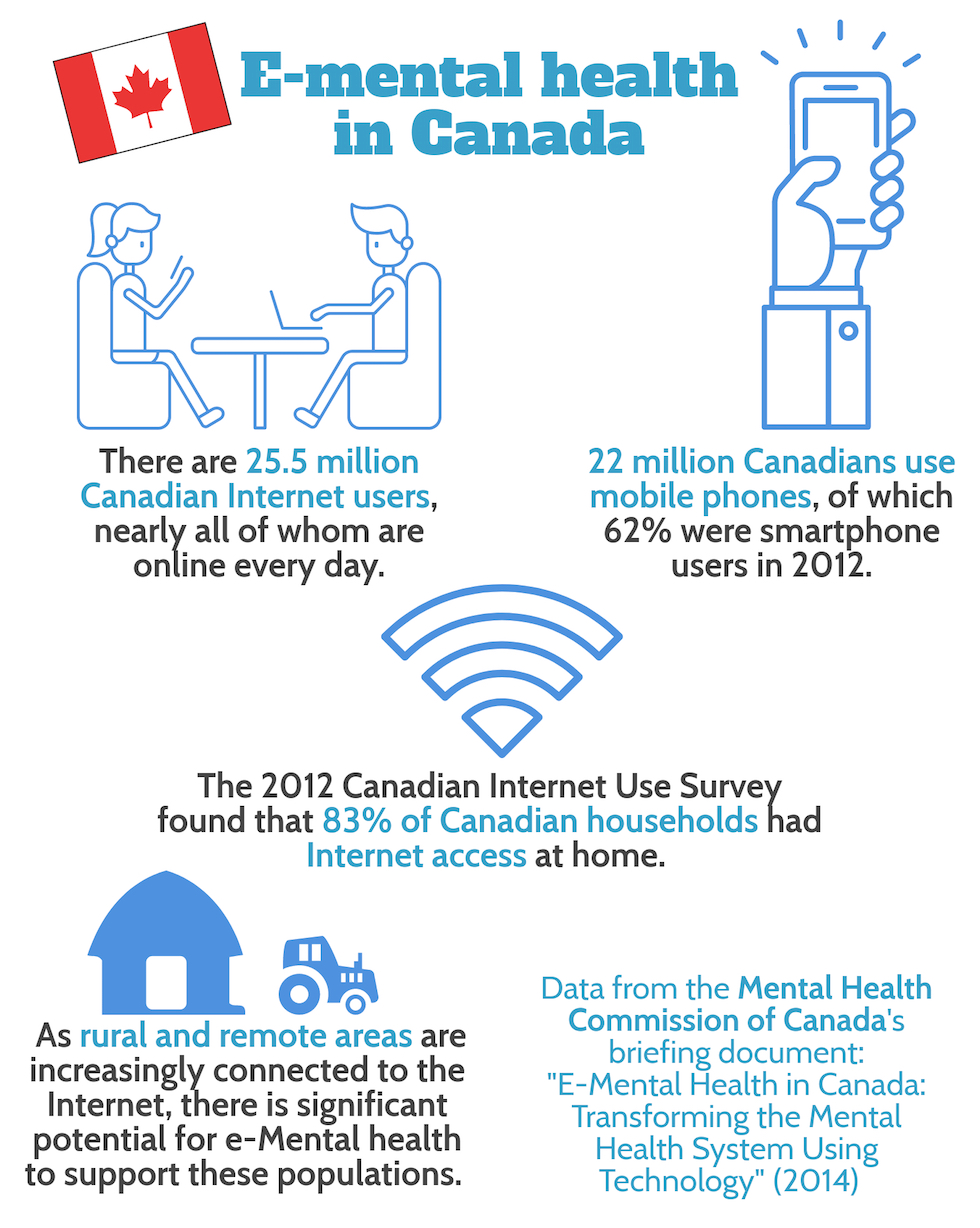 Tapping into the challenges
While Pham highlights the conveniences of a mobile-based mental health service like Snapclarity, he also questions the efficacy of such programs.
"People can miss out from having a physical therapeutic connection to a counsellor," he said. "There's a barrier and a disconnect to reality when everything is happening online."
Moreover, Pham points to various scandals that have engulfed private companies, including those that keep private banking and insurance data.
"We've seen hacks and data breaches of private companies and I'm worried that something similar could happen with Snapclarity," he said. "The disclosed information of potentially thousands of individuals' mental health records could be revealed."
According to Grenier, ensuring that customers' payment and personal information is safe was one of the team's main priorities when developing the app.
"We want to make sure that everyone's information is secure," he said. "We've been really diligent on making that happen."
The Snapclarity team also conducted validation research and pilot projects with patients and therapists to ensure that their users will have the best possible experience.
Grenier quotes these studies as a counter argument for industry experts who, like Pham, have shown concern about a lack of personal connection through the app.
"We found that through texting and video, people tend to engage with their therapist much quicker than they would have if they had to go and meet that therapist in person." he said. "On the other hand, a lot of the therapists who we did early validations with really enjoyed being able to cut through the awkwardness and false steps to try to engage with a client."
According to Grenier, another advantage about Snapclarity is that its e-mental health services can be covered by insurance companies in Canada.
"For a lot of our competitors down in the States that do offer services to Canadians, patients have to pay out of pocket," he said.
Paving the way for e-mental health in Canada
Snapclarity is not the only player in the mobile market. Some mental health support apps founded in other countries include the American company Talkspace and Big White Wall, which was founded in the United Kingdom. However, Storey's Snapclarity will be the first Canadian app of its kind.
The Canadian entrepreneur argues that her extensive knowledge and experience in the field of mental health differentiates Snapclarity from its international competitors.
"We set this up because we know the landscape very, very well," she said. "We really understand what a therapist and a user need and we took all those barriers from both sides. For therapists and for users."
Even though therapy sessions conducted through Snapclarity can be covered by the users' insurance, most insurance companies request that their customers meet with therapists who reside in their same province.
Grenier acknowledges that this could limit the variety of support that users in underpopulated provinces could get. For this reason, he says that apart from providing mental health support for people in need, Snapclarity aims to become an advocate for insurance policy change in the near future.
"We want to be able to open up the access to mental health without those boundaries in place," said Grenier. "Even though today we have those barriers, we're hoping that Snapclarity will be a push to the industry to change some of those rules along the way."
In February 2018, Snapclarity announced that it had raised $1.5 million and was ready to be used on Apple and Android devices.
"We've been Apple approved already, so the app will be live on the Apple Store starting next week," said Storey, during an interview in mid-March.
"We're going to organically let it grow, learn about the product and the improvements that we might need to make," said Grenier. "After a couple of months, when we feel comfortable that we've had some therapists and users interacting with each other, we'll probably do a public announcement and release."
As part of that trial period, Snapclarity will be conducting pilot projects within the federal government. This was an opportunity that was granted to the company after winning the Build in Canada Innovation Program (BCIP).
"One of the mandates for the government was to look at a digital solution for mental health, so we're soon going to be testing with the federal government on our solution," said Storey. "I'm excited about everything. I'm glad I will be able to get the app in the hands of Canadians who need it the most."
Timeline showing how Ontario and Canada got to its current stage in mental health policies.