Liberals to repeal anal sex law
The Liberal government introduced legislation Tuesday to repeal a section of the Criminal Code that prohibits consensual anal sex by minors.
There have been several attempts to repeal Section 159, and four appeal courts have deemed the law unconstitutional, but it has remained on the books.
The section prohibits people younger than 18 from engaging in anal sex, despite being over the age of consent for other sexual acts.
Justice Minister Jody Wilson-Raybould said society has evolved and the law has to keep up.
"This piece of legislation is about ensuring we eliminate discrimination and ensure equality," Wilson-Raybould said after she tabled the legislation.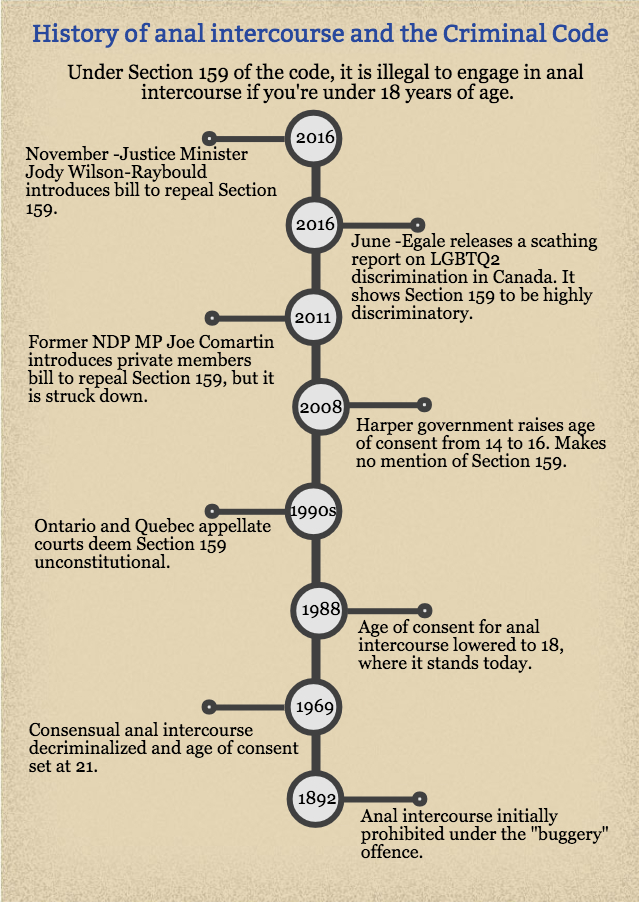 She also noted that "Canada was among the first countries in the world to recognize same-sex marriage and our human rights act has long recognized the right to be protected from discrimination based on sexual orientation."
Also on Tuesday, Prime Minister Justin Trudeau appointed Edmonton MP Randy Boissonnault as his special adviser on LGBTQ2 rights. LGBTQ2 refers to lesbian, gay, bisexual, trans, queer, questioning and two-spirited people.
Boissonnault said that "there's a lot of work to be done," but the Liberals are ready to listen to Canadians to build an inclusive future.
Helen Kennedy, executive director of Egale Canada Human Rights Trust, welcomed the repeal of Section 159.
"It equalizes us as a community" she said. "It recognizes our relationships in the same way it recognizes straight relationships."
Egale released a scathing report earlier this year on Section 159, which has been used to charge 22 people with anal intercourse between 2008 and 2014.
More than 20 members of the LGBTQ2 community met with Boissonnault Tuesday morning before the minister's announcement to share their concerns with the new adviser.
Jean-Sebastien Boudreault of Montreal Pride drove from Montreal to be at the meeting. He said he was pleased, saying that the MP was "really open" to their ideas for the future of the LGBTQ2 community.
 Wilson-Raybould said that this legislation does not cover pardons for previous convictions under the act.
However Boissonnault said that pardons would be given due consideration, and the government would take time to do a "deep listen" to Canadians on the matter and choose appropriate action.