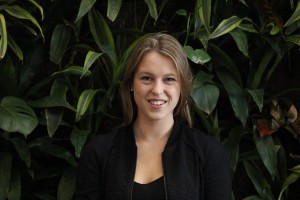 About this Project
I am a huge tennis fan. I try to keep up with Canadian players and international favourites throughout the year, but I do most of my tennis watching in the summer. During the 2014 U.S. Open, something caught my eye. Instead of sporting their usual polos, the ball boys at the U.S. Open were given "smart" shirts. The black nylon tee, designed by Ralph Lauren, contained conductive silver threads and sensors that measure heart rate, breathing rate and stress level. Biometric data is collected in a "black box" on the shirt and sent to an iPhone app in real time. The shirts are made for athletes and designed by Canadian company OMsignal. So now, you can watch a kid's heart rate spike when Serena Williams serves an ace at 206 kilometres per hour.
New York Times: "Is the Player Nervous? Just Ask His Shirt"
After the U.S. Open in August/September 2014 I became obsessed with wearable technology and its use in sport and fashion. The rumours of an Apple watch only increased my desire to know more about these devices and how they would impact society.
When it came time to choose a topic for the Masters Research Project, I knew I had to do something with wearables. I thought of ways this topic could be applicable to the Canadian context.  I wanted to explore beyond the conventional uses of wearable technology in fashion or sport. In January 2015, I came across an article by Dr. Amitha Kalaichandran in the Huffington Post. It was titled, "How Mobile Technology Is Changing Canadian Health Care." I Skyped with Dr. Kalaichandran and she introduced me to Dan Levitt who told me about the increasing importance of technology for senior wellness management in retirement homes. But I still had questions: what about the user's consent? What about privacy? Who designs this stuff? Is it even real?
I started working…
---
About the Author 
I am a second year, Masters of Journalism student at Carleton University. Born and raised in Ottawa, I attended Queen's University where I completed by Bachelor of Arts, Honours in political science in 2014. While at Queen's, I spent a semester studying at Uppsala University in Sweden. I started my Masters of Journalism at Carleton in the fall of 2014.
---
About the Photographs
The woman in the photographs is my Grandmother, Betty Green. Many of the elderly people I spoke to did not want to have their photograph published on the site. My grandmother, however was very willing. She is 93 years-old and lives in Ottawa. For a woman who has never learned to drive, I'm amazed that she has a iPad, which she loves. But she says she'll never use wearable technology…