By Rachel Levy-McLaughlin and Shalu Mehta
OGDENSBURG, N.Y. – The election of President Donald J. Trump did not prompt a stampede to the Canadian border crossing here.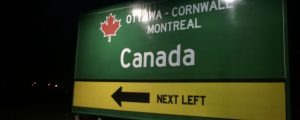 That is despite months of speculation – some of it humorous – but some of it seemingly deadly serious, that the election of such a controversial candidate would prompt an exodus.
Just moments before Trump's victory speech and after Hillary Clinton called him to concede defeat, there was dead silence at the Ogdensburg border crossing, with no cars in sight.
At numerous points during the day, local residents told reporters they would consider moving to Canada if Trump were to win.
But as the results were announced in the early morning hours, Ogdensburg was virtually in total darkness, very few apparently staying up to see the results.