When farming gets high-tech
Ottawa's FarmLead has been called the 'eBay
for grain,' and it's changing the way farmers
sell.
By Menaka Raman-Wilms
Nov. 23, 2018
Alain Goubau knows his grains.
In his downtown Ottawa office overlooking corporate towers and condominiums, he pulls jars off a shelf on the wall showcasing different crops. There are dried chickpeas and red spring wheat, yellow mustard and tiny canola seeds. A jar near the top, which is filled with what looks like caviar, actually contains beluga lentils.
"Our solution today is focused on grains that are harder to buy, or harder to sell," Goubau says. "People think of us as eBay for grain."
Goubau is the co-founder and chief operating officer of FarmLead, a startup company that brings farming together with the high-tech world of software development. It's one of a number of Ontario companies that have broken into this space.
FarmLead celebrated its fifth year in business in 2018, a milestone achieved by only half of Canadian small and medium-sized businesses, according to Innovation, Science and Economic Development Canada. Its success has a lot to do with how it is revolutionizing an old industry: by taking a high-tech, innovative approach to agriculture, the company is helping to change the way farmers operate.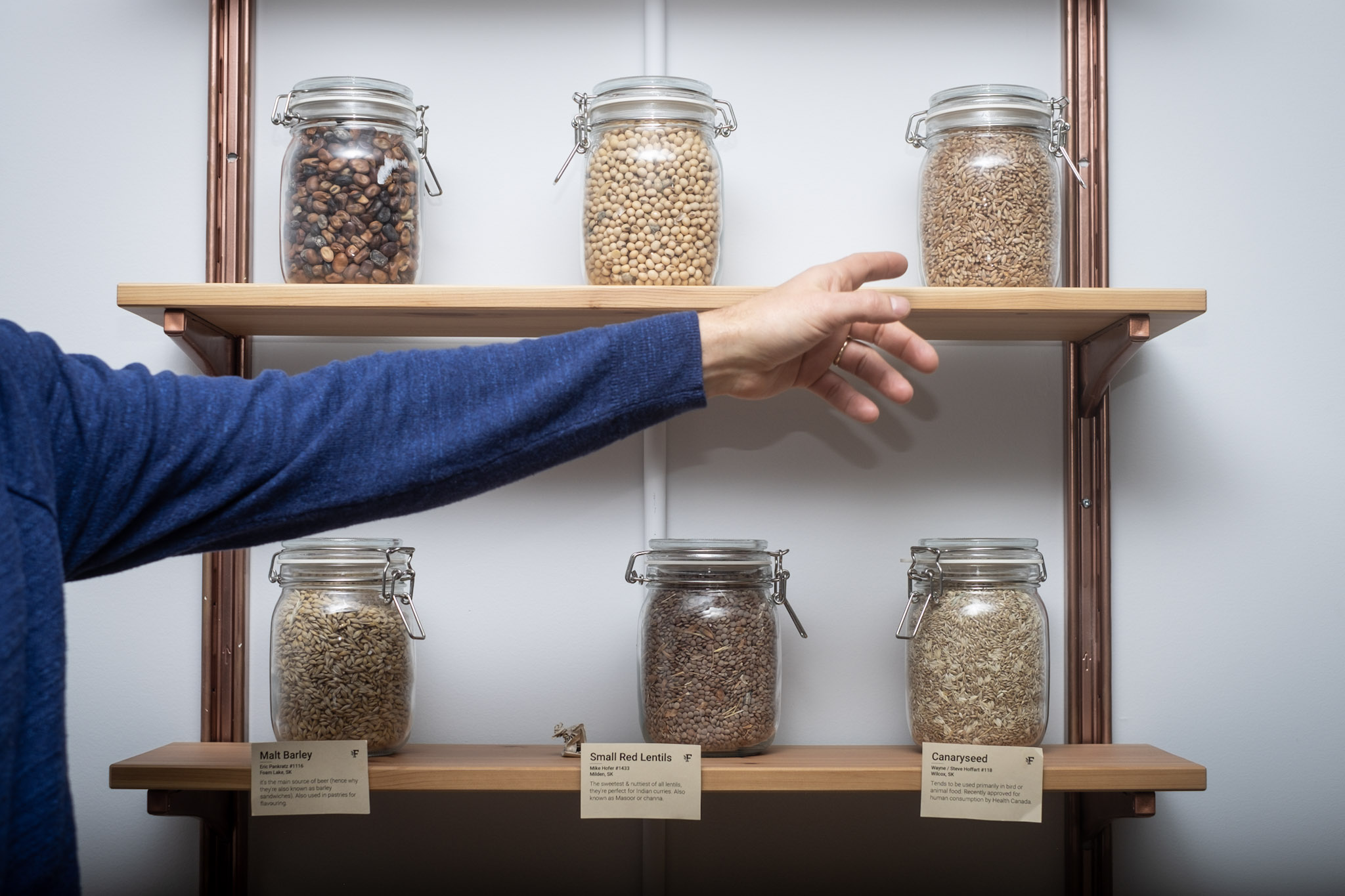 FarmLead has created an online marketplace for farmers to sell their grains. Photo by: Dexter McMillan
The modern business of farming
FarmLead has built an online marketplace that lets sellers offer wheat or seeds, and lets buyers place their bids. Their app has almost 10,000 users across North America.
"We don't sell software, we sell liquidity," Goubau says. "We sell access to buyers or sellers of grains and oilseeds."
The company was founded in 2013 by Goubau and his business partner, Brennan Turner. It is free to sign up for the app, which charges both buyers and sellers a fee if there is a successful connection. It exposes farmers and grain merchandisers to a much wider market, Goubau says, than they would otherwise have by posting grain for sale online on their own.
That wider market has benefitted grain merchandisers like Martin Charlebois.
Charlebois uses FarmLead to sell grain on behalf of farmers: he posts the grain for sale on FarmLead's online marketplace, then monitors the bids as they come in and finds a buyer. Much of the grain sold on FarmLead is sold by grain merchandisers.
"You can put all the information there and leave it," Charlebois says, emphasizing how the app lets buyers come to him, and saves him the work of actively marketing the grain.
He also added that the platform has been improving every year, and that sellers can now include more detailed information with their offerings, such as the product's grade and moisture content, which can influence the quality of the grain.
The buyers are often agents working for larger corporations, and purchase grain in bulk on their behalf. Quaker Oats, Goubau mentions, usually has a buying agent who procures oats for their cereals.
Graphic by: Menaka Raman-Wilms
A technological revolution of 'really cool stuff'
Agriculture technology companies like FarmLead have played a significant role in Ontario's rapidly advancing industry by making traditional farming and agricultural processes more efficient.
"To feed nine billion people, you have to make agriculture stretch," says Andrea Murray of Ontario Agri-Food Technologies, an organization which helps Ontario businesses bring new technologies to the global market. She emphasized how innovation is necessary in order to have sustainable agriculture in the future.
Murray has worked with two Ontario drone companies that help map fields and test soil quality, and a company that sells high-quality cattle genes to help ranchers build their herds.
Another Ontario company uses LED lights to assist with egg production for chickens. "They're able to tell, on the first day, whether the egg is viable," Murray says. "And whether it's a male or female chick. It's really cool stuff."
Software is also a huge part of this technological revolution, and Ontario-based AgNition builds mobile tools and apps specifically to help with agriculture.
"The difficulty is ensuring that the tool is worthwhile," says Tony Meekes, digital product manager at AgNition. "How much time does a farmer have to look at a screen? You want to put something out there when a farmer says we have this problem, and we need it solved."
More technology startups are building a community in Ottawa's downtown core. Map by: Menaka Raman-Wilms
Ottawa's startup community
Goubau, 37, and Turner, 31, both grew up on farms, and created FarmLead to help farmers sell their products more efficiently. Last year, they raised $6.5 million US, which helped them expand: in addition to their Ottawa headquarters, they now have operations in Chicago and Calgary.
They're still considered a startup though, and are part of a newer community of technology businesses in the downtown Ottawa area.
"There's Klipfolio, Shopify, and now OneEleven, which is the new incubator space," Goubau says, listing other technology businesses closeby. Though some technology companies are located outside of the city centre, primarily in Kanata, newer tech startups are often settling in Ottawa's downtown core.
OneEleven, which runs a shared workspace where small tech businesses can rent offices and receive support from other entrepreneurs, opened its Ottawa location on Slater Street in August.
Brad Forsyth, the managing director, says startups that need to hire and grow quickly seem to prefer being in the city centre. "A lot of the really good job candidates are interested in being downtown," he says. "It's the place to be for them."
FarmLead chose a central location for similar reasons.
"Our employee base is fairly young, and tends to be more city-centered," Goubau says, adding that the majority of their 26 employees are under the age of 35.
"There's an appetite for people to be working and living in close proximity. I think it's more convenient for the type of folks that we're trying to attract."
Goubau credits his team's dedication as part of the reason FarmLead has seen such success in its first five years when many other startups didn't last. The company is now focused on expanding its team and maintaining a positive work environment.
Their next big challenge is breaking into the higher volume corn and soybean market, instead of just specialty grains.
"That means an evolution of how the product operates," Goubau says. He adds that there's a much bigger market there.
Alain Goubau speaks about the challenges of running and working at a startup.