When Louisa Simms fills an order at the Heron Emergency Food Centre, patrons sometimes make a final check for the item at the top of their bag.
"If we didn't have those eggs, I'm serious, people would be crying" she said. "Even though people in need can only come here once a month and get three days' supply of food, they count on those eggs."
Simms, the executive coordinator of the Heron Emergency Food Centre, said that beyond eggs, the food bank looks for other staples too, "Chickpeas either canned or dry, spaghetti sauce, rice is universal, canned soup is welcomed especially in the winter, any kind of lentils are a good source of protein."
Beyond food, money helps too. "We have a good purchasing power, we can make our dollar stretch farther than the average person," Simms said.
Still, the Egg Farmers of Canada, an industry organization, sees a natural connection with Food Banks of Canada. As they do every year, they launched a joint campaign this week to encourage people to support local food banks into the new year. This year's social media push "#RecipesThatGive" challenges Canadians to give back during the holidays, by sharing a meal with their loved ones and donating food to food banks.
"The message is similar to last year, not only share your favorite recipes online, but donate food to your local food banks and get involved," said Joelle Ferreira, the development officer at Food Banks of Canada.
Egg Farmers of Canada and Food Banks Canada have partnered with celebrity chefs to power a culinary movement around celebrating food. The chefs, including Lynn Crawford, Matt Basile, Trevor Bird and Craig Flinn, have curated recipes specifically for the program to encourage the public to cook in their home kitchens and share the results online.
"#RecipesThatGive" aims to leverage the influence of the chefs to encourage people to share recipes, share a meal with a loved one, donate to food banks and, through social media, challenge someone new to join in.
At the Heron Emergency Food Centre, volunteer Linda Wagner-Vaz bustles around the donation room to fill orders.
She's contributing this year by giving her time to the food bank.
"We have hundreds of families we see on a monthly basis," Wagner-Vaz said. For them, she said, "it's one way the community can give back."
Donating is such an important thing to do, especially this time of year, added Wagner- Vaz.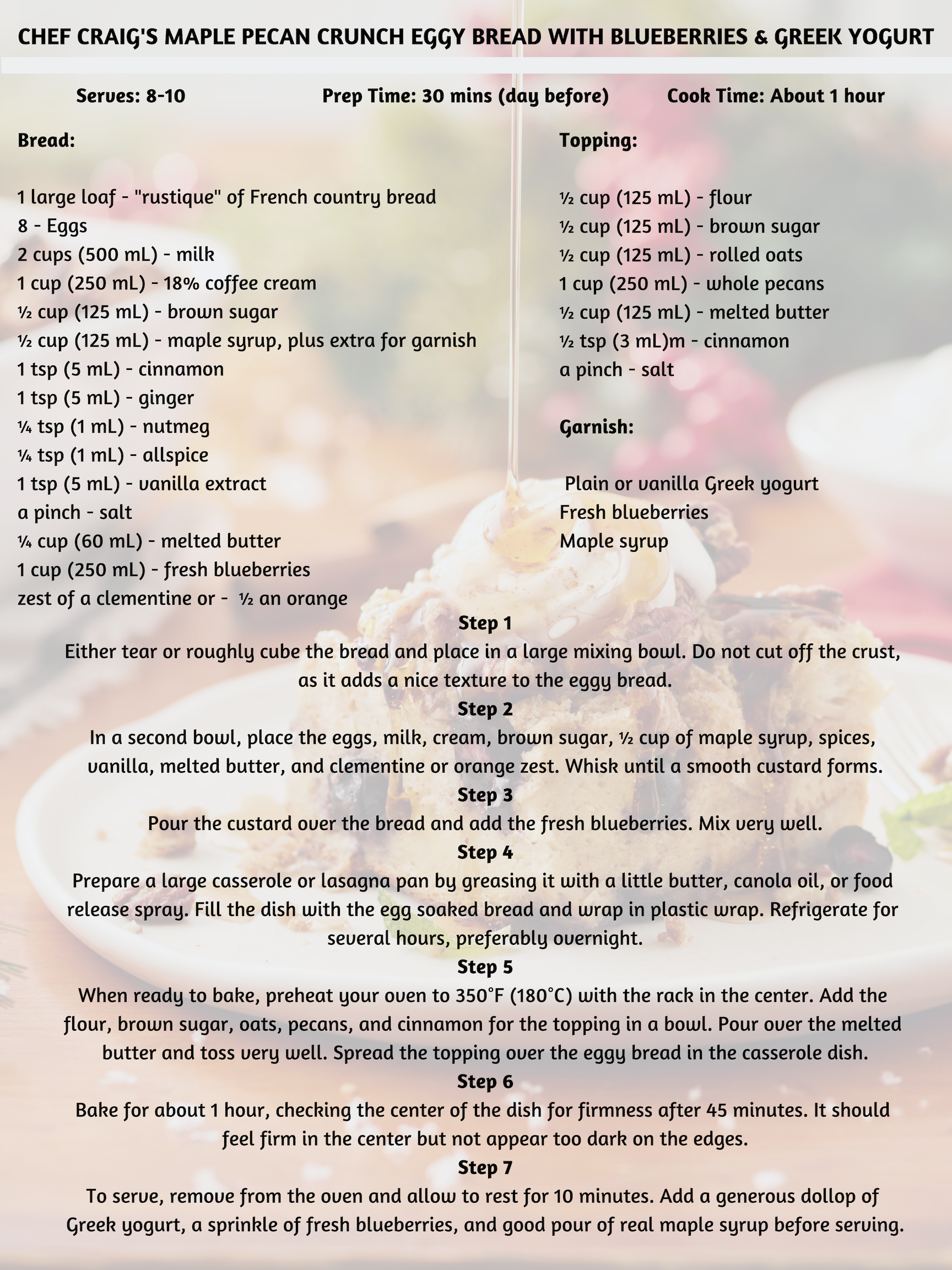 This family favourite boasts many festive spices in its custard and is so easy to make ahead of a big gathering. Perfect as a morning treat, the tart blueberries and yogurt give a beautiful balance to the rich sweetness of the eggy French-toast-inspired bread.
– Egg Farmers of Canada Chef Craigs creation