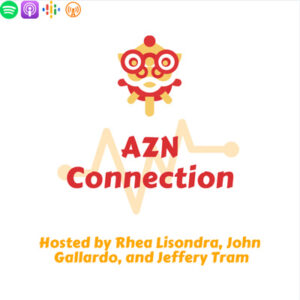 Say it as a ZEEE, not a ZED — now you get it!
The AZN podcast was launched in November 2020 by three fresh graduates from Carleton University's bachelor of journalism program as a way to explore what "being Asian" means in the modern world — and two of those founders are alums from the Midweek team that produced our programs in the Winter 2020 season: Rhea Lisondra and John Gallardo.
They've teamed up with fellow BJ graduate Jeff Tram (who didn't work on Midweek, but is still a fine person nonetheless) and have so far produced 11 editions of the podcast, exploring topics ranging from the Filipino Christmas and Chinese Lunar New Year to attacks on Asians due to COVID-blaming and the challenges of finding love in a pandemic.
"We saw a need for a platform to start conversations about Asian identity, culture and other topics and issues regarding the Asian community, as we saw very little of that being represented," Rhea explains.
"Being from Carleton's Journalism program, the three of us were able to use the skills we learned to start this podcast, and it's been a project that we're all very proud of."
John says the idea for the podcast grew out of conversations among friends as they shared their personal experiences and realized their feelings had broader implications.
"We were trying to unpack what it truly means to be Asian in today's society. We put the skills we learned at j-school to work, and put together a podcast where we can cover all the topics, issues, and stories that relate to the main question: 'what does it mean to be Asian?' "
John says working on the Midweek program while he was in his final year at Carleton's journalism program made him want to continue into podcasting — and realize he could do it.
"During my time at Midweek, I really developed my audio editing skills during those weekends in the radio lounge, along with those hectic but rewarding production days," he recalls.
"I became more confident in front of the microphone, as the experience of hosting a show live on the air brought me out of my comfort zone and erased the previous insecurities I had with hearing my voice on the air."
John also says Midweek was one of the places where he felt comfortable pitching stories that dealt with representation, feeling those story pitches were met with "optimism and encouragement." Rhea also credits Midweek with making her keen to continue with audio journalism.
"I really enjoyed my experience being in Midweek, and it made me want to find ways to put the skills and confidence gained in that course to use," she says. "Being a part of the podcast definitely allowed for that, and it's great to be working with people I met through the program."
As well as co-producing AZN Connection, Rhea is a writer at New Canadian Media, and both Rhea and John are members of the Street Voices Toronto media team. John also writes about basketball for BallnRoll and co-hosts the NBA Most Valuable Podcast with Jeff, who is managing editor of Street Voices Toronto.