Social media is making its way from our phones to the tables of many restaurants, attracting the attention of Ottawa residents and tourists. Photo by Rajpreet Sahota.
Ottawa restaurants are turning to influencers to attract a younger generation of customers in the post-pandemic era.
Maddy Hadfield, opens her phone and types an email to an Ottawa-based restaurant. She offers to create and share content on her Instagram and in return, receive a free dinner from the business.
Hadfield is a micro-influencer, known as The Ottawa Diaries on Instagram.
Micro-influencers are everyday people who have a following of between 1,000 and 10,000 people and share content based on their genuine experiences.
As a micro-influencer, Hadfield built an online community by posting photos of her favourite cafés and restaurants, which, she said, eventually led to collaborations and sponsorships with many restaurants and businesses around Ottawa.
"I just wanted to share with people that Ottawa isn't as boring as its reputation," said Hadfield, "It was just a hobby. I just turned my personal Instagram into being about Ottawa because I found that I was already sharing a lot of things I was doing in the city."
According to Aron Darmody, an associate professor of marketing at Carleton University, micro-influencers create trust with their audience to further their relationships with local businesses. Generally, they promote brands and in return, receive financial compensation for the customer engagement generated by their posts.
"More and more marketing tools are becoming a part of our everyday lives," Darmody said. "Back in the day, people might look at a TV ad, newspapers or magazines. We had a great, clear understanding of what a commercial is in a way that things like social media started to change. It is blurring boundaries between the personal and commercial sides of life."
Darmody said that it's vital for businesses to have a social media presence as a direct line of communication with their customers.
Over the pandemic, Darmody said, many businesses have turned to influencer marketing to attract customers, largely young adults. And, according to a pair of restaurant owners based in Ottawa, social media influencers are helping to increase sales and changing the future of how they approach marketing.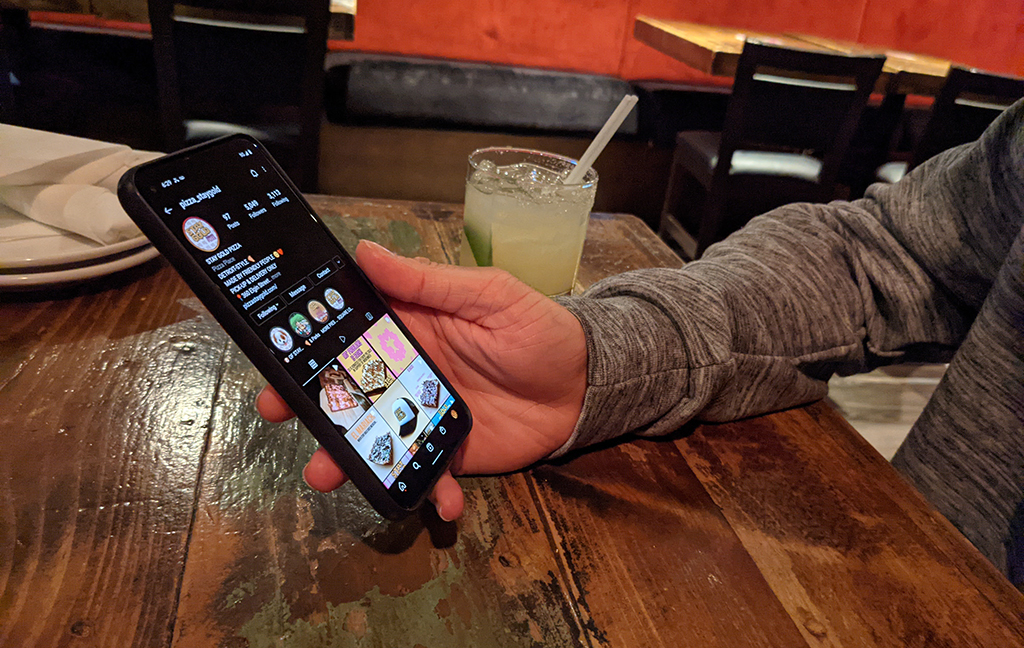 Expanding their reach
Restaurant owner Puong Hoang said social media engagement has proven a great success for his business, Stay Gold Pizza on Elgin Street.
Hoang recommends other restaurants collaborate with Ottawa-based food influencers as it cost him between $150 and $300 but helped him garner a following of over five thousand people who care about what's fresh at Stay Gold Pizza.
"Every single time we did a contest with these viral accounts, we had a bump up between a hundred, 300 followers," he said adding that some posts would get between 5,000 and 10,000 views. "That's huge for a small account like ours."
With the rise of social media, some restaurants have captured an especially far reach.
"We get a lot of people taking pictures of themselves with milkshakes. It has always been a place where young people gather, especially like university students," said Kate Rutledge, the co-owner of Zak's Diner in Kanata. "I've had lots of people say, 'Oh, I saw it on this and so we thought we'd come and check it out,' and they're from B.C."
In the digital age, influencers have more power than ever to encourage others to buy or try a certain product. According to a 2016 study that gauged influencer marketing strategies, more than 80 per cent of participants found influencers to be more impactful, knowledgeable and believable than the general population.
What influencing comes down to, according to Darmody, is knowing your audience and your influence.
"If your target market is people primarily in their 20s, are you going to advertise on local TV? Are you going to pick up magazine ads?" Darmody said.
"What micro-influencers often offer is kind of smaller numbers, obviously in terms of followers, but sort of a much higher level of engagement. The idea is that if people are following these micro-influencers, they're doing so for very specific reasons. If you just have a smaller number of followers, it's easier to engage."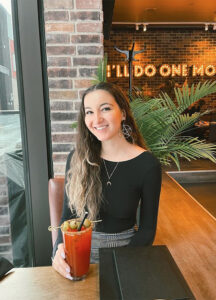 Appealing to under-40s
The importance of reaching a target audience is crucial to success as an influencer, according to Hadfield.
"If your business is on Facebook, great, but you're only being seen by people who are 40 or up. If you want to be visible to the younger generation, you have to meet them where they are and that's really on Instagram," Hadfield said.
By finding the right platform, the business markets itself. This was the case for Stay Gold Pizza, which saw Instagram users advertising the Elgin Street restaurant themselves.
"We somehow caught on to this trend of people unboxing our pizzas. People are going out of their way to order pizzas and posting videos on their stories. Then it spreads like wildfire where you're kind of getting a larger demographic," said Hoang.
Since the pandemic, Stay Gold Pizza has extended their business beyond pizza, including selling merchandise like hats.
"We get a lot of DMs, messages and emails from people being at a random shop and people would stop them to have a conversation about how they all like Stay Gold Pizza," Hoang said, adding the merchandise "helped people bond."
Eric Chan, an Ottawa-based influencer who goes by the name Ottawa Nibbles, has also noticed a growing number of young adults turning to content creation as a hobby.
"When I started around 2017, there weren't a lot of bloggers," Chan said. "Now there are a ton of bloggers, food bloggers and photographers. People just found their hobby and they're kind of jumping into it."
But Darmody has questions about the future of influencer marketing, including whether micro-influencers on Instagram are shifting from trying to sell to building communities and demonstrating more empathy after the pandemic.
"Is there less of a focus on the explicit commercial side of things that people were mybe a little more accepting of two years ago than they are today?" he asked.
Hadfield said she felt a bit awkward reaching out to small businesses that may have been struggling during the first six months of the pandemic. But over time, she said, she felt more comfortable and successfully found collaborations.
"Spreading the word of different local businesses that I personally liked during the pandemic helped other people discover them," she said. "It's important to support your local economy. When you purchase a product from a local business, I find that it adds value to it."
Listen and watch Rajpreet Sahota's walking tour of Ottawa's top Insta-worthy restaurants, including Stay Gold Detroit-Style Pizza and Zak's Diner.