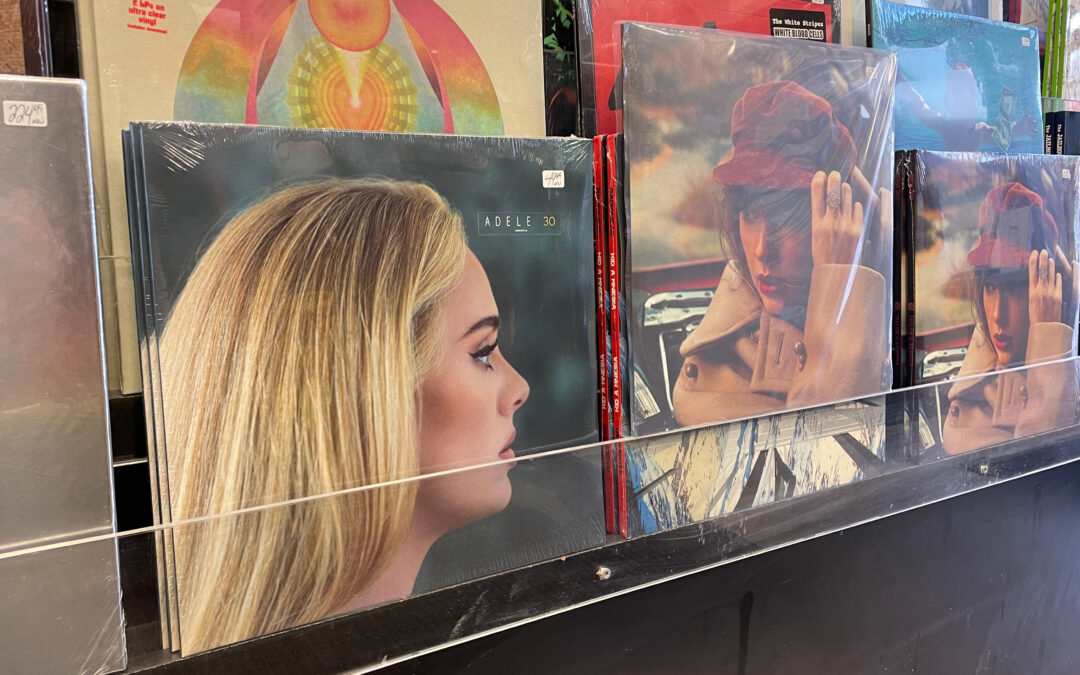 Adele's 30 hit the shelves at Vertigo Records on Bank Street in Ottawa on Nov. 19. Photo by Aly Mccabe.
Giuseppe Ivan Sestini stayed up until 12 a.m. to see the release of Adele's 30–the British pop star's first album in six years. 
"I feel like it's the masterpiece, like that's the word," said Sestini. He said he listened to the whole album shortly after midnight.
At Carleton University, some students are rediscovering Adele's music and celebrating her use of lyricism to describe her personal experiences. Her newest album is all about divorce, family and self-discovery.The album opens up conversations about women and the criticism they experience in the music industry as well as explores topics of divorce, family and self-discovery.
Earlier this year, Adele reappeared on the music scene with her hit single "Easy on Me," which blew up on social media platforms such as TikTok, getting listeners excited for the reemergence of the singer's powerhouse vocals.
Other Adele fans at Carleton University shared Sestini's excitement over the release of the 33-year-old's newest work.
Emma Pettigrew, a dance teacher and a student at Carleton University described the music as "really powerful," while another student, Miranda Jordens, said Adele's lyrics showed "strength and independence."
Beyond her personal journey, the British singer's fourth studio album is a powerful expression of grief, heartache and joy.
"She's expressing pain and joy in such an artistic way that I've never seen in any artist," said Sestini.
Beyond her music, Adele's new album adds commentary on the flawed representation of women in pop music.
"I feel like they can't really talk about relationships without being called psycho or crazy," Jordens said, describing the misinterpretation of female pop artists who are vocal about their opinions.
The release of 30 and of Taylor Swift's Red (Taylor's Version) on Nov. 12have ignited a conversation about misogyny in the music business.
Swift is best known for her ballads on heartbreak and singing about the nitty gritty details of her breakups and all the emotions that come with it. This has led Swift to fall under harsh criticism for addressing her exes through her artistry.
"These albums are the way that they are telling their truth," Sestini said. "Unfortunately, not many women are allowed to do [this] in a system that basically tells them that their opinion is not valid."