Mira Liao Parkinson, a fourth year nursing student at the University of Ottawa, says "it doesn't seem like nurses are a priority." Photo by Adam Beauchemin.
Mira Liao Parkinson, a fourth-year nursing student at the University of Ottawa and a member of the university's nursing students' association, wanted to work in a field where she could put her scientific know-how to work helping people.
As Parkinson enters the last semester of her undergraduate career, she says she is excited to spend more time in a hospital to sharpen her skills and shed her student label.
But, her experiences as a student nurse have also left her with another feeling.
"It feels like I'm headed into this big storm," said Parkinson.
"I knew, before the pandemic, about all the faults in the healthcare system," Parkinson said. "Then, the pandemic happened, and it just really exposed all that, not only to us, but to everyone."
Now in her final year of schooling, Parkinson is looking to break into the field of nursing at a tumultuous time.
"It's really daunting, knowing that I'm going to graduate and then most likely, this pandemic will still be ongoing, and there will still be COVID patients," Parkinson said.
Since the spring of 2020, COVID-19 has laid bare problems in the nursing field. Across the country, hospitals are short-staffed and nurses are burning out from working exhausting overtime shifts.
As nurses leave the field en masse, nursing students are preparing to join a workforce in crisis.
Licensed practical nurses vacancies jumped by 140 per cent from 2019 to 2020.
Registered nurses and psychiatric nurses saw the largest total increase in vacancies in Canada from 2019 to 2021.
Melanie Cairns, a fourth-year nursing student at Winnipeg's Université de Saint-Boniface, has had many great experiences learning in hospitals and interacting with patients. However, her experiences in the field haven't all been positive.
"Especially in the last year, it hasn't been what I thought it would be. I've seen a lot of stress, burnout, and a toxic work environment," said Cairns, who added that nurses didn't sign up for such long hours and so much overtime.
Carling Gosselin, a student nurse also in her fourth year at Université de Saint-Boniface, explained the loss of some practical learning experiences due to the pandemic has impacted the education of many student nurses.
"I honestly don't feel prepared," Gosselin said. "The pandemic hit when we were in our second year. Now that we're in our fourth year, there are certain elements of the profession that I still wish I knew because I think that if there wasn't a pandemic, I would probably be a little bit better off than I am right now." 
'Nurses eat their young'
Parkinson explained the stress of feeling behind in learning is only exacerbated by the fact that hospitals often aren't welcoming environments for inexperienced nurses.
"There's this whole other label on us – we're 'the COVID babies' and we're disadvantaged," Parkinson said. "The saying that 'nurses eat their young' – we get told that all the time."
While turnover is common among Canadian nurses – according to Statistics Canada, in the spring of 2021 there were an estimated 22,400 vacant registered and psychiatric nursing positions across the country – a high rate of turnover can be seen especially among young nurses.
According to one study by the Registered Nurses' Association of Ontario, close to 13 per cent of Ontario's registered nurses between the ages of 26 and 35 indicated they were 'very likely' to leave the profession after the pandemic.
Roughly 13 per cent of Ontario registered nurses aged 26 to 35 say they are likely to leave the field after the pandemic.
Parkinson found hospital work environments differed depending on the age and experience of staff.
According to Parkinson, some hospital units had noticeably higher rates of turnover than others.
Jana Delorme, a nurse and instructor with Algonquin College, noted there's a certain pressure for young nurses to get hands-on and practical experience with patients right out of school, which leads many young nurses to work in specific hospital units.
"Working with junior staff can be nerve racking," said Delorme, who graduated from nursing school in 2018. "It does allow you to experience more. I think if you worked with all senior nurses, you may not get to see as much as a nurse and take care of as many different things."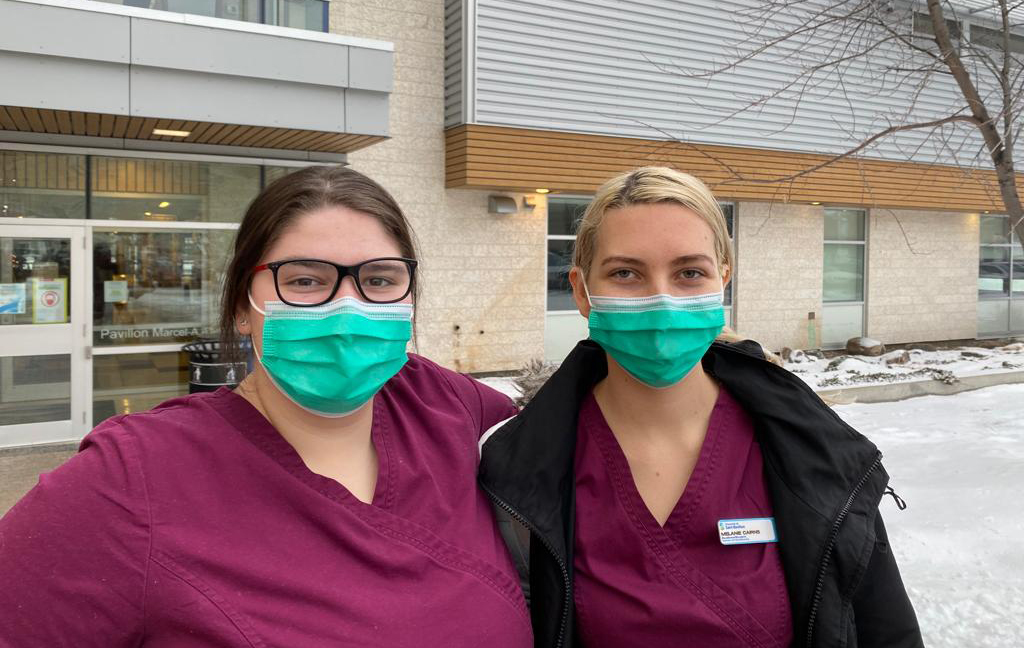 Carling Gosselin and Melanie Cairns, two student Nurses at Winnipeg's Université de Saint-Boniface looked to classmates for support. Photo by Daena Coleman.
Student nurses have been handling stress in different ways and for many, it was a matter of finding support in each other.
"I think it's really important to talk to other nursing students because as much as leaning on your friends is good, no one will quite understand the awkward balance that we have as nursing students," Parkinson said. "And usually when you open up those conversations, you realize – I know it's cheesy to say – but that you're not alone."
Parkinson said she also looks for support from the student association's 'beating burnout' club – a mental-health and self-care club that organizes student events.
Nursing students often go through their program as a cohort. In Cairns' experience, long days at school cause nursing classes to become tight-knit.
However, without the interaction of in-person classes, forming and maintaining connections with classmates wasn't always easy or possible. "There's definitely a lack of social support now compared to before."
For Gosselin, it was difficult to lose even the small interactions with her classmates.
"I never really realized how important those 10 minutes before class were, or those little 15-minute breaks that just gave me that chance to connect with everybody," Gosselin said.
'Have you forgotten about us?'
Many issues in nursing were around before COVID-19.
A pre-pandemic report from 2020 by the Canadian Federation of Nurses Unions, reported 92.6 per cent of nurses were experiencing symptoms of burnout.
Likewise, per Statistics Canada, in April and May of 2019 nurses were already working between 5.8 to 6.6 hours of overtime per week. Still, many of Canada's nursing issues have exacerbated over the course of the pandemic – nurses worked close to 10 overtime hours per week in April and May of 2020.
According to 2021 Statistics Canada data, 70 per cent of healthcare workers reported their mental health had worsened during the pandemic.
While some had been warning of this crisis long before the pandemic, Linda Silas, president of the Canadian Federation of Nurses Unions, said no one wanted to listen.
"The government was playing ostrich with their heads in the sand. They didn't want to hear it – they didn't want to acknowledge that the health human resource was building up into a crisis situation," Silas said.
In the fall, the federation called on the federal government to fund greater workforce planning and provide additional support to hire, retain and recruit nurses.
"We'd written to the prime minister after the election, and we wrote to him last week. Today, we're on social media saying 'have you forgotten about us?'"
Silas also noted this isn't the first time Canada has faced a nursing crisis. The federal government worked to tackle similar issues in the 1990s, and she hopes to see the same initiative taken today. Silas says she would like to see the return of government supported mentorship programs to help newly graduated nurses navigate their new careers.
"A lot of talk, but no action yet," Silas said. "I'm hopeful that it will come to something."
The Raging Twenties reached out to Health Minister Jean-Yves Duclos's office Friday for comment on the federation's demands. At the time of publication the Raging Twenties had not received a response.
For University of Ottawa student Parkinson, an end doesn't seem in sight.
"There's definitely a huge system change that needs to happen," Parkinson said during a Zoom interview. "I don't really see that happening in my lifetime."
She noted that while the pandemic brought many of these issues to public attention – and in the process brought nurses plenty of praise – it has yet to transition into meaningful change.
"At the end of the day, we're just people. And the reality is we're not treated that well," Parkinson said. "In the media they call us 'a hero.' But when it comes down to our paycheck, our benefits and our vacation, it doesn't really reflect the public's perception, which is really unfortunate."
Supports for students: Mental health resources and crisis lines.