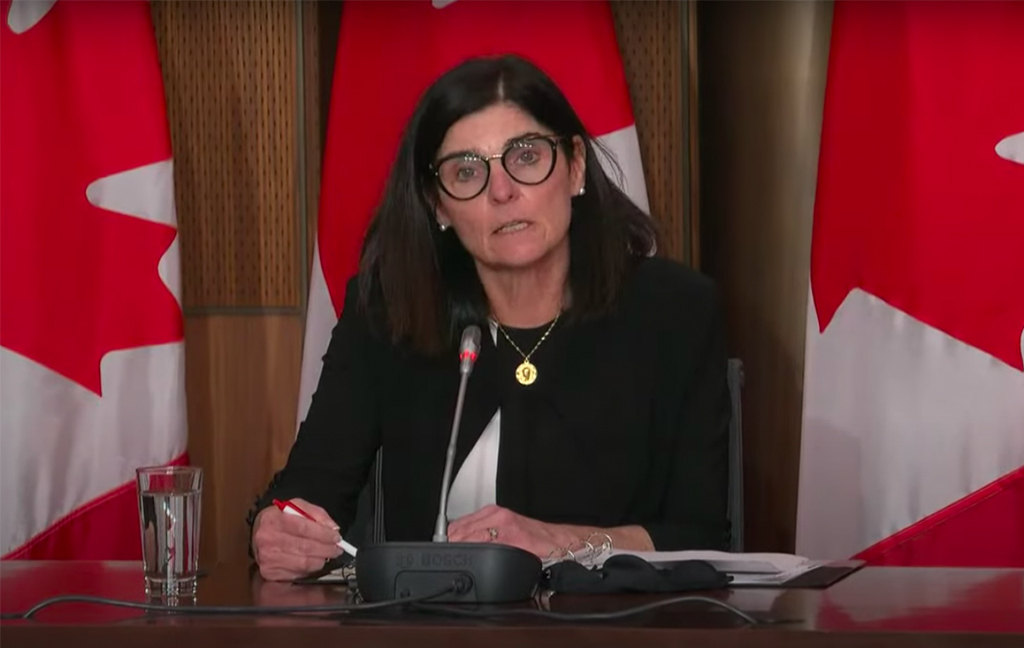 Canada's Minister of Public Services and Procurement, Filomena Tassi, announces Canada's purchase of 1.5 million courses of antiviral pills at a press conference on Friday. Screenshot is taken from Global News broadcast.
By Hafsatou Balde & Sam Konnert
In a week that saw several provinces expand eligibility for booster shots to combat COVID-19, the National Advisory Committee on Immunization on Friday recommended the use of booster shots for people over the age of 18, but emphasized that adults over 50 should be prioritized.
The announcement came among concerns about the new Omicron variant, which was first reported last week.
"It's still too early to understand what the effect of this variant is going to look like," said Puja Bagri, a project analyst at the Canadian Institutes of Health Research.
"Our best information is coming from South Africa, but their population is very different in terms of vaccination rates compared to Canada."
Meanwhile, Filomena Tassi, the Minister of Public Services and Procurement, announced Friday the federal government has signed an agreement with Pfizer and Merck for the purchase of 1.5 million courses of COVID-19 oral antiviral pills, both in stage three of Health Canada authorization.
"Access to effective and easy-to-use treatments is critical to reducing the severity of COVID infections and will help save lives," the minister said.
Sarthak Sinha, an MD PhD candidate at the University of Calgary who specializes in tissue scarring and cell regeneration, said he sees the antiviral medication as an essential step in attacking the virus at the right time.
He explained there are two stages to the body's response to COVID-19, and the pills are most effective in the first stage.
"The antiviral pills the government announced are best administered acutely after symptom onset," Sinha said.
In the second stage of the body's response to the virus, according to Sinha, the pill is not as effective. "The late stage of response is when people become hypoxic, they get really sick and have to go to the hospital," he said.
The second stage of fighting COVID-19 is not driven by the virus, he said, and is instead driven by the body's hyperinflammatory response.
While steroids like Dexamethasone are good for later stages of infection, he added a combination of the two therapies will have the greatest benefit for patients. "Early intervention mitigates risk for severe disease," Sinha said. "That's the overarching concept."
With the Dec. 1 announcement that Alberta is opening up boosters to those 18 and up and Ontario outlining plans to offer a third dose for people over 50 as of Dec. 13, Bagri said she thinks other provinces may eventually follow suit.
"We should be taking care of key populations that may be more vulnerable first," Bagri said.
"Testing and sequencing hand-in-hand – that's how we're going to really capture the spread of this variant," Bagri said.
On Friday, the province of Ontario reported 1,031 new cases of COVID-19. It's the first time since May 30 the number has surpassed 1,000 new cases.
Numbers like this make the possibility of a booster appealing to people like Nitika Sharma, a 26-year-old student at Carleton University who received her second dose back in June.
"Once they ask us to get the shot, I'll be the first person in line," she said.