Changes to OC Transpo grounded seniors — until they mobilized, fought the city and won
Margaret Guthrie, 89, used to be able to take the bus to the Good Companions Seniors' Centre without worrying about being late for the social activities she's come to depend on.
But the October redesign of OC Transpo bus routes made that impossible.
"I can't do the shopping I used to, I can't go visiting, and this is all because of OC Transpo," she said from her table at the centre's dining hall on a Monday morning in late November.
 "The restrictions it's put on my life … I still like to do things on impulse and it's just grounded me."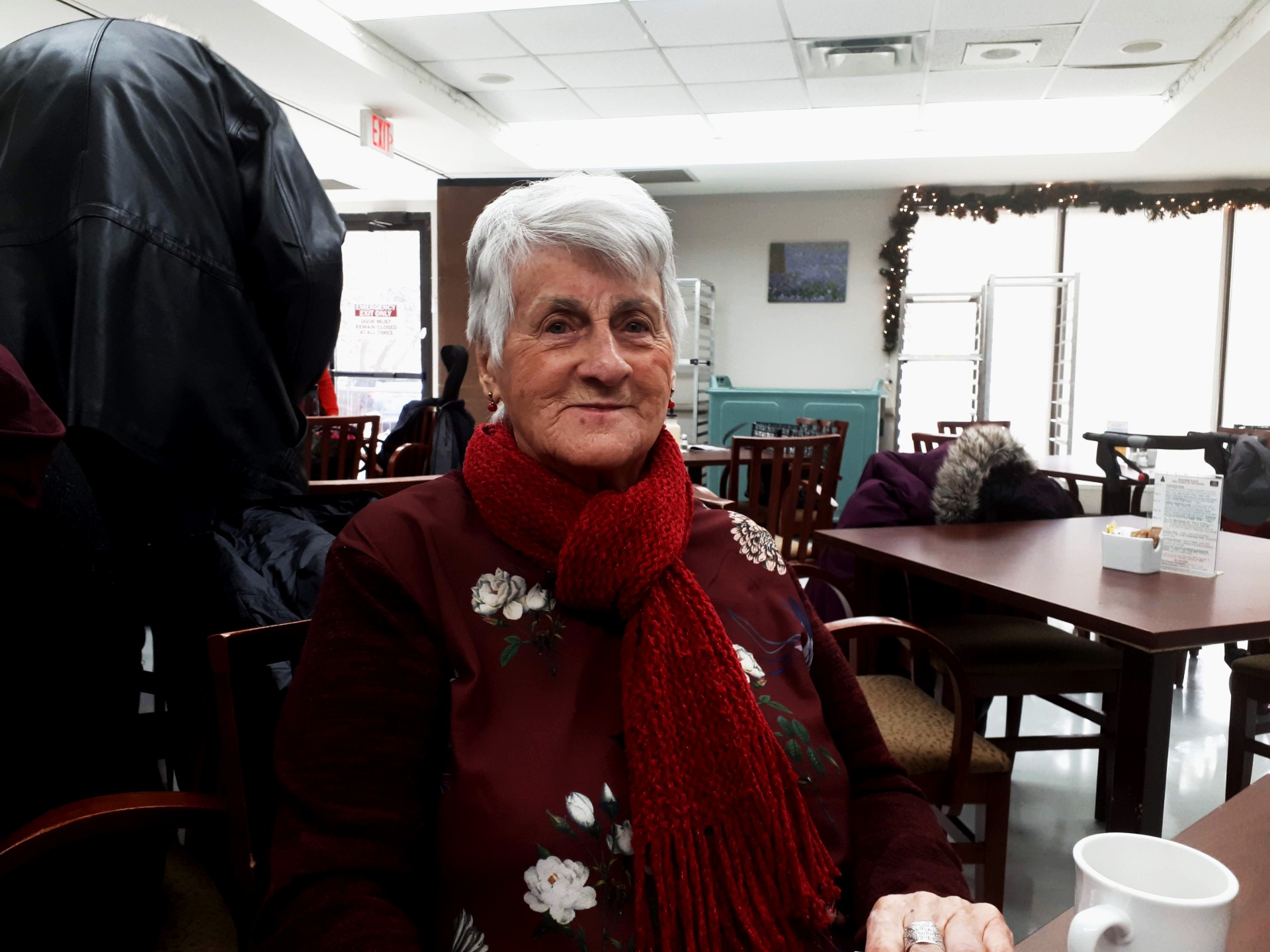 Margaret Guthrie sits in the dining hall of the Good Companions Seniors' Centre. A member of the centre for 19 years, she says the reduction of bus routes after the introduction of the LRT "grounded" her. Photo by Emma McPhee.
Before OC Transpo reduced bus service as part of the transition to the LRT, 11 buses stopped in front of the Good Companions, with one coming every four to five minutes. Starting in October there was only one: route 16. Up until this week, it came by the centre every 30 minutes.
The centre is also served by the new LRT — Pimisi station is located just 300 metres from the centre — but the walking distance has proved difficult for seniors with mobility issues. Many instead have chosen to keep taking the bus.
Fewer buses, longer wait times and greater walking distances disrupted the weekly schedules of many seniors. Numbers went down at the Good Companions' weekly programs, which members said is an indication that some are not coming at all.
However, the seniors at the Good Companions are not the type to sit back and watch life pass them by. When it became clear that they were no longer adequately served by OC Transpo, they started contacting city councillors, writing letters and reaching out to media.
This week their efforts paid off. On Monday, Ottawa Mayor Jim Watson announced that the city would be adding new bus trips to route 16 in order to reduce wait times. Seniors can now expect to wait just 15 minutes between buses, not half an hour.
"It was our members who really took action and decided that they wanted access to transportation. So, they called their councillors and wrote letters," said centre executive director, Monique Doolittle-Romas. "They definitely were the ones that influenced the decision."
Grounded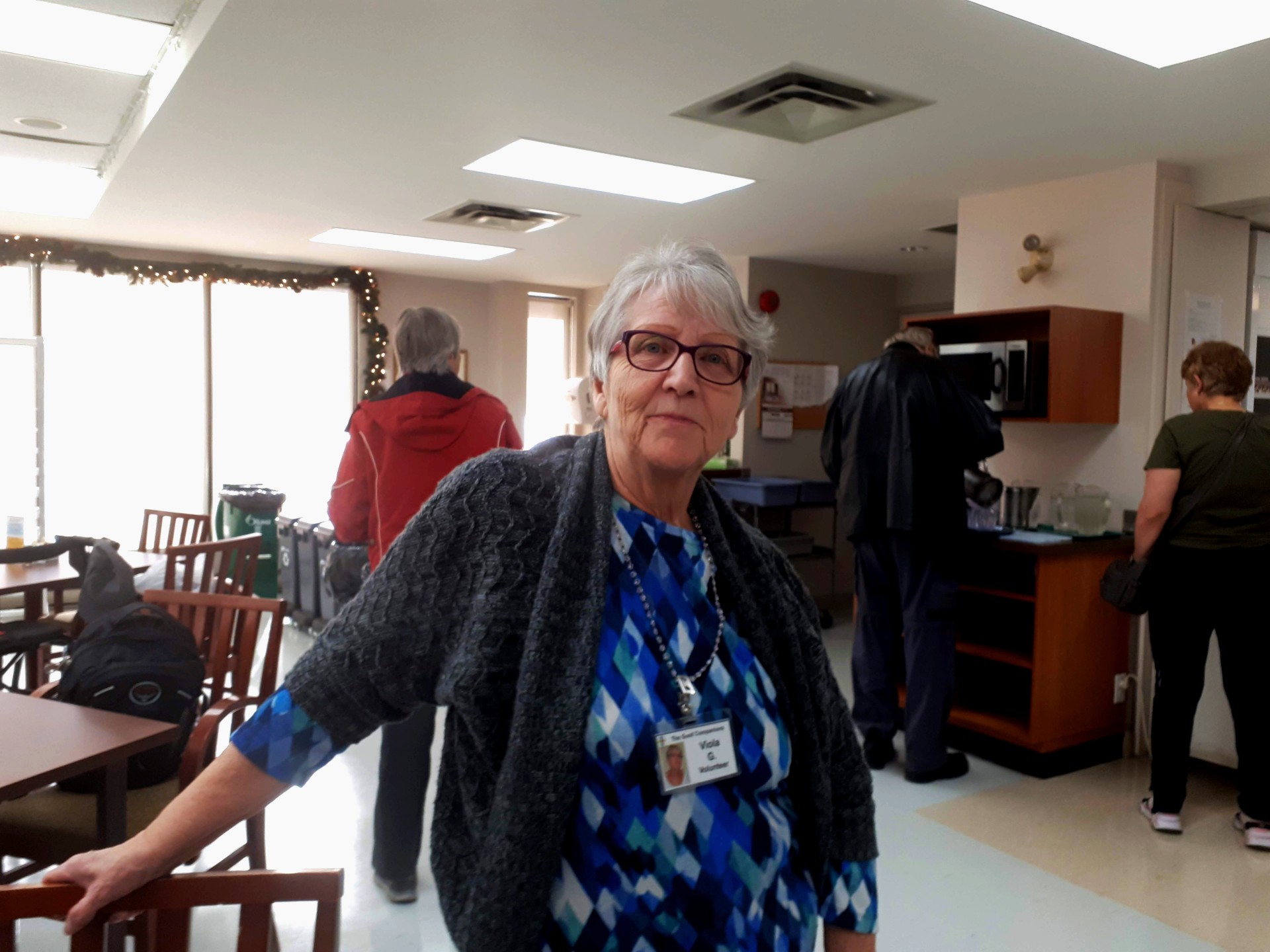 Centre volunteer Viola Golden says her commute time doubled when OC Transpo redesigned routes. Photo by Emma McPhee.
When buses were reduced in October, Doolittle-Romas said the effects were felt immediately.
"Already members were telling us they wouldn't be able to come in the winter," she said, adding attendance for one of their fitness programs was down by about 40 per cent.
Viola Golden is a volunteer at the centre. She said her commute used to take 33 minutes, but after OC Transpo cut its bus routes, it took at least an hour.
"It makes a difference," she said, adding that her need for a cane usually leaves the walk to and from Pimisi Station out of the question.
"As a matter of fact, I've taken that train four times, and three times I've had to be 'off you go and catch a bus' because the d— thing broke down."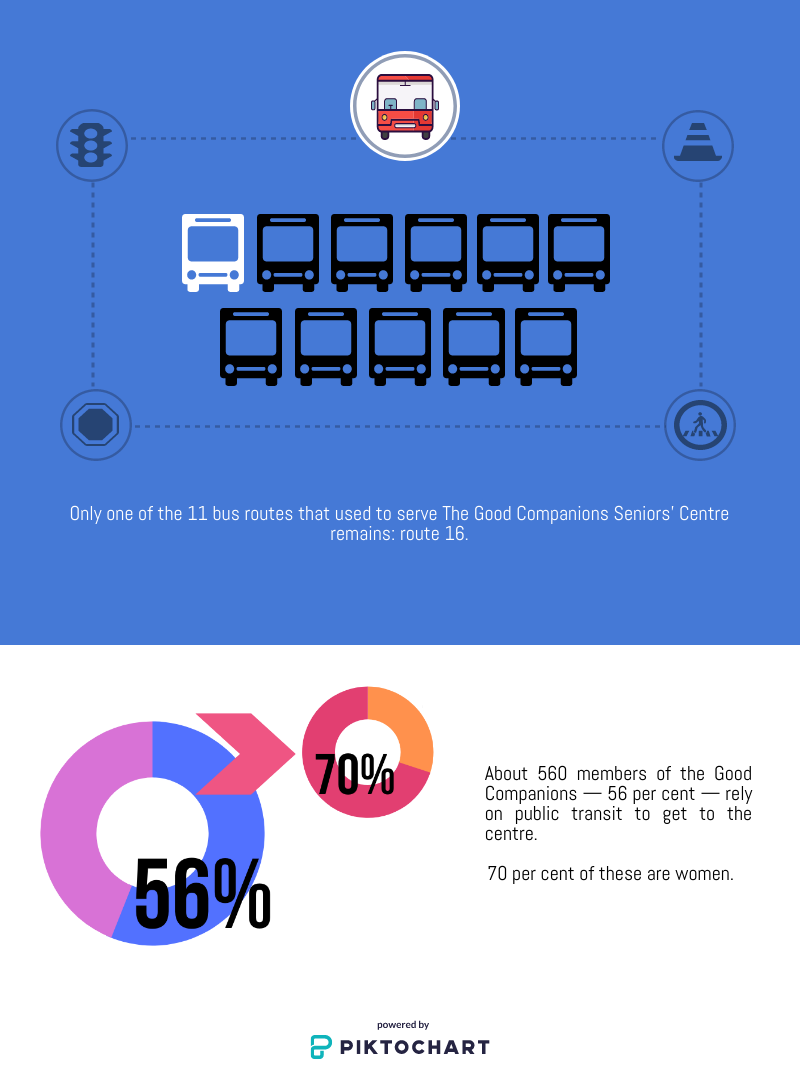 Graphic illustration by Emma McPhee.
While the recent changes to OC Transpo cancelled key downtown bus routes, including the 95, Mathieu Gravel, director of issues and outreach for the mayor's office, said that there was no reduction in service.
"I'm not going to call it a reduction because there's another station approximately 300 metres away," Gravel said, adding he recognized that 300 metres is a long distance for a senior with a walker.
This is a problem that Linda Tennant, another member of the centre, knows all too well.
"I take the train to Pimisi, and (the walk from) Pimisi to here is so windy you can hardly catch your breath," Tennant said. "I'm asthmatic, and if it's icy I can't do it. So, I don't know how I'm going to go from Pimisi to here."
As for the seniors for whom the LRT and reduced bus service weren't feasible, they turned to using Para Transpo.
Para Transpo is a shared-ride service that Ottawa residents with disabilities can book in advance. People need to be eligible to take Para Transpo, but some eligible seniors, like Guthrie, find the need to book ahead limiting, and take the bus instead.
That was the case, at least, until the cuts to bus routes made Para Transpo a more favourable option. As a result, more people than usual started to use the service.
"Too many people have been taking Para [Transpo] and it's harder to get on and if you have to wait then you wait for over an hour sometimes," said Frances Lake, a member of the Good Companions who used Para Transpo before the OC Transpo redesign occurred.
Despite these concerns, what worried Doolittle-Romas most were the seniors who decided to skip out on using public transit altogether.
"One of our instructors has already resigned. She will not be coming during the winter," Doolittle-Romas said. "What we're worried about is that this will lead to increased social isolation as seniors don't get out."
'It's our continuation of life'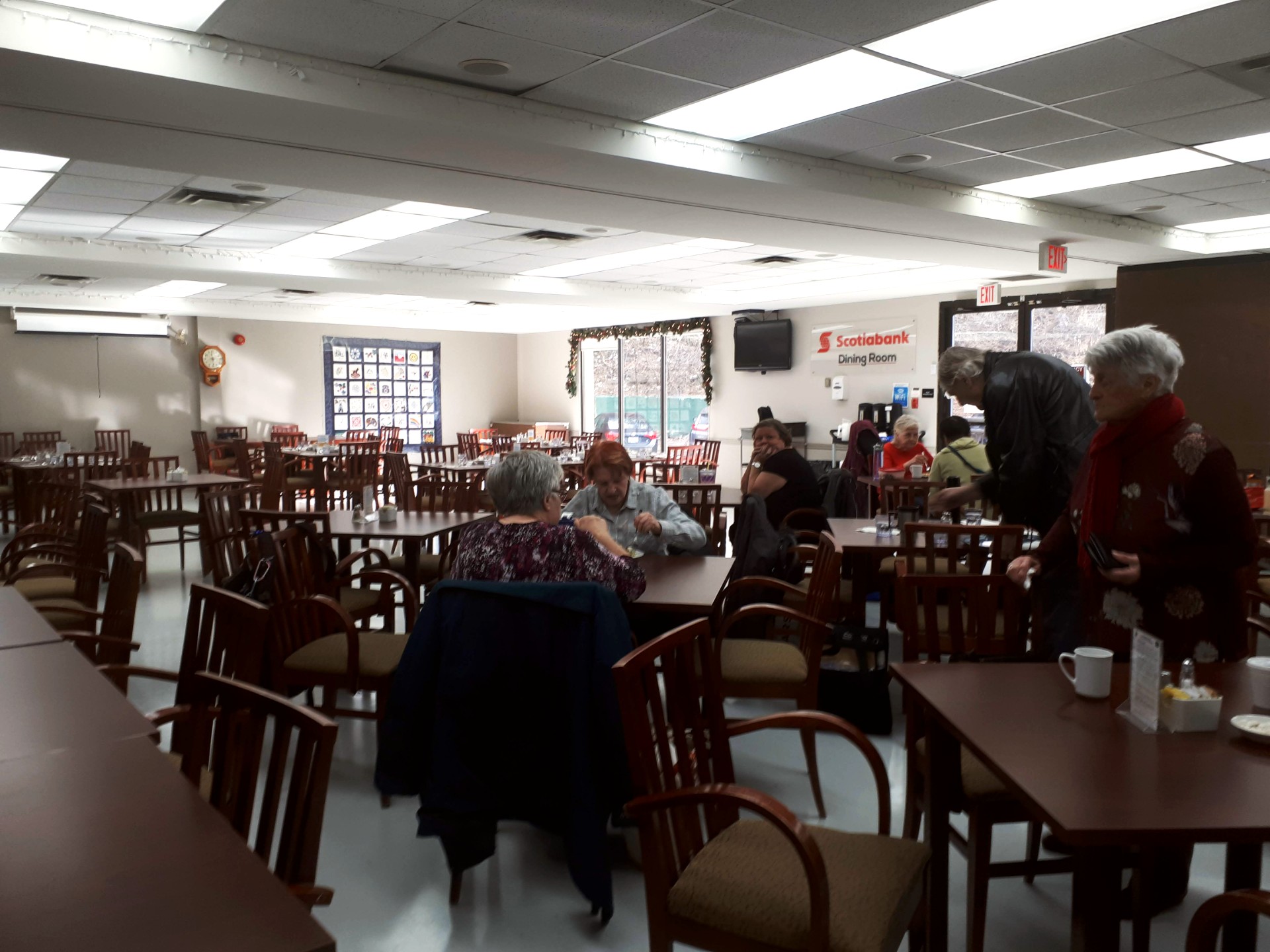 Members of the Good Companions Seniors' Centre share lunch together in the centre's dining hall. Photo by Emma McPhee.
Ask members of the Good Companions about how the centre impacts their life and many will have a similar answer.
"This is my second home, they will tell you that," Golden said, nodding to the other women at her table in the centre's dining hall.
"I love this place. I call it my continuation of life," said Guthrie.
"This is their community," Doolittle-Romas said. "These are their friends, their family, so it's important for them to come out and sit around and have a cup of coffee, volunteer, be active, engaged, socialize, laugh, share great moments. We're concerned about the impact it will have on their health."
Studies show that the opportunities for social participation offered by seniors' centres improve quality of life and decrease the risk of disability, dementia and depression.
Additionally, Statistics Canada's 2014 Report on the Social Isolation of Seniors listed "lacking access to transportation" as a factor that increased the risk of seniors becoming socially isolated and cut off from their communities.

Graphic illustration by Emma McPhee.
With the health of the centre's members on the line, Doolittle-Romas met with Watson, representatives from OC Transpo and Catherine McKenney, councillor for Somerset Ward, to see about getting more buses on the road.
Members of the centre added pressure by writing letters and calling their councillors.
Finally, on Nov. 25, Doolittle-Romas received a letter from Watson announcing the addition of 24 trips to route 16, effective immediately. Doolittle-Romas said the centre was full of excitement after the announcement. "There were tears and lots of hugging, people wanting to reach out to friends," she said.
"And some of the members of the guitar class created a little song to go with the number 16 bus."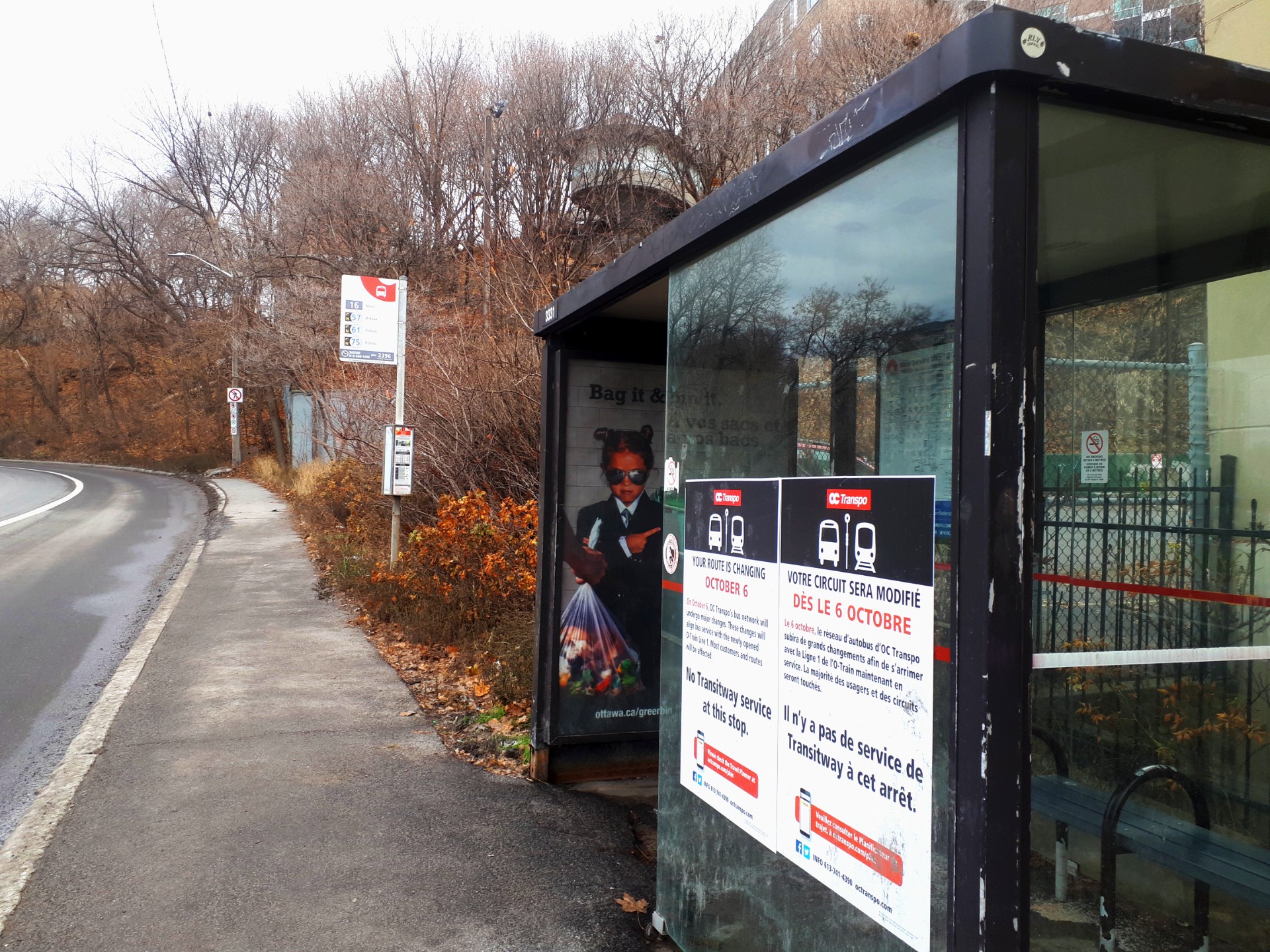 Only one bus, route 16, stops in front the Good Companions centre. On Monday, Ottawa Mayor Jim Watson announced 24 new trips, increasing the route's frequency from 30 to 15 minutes. Photo by Emma McPhee.
For the seniors, it was an indication that people were finally listening. 
"It's good to see the young people taking an interest," Guthrie said.
Gravel said concern about social isolation was a factor in getting more buses for route 16.
"If we have good transit services for seniors to go to social activities … that's key to the living standards of seniors and ensures they have a bit of a social life," he said.
"We all have good days," Golden said. "I can come up here and be very depressed. Everybody gets depressed. You come up here and you lift your spirits."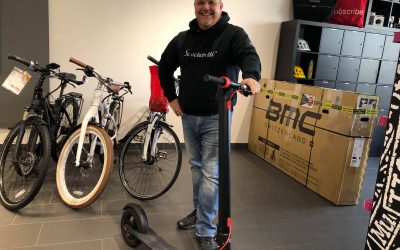 The Ontario government announced a five-year pilot plan for e-scooters on Wednesday. What will it mean for Ottawa pedestrians?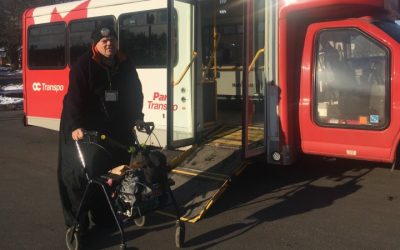 Transit woes may be new to LRT riders, but Para Transpo users have lived with unreliable transit for years.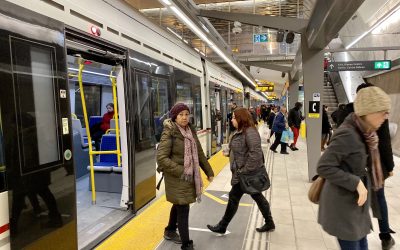 Recent fare freeze for public transit is meant to compensate riders for months of LRT woes.