By Arvin Joaquin and Liam Harrap
Nov. 8, 2016
POTSDAM, N.Y. — Laughter from the nearby barbershop can be heard on the street.
Inside, amid the haircuts, a group of Donald Trump supporters muse about politics on U.S. election day.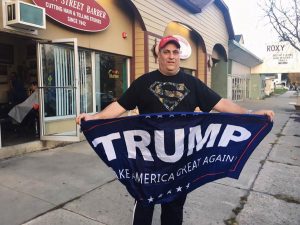 "Yes, I voted for Trump," says truck driver Tim McCavy, who dons a red cap with the Trump slogan "make America great again."
"He's the most qualified," says McCavy. "He's not a politician, he's a business man. In the U.S., we have money problems. He's the best man for the job."
The sign for Main Street Barber reads "Cutting Hair and Telling Stories Since 1942." McCavy, 46, isn't here to get a haircut, he's here to chat. Years ago, he gave the barbershop owners, Paul Austin and his son, Pat Austin, a toilet-bowl brush depicting Hillary Clinton as the "First Cleaning Lady."
Before stopping by the barbershop, McCavy could be seen Tuesday protesting in front of the Democrat headquarters, draped in a large Trump flag.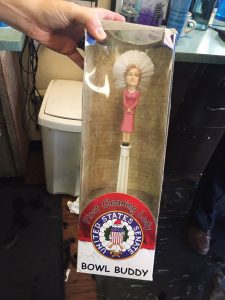 For McCavy and the Austins, Clinton's record in office is a concern.
"Wouldn't matter what party they were in, if anyone did what Clinton did with their emails, it was wrong," says Pat Austin, whose shop has a "Stop Hillary" sticker on one of the mirrors.
"The sticker is as radical as I get. I leave the flag wearing to Tim," chuckles Austin.
However, not all barbershops in Potsdam wear their politics on their mirrors. When asked about politics in Dillon's, a barbershop down the street from Main Street Barber, the barber gruffly replied: "No politics in this barbershop."
Back at Main Street Barber, McCavy says one of his concerns is how the media depicts opposing views.
When asked about the upcoming results, he replied, "Whoever wins, the winner is my president. And I respect that."