By staff
Nov. 9, 2016
OGDENSBURG, N.Y. – The reality of President Donald Trump settled in here in upstate New York after the Republican candidate declared victory in the early morning hours.
Jubilant Republicans gathered at the Phoenix on the Bay restaurant in Ogdensburg on Election Day evening and unexpectedly found themselves at a victory party.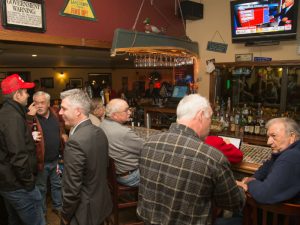 "We've never seen a response like this in a presidential election before. Donald Trump is speaking to people in their own language," said local Republican leader Donald Gruneisen,
Thomas Jenison, chair of the St. Lawrence County Republican Committee – and hardly a Trump fan – admitted he was taken aback. "It's certainly a surprise. Yes, it is."
"We'll find out indeed if Hillary Clinton turns around and actually womans up and says 'I lost' or if she's going to go and hide her head in the sand and say 'Well, I really didn't lose. America lost,'" Jenison said.
"Trump, he's a billionaire, he loves his country. He didn't have to run for president. He did it because he loves his country," added Kevin Beary, St. Lawrence County Republican Committee member from Potsdam.
In nearby Potsdam, only a handful of people showed up at the Democratic Party celebration, which shut down early. A handful of stunned Democrats sat around one table in the empty restaurant that had served as the local Democratic headquarters, alternately cursing at the televised results and mulling over what had gone wrong.
"The doom is starting to rain down on us," said local Democrat chairman Mark Bellardini. "This is one of the most craziest elections I've ever seen. The norm is so out of reach right now. I can't believe people would vote for him. People must just want change bad."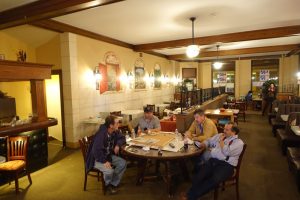 Across the street in Potsdam, at McDuff's Bar, the patrons had a hard time imagining this outcome.
"Trump is all showmanship but what would that mean for a presidency?" said Sarah Carsman who works at the hospital. "It seems unlikely that he will be able to do all the things he said he could," she added.
Some self-proclaimed Hillary Clinton supporters say that the other levels of government will be enough to keep Trump in check, but at least one is not so sure.
"There used to be a check on power," said McDuff's patron, Jerod Sommerfeldt. "Look at the Supreme Court, it used to be apolitical, but it's so political now that the system no longer works."
Earlier, about 100 students at the State University of New York- Potsdam sat in their school's cafeteria in front of a huge screen, anxiously awaiting the results of an election that has been two years in the making. Although many a Trump flag flies outside the walls of their University, some students were wearing anti-Trump or pro-Clinton gear. Sitting proudly in the middle of the crowd with her friends, 19-year-old Jordan Schutt proudly sports her "F— Trump" shirt. She and her friends, Ian Strauss, 20, and Desiree Woods , 18, voted for Clinton, but say their true support lies behind former candidate Bernie Sanders.
"Clinton was just the lesser of two evils," says Strauss.
In other key races, Republican Elise Stefanik won the election for the 21st Congressional District. In the 116th Assembly District Race, Democratic candidate Addie Russell defeated Republican John Byrne. Democrat Renee Cole won the race for St. Lawrence County Treasurer.
The mood was buoyant at the GOP election festivities where the mayor, several county Republican chairmen, and the state Senator Patty Ritchie, joined party faithful to drink beer and watch Fox New as the results came in.
Beary, the Republican from Potsdam, defended Trump's now infamous videotape comments about women. "Believe it or not men do talk like that sometimes. I know you're very innocent child, but they do," he told a young female reporter.
"Women make themselves sexually available to high status men, that's a known fact." The former English teacher continued. "That's what women look for in a mate. Status, social status, wealth and power."
Earlier, voters across the region expressed a combination of relief that this acrimonious campaign was finally over and angst about the possible results.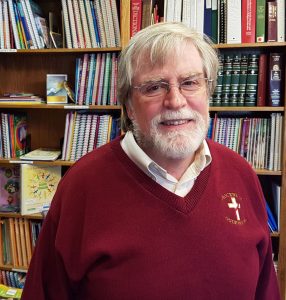 "I think, like a lot of other Americans, I'll be glad when it's over," said Deacon Patrick Donahue of the Roman Catholic Diocese of Ogdensburg. "I think there has to be some relief, some exhale, if you will, on what's happened over the last 15-16 months."
Some Trump supporters said they were holding their nose and voting for the party, not the candidate.
"I'm voting for the Republican Party, not Trump. I'm more in line with the Conservative way of thought than the Liberal way of thought," said Dale Kirkpatrick, a high school special education teacher and a dual citizen with Canada.
But other Trump backers, like Ogdensburg resident Gavan Lincoln, were wearing their support on their sleeves. "I don't believe in Hillary and her charity," Lincoln said. He said Trump is "making sacrifices for himself and the people." As Lincoln drove away from the polling station in his pickup, a big Trump flag waved from the back.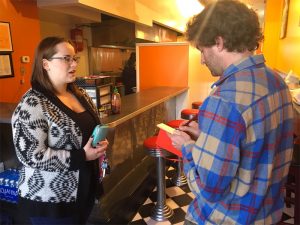 But Kate Waters, 24, a customer service worker at a drug story in Potsdam, had no time for Trump. "I've never been so stressed for an election," she said. "Trump scares the shit out of me."
She was echoed by Lori Doran, who was walking her dog in Potsdam. "I don't like anything about Trump. I can't have the television on in front of children because of him," she said. "I don't want to see him on TV again."
Alan Draper, a professor of Government at St. Lawrence University, in Canton, said he feared Trump has ushered in a new era.
"We are moving into a post-factual political world and once that genie is out of the bottle and people see that candidates don't pay a price for it, it's hard to get back."