Online poker and sports betting have surged in popularity during the pandemic. (Photo by Adrian Sampson, Creative Commons License CC BY 2.0)
OTTAWA – When Paula Fraser learned her father was an alcoholic, she joined a program for family members of loved ones struggling with addiction.
"I went through their program," she says of Rideauwood Family and Addiction Services in Ottawa. "By the end of it I knew I wanted to work in the field."
Fraser quit her job as a lab tech and built a nearly 23-year career at Rideauwood out of helping people who struggle with the same dependency she watched take hold of her father.
Now 62, Fraser is delivering counseling over video chat as the pandemic changes both the nature of her work and the pressures of addiction. She says she has been receiving more calls from people struggling with online gambling who had never tried it before the pandemic.
"I've had a couple people who never ever did online gambling, and since the casinos were closed, they started doing online gambling. That's something I noticed in COVID," she says.
Since the Ontario government ordered the province's casinos closed during the first wave of COVID-19 lockdowns, fewer problem gamblers are calling helplines for support, but a larger share of calls are being made by young people who have embraced emerging forms of online gambling as Ontario prepares to legislate greater access.
Legacy gambling—the kind that rewards its patrons with bright lights, big buttons and flashing screens—has suffered from casino closures and capacity limits just as online gambling has bloomed. The American Gambling Association reported third quarter "iGaming" growth of more than 200 per cent over 2019, mostly due to increased demand for online poker and sports betting. The Canadian Gambling Association does not publish similar statistics because online gambling is currently a "grey market" activity in Canada, meaning it is illegal for private gambling companies to operate in the country, but Canadians can legally use foreign gambling websites.
"We've seen a dramatic increase in online gaming participation," says Paul Burns, President and CEO of the Canadian Gambling Association. "Many of the bigger online sites in the world are publicly traded companies, so we've seen reports from them."
U.S. researchers have found evidence that casino closures are leading many problem gamblers to "substitute" slots with online alternatives.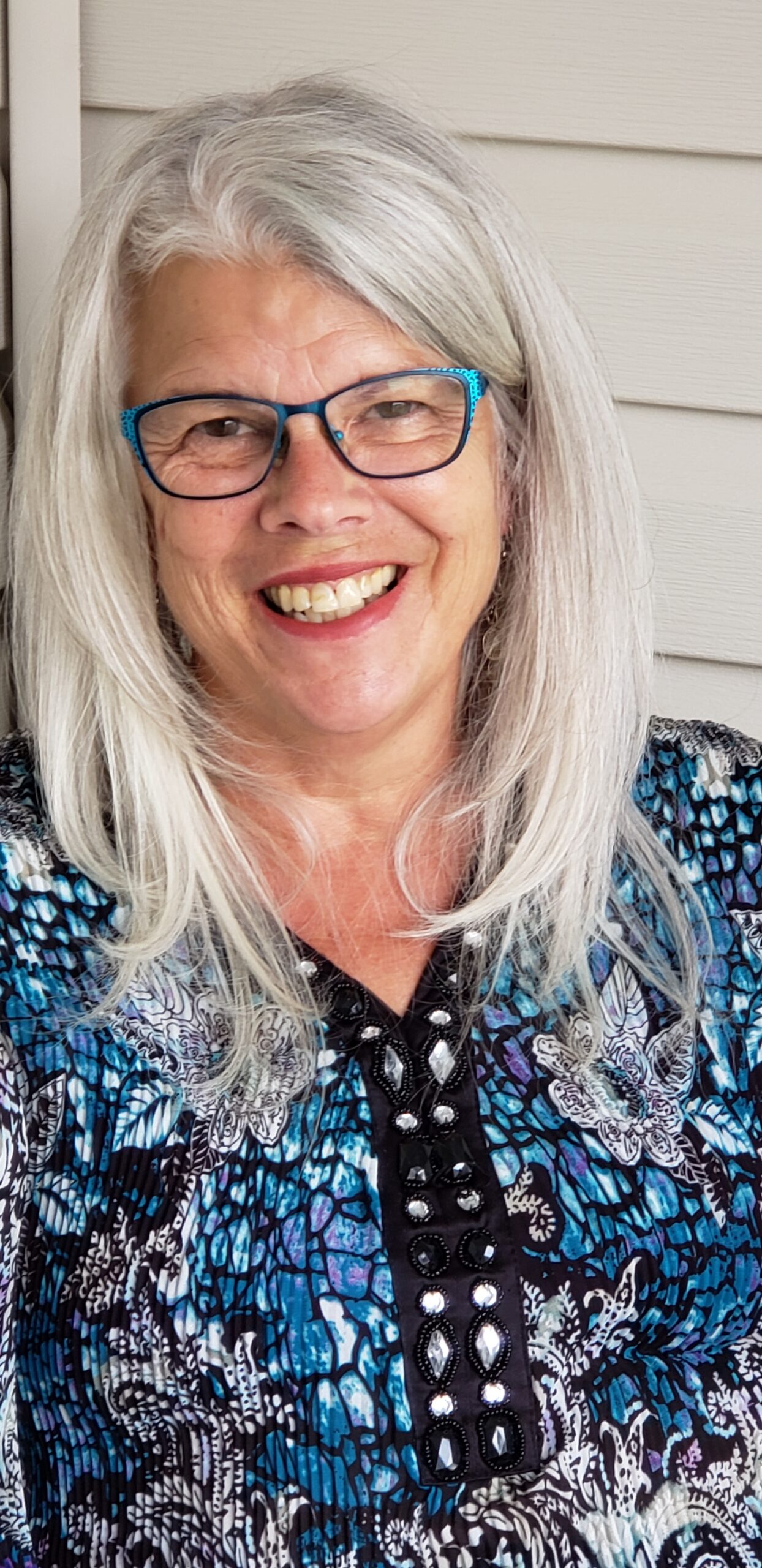 Fraser pictured outside her home in Ottawa, Ont. (Photo provided by Paula Fraser)
Similar Canadian data has yet to be published. Instead, research in Canada has focused on the volume of calls made to problem gambling helplines.
Nigel Turner, a gambling researcher at the Canadian Association for Mental Health, says there has been a large overall decrease in the number of calls to the Ontario Problem Gambling Helpline. The helpline received just over 200 calls in April of this year, about 100 fewer calls than it received in March and 200 fewer than April of last year.
"The drop this year was much greater, much more substantial," says Turner. "It's the lowest number from the past two and a half years."
Calls to the helpline may be down overall, but Turner notes a shift in who is calling and what they are calling for. The number of young people calling for help has increased. Twenty-three percent of women who called the helpline during the pandemic were younger than 25.
Matt Young, manager of youth services at Rideauwood, says young people require a unique therapeutic approach. They may have a distrust of adult figures and a different perception of what counts as gambling.
Callers are also increasingly likely to report problems with online card games and sports betting.
"In October, it was actually sports betting that had skyrocketed," says Turner. "That's probably a shift towards online gambling."
Young recognizes the inherent pitfall in treating an online addiction with online therapy.
"To engage with it, our counseling requires them to access technology, which has been potentially the very issue that brought them to counselling," he says. "The positive is that it's also an opportunity to practice boundaries in real time."
Twenty-three percent of women who called the helpline during the pandemic were younger than 25.
Although Turner says there is little research on the topic, there is some evidence that online gambling may be more addictive. But he also believes that "secondary reinforcement" could explain why many gamblers seem hesitant to embrace online slots, which is the gambling sector most strongly affected by COVID-19.
"When you're live, thousands of other people around, you hear all the bells and whistles of every machine in the neighbourhood," says Turner. "And that gives you a secondary reinforcement that makes you think winning is possible because everybody else is winning. Online you don't have that. You don't have the other players to make you excited about games."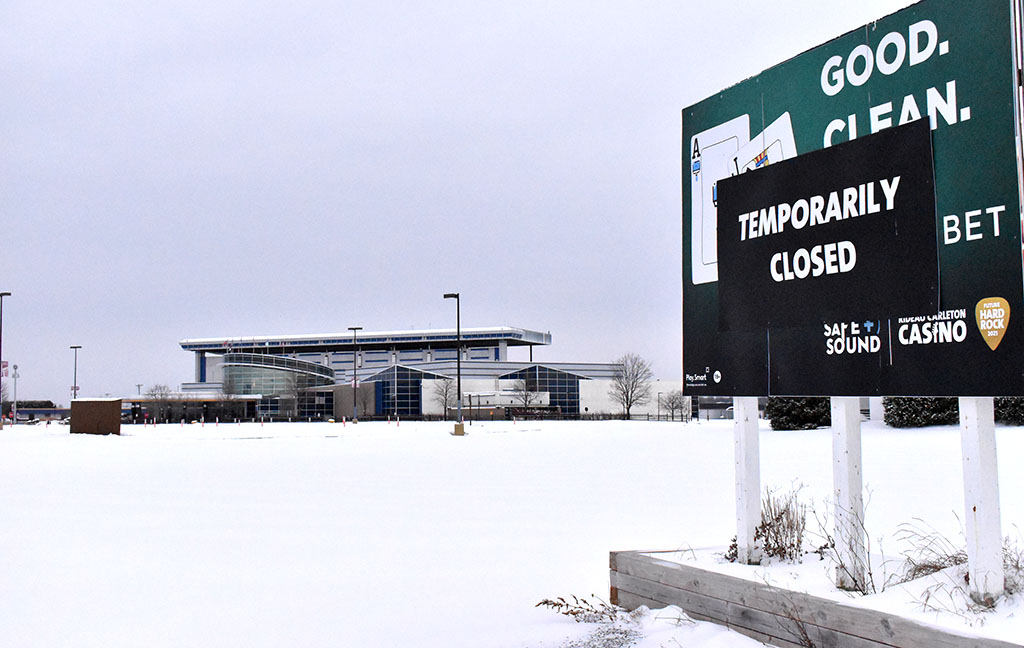 The Rideau-Carleton Raceway and Casino has been closed since the first wave of COVID-19 lockdowns in Ontario. (Photo by Ben Andrews)
The Ford government is set to legalize private online gambling in Ontario, which would establish a competitive market and allow the government to regulate the industry. Ontario's proposed licensing framework would allow the province to tax a portion of the nearly $500 million Burns says Ontarians spend on grey market online gambling each year.
With the growth of online gambling accelerating during the pandemic, Turner says the government must act carefully. 
"Anytime you increase the availability of an addictive behaviour, gambling or whatever, it's a potential problem," says Turner. "If they're going online anyway, they may be better off if they have regulated gambling from Ontario, which will point them to help resources and offer advice of when to quit."
Fraser says many of her clients felt relieved when casinos closed. Many of those who haven't transitioned to online gambling fear relapse when casinos eventually reopen.
"They're worried that they'll just go back where they were before," she says. "And they'll get back into that vicious cycle of gambling, blowing their money, feeling shame and guilt, feeling horrible, and then going back for more. It's a total cycle of addiction."
As governments and billion-dollar industries negotiate gambling's post-pandemic future, Fraser watches the familiar burden of addiction through the unfamiliar filter of a screen.
Online work is new and challenging for Fraser, but the reasons she quit an unfulfilling job over two decades ago to become an addiction counselor remain.
"You get to be part of someone healing and growing and working towards a better life," she says. "I just feel very honored to do that."