Cairo Carbonera wears a mask as she plays with her baby, capturing life in 2020. (Photo by Cairo Carbonera)
REGINA — Their babies cry and the morning begins. Their partners are off to work and the house is quiet. Grandparents are stuck at home under new COVID-19 restrictions. Visits from friends have been replaced by comments on Facebook. Moms feel disappointed and alone. This has been the struggle of young women who gave birth during the pandemic.
Second-time mother Cairo Carbonera, 24, is a registered nurse who started her maternity leave as the pandemic began. She admits that this pregnancy was much different than her last. Though friends and family have sent gifts and left thoughtful comments on online posts, the experience does not compare.
"It's just different. It definitely did feel lonely. Having a baby is like you just spent nine months creating something [but you're] not be able to have anyone come and see him," she says. 
"Commenting on an Instagram picture isn't the same as having your friends come over and hold your baby and see them in person."
Dr. Margie Davenport, an associate professor in the faculty of kinesiology at the University of Alberta, recently conducted a study examining the effects of the pandemic on 900 new or expecting mothers.  
The women were asked about their depression and anxiety symptoms before and during the pandemic. Before the pandemic, 29 per cent said they had moderate to high anxiety symptoms, and 15 per cent experienced depressive symptoms. Those numbers nearly tripled during the pandemic.
Davenport and her colleagues also found that these symptoms were much lower for women who engaged in at least 150 minutes of physical activity per week.
Dr. Maggie Morris, an obstetrician, encourages moms to reach out to healthcare providers for support when dealing with depression. "We're trying to support patients the best we can," she says, adding that phone call appointments are available if women do not feel comfortable going in person.
"Commenting on an Instagram picture isn't the same as having your friends come over and hold your baby and see them in person."

-Cairo Carbonera
Loosened restrictions in the summer gave newborn babies the chance to meet their grandparents. With COVID-19 cases declining, parenting groups carried on and up to 15 guests were allowed in personal homes. Mothers were able to get a brief taste of what it's normally like to welcome a baby. But the second wave that started in October left them feeling alone and without support.
In September, the Canadian Centre for Addiction and Mental Health launched a survey to evaluate the pandemic's effect on mental well-being. The results showed that women and children's mental health was the most negatively affected by COVID-19. Factors include prolonged time alone and children's return to school.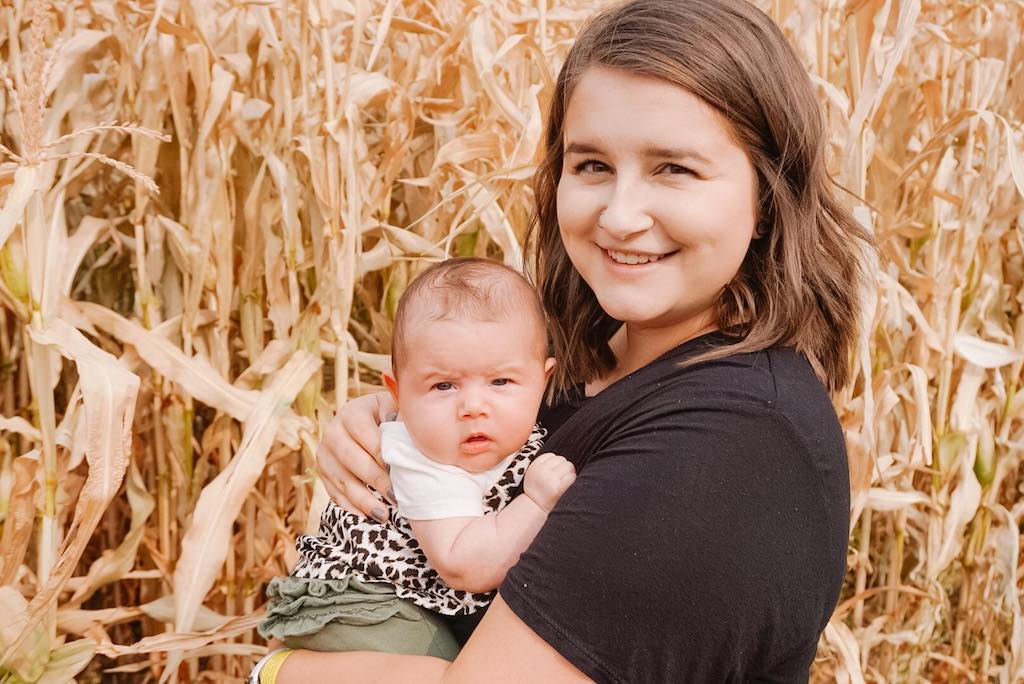 Sydney and her daughter enjoy the Saskatchewan countryside. (Photo by Sydney Bodnarchuk)
"It's hard because our families have been around and interacting with the baby and getting to spend time with her. But now that things are starting to be restricted again, it's harder because they are gonna miss that," says first-time mom Sydney Bodnarchuk.
The 25-year-old is left at home with her daughter while her husband teaches during the day. When he gets home, he runs straight to the shower, taking extra precautions to protect his wife and baby.
Stores and restaurants remain open, but many parents stay home worrying about their babies' health and what others will think.  In the summer, when restrictions were low, Bodnarchuk enjoyed taking her baby for a walk in the mall.
"Now that restrictions are coming back … I feel more judged for taking her out," she says. "But it's for my own mental health."
Kirsten McBride, who just became a first-time mother at 28, admits that the days are long and lonely. She says she misses the help she might have gotten from her own mom in regular times.
"I call my mom for everything like, hey, why is he making this noise?" McBride says.
Bodnarchuk says solitude has affected her as well. She says that being on maternity leave isn't easy during the pandemic.
 "I wish others understood that this does affect us moms on mat leave. People assume that mat leave is always staying home, but there are mom groups that have been cancelled, prenatal and postnatal classes, exercise baby and mom groups that we are scared to attend and even hanging out with other moms at home," Bodnarchuk says. "This isn't normal for any of us." 
McBride says that mothers should not socially isolate themselves. She was looking forward to bonding with her friends who were also becoming new moms before the pandemic. She suggests calling to check up on other mom friends.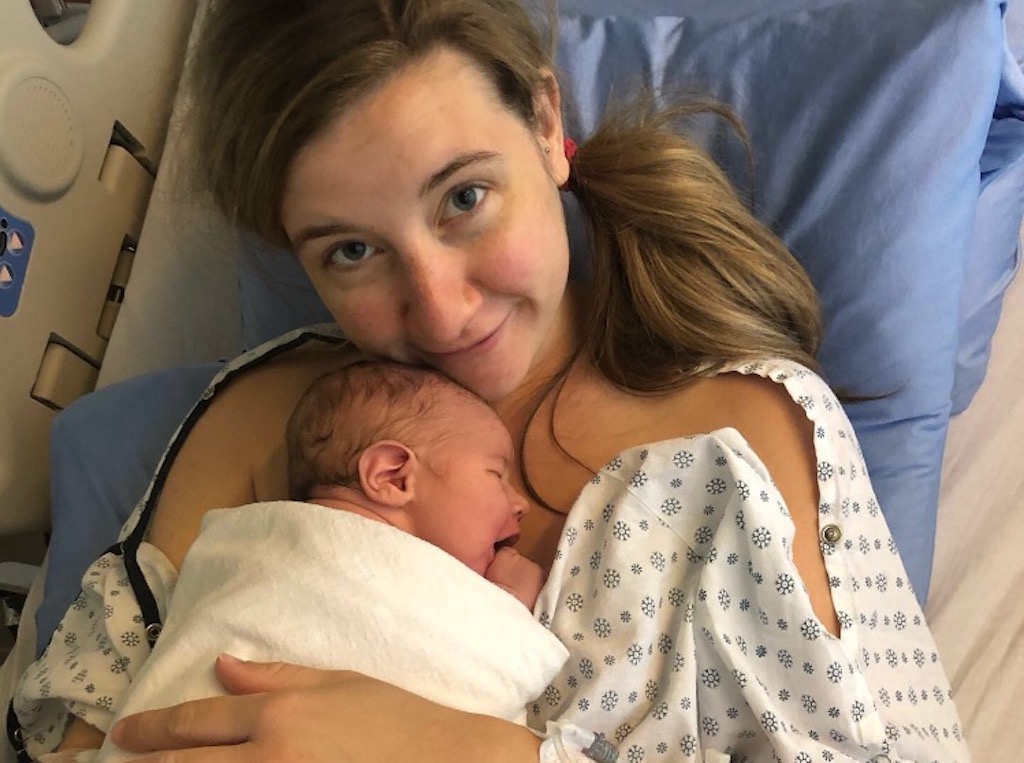 Kirsten McBride holds her baby boy on the day of his birth. (Photo by Kirsten McBride)
"If you and one other mom friend can get together outside, go on a socially distant walk. Wear a mask, but still get outside and get fresh air out of the house. Just because we are quarantining doesn't mean we have to be restricted only in your house. Even if it's just you and your baby."
After some reflection, McBride said that while 2020 was a challenging year, having a baby was a blessing. 
"It might not have been how we pictured it, but it was special all the same. Little man sure did bring a lot of happiness to our families this year."