Santa George McKay stands on a Christmas float during the Brampton Santa Claus Parade in Ontario, 2018. (Photo provided by George McKay)
VANCOUVER – Santas are struggling to bring joy to the holiday season this Christmas amid escalating COVID-19 case counts.
"Christmas is not quite the same," says Vancouver-based Santa Dave Bushell, who has lost all his work to the pandemic. 
"It doesn't have the happiness that went along with it in the past." 
Bushell, 64, has been a professional Santa for 21 years. He's trying to keep that cheerful Santa spirit alive, but says it's hard.  
His career began under the guidance of Larry Tamkin, who appeared at Woodward's Department Stores and Royal City Centre in New Westminster, B.C., for 42 years. Bushell's father, David Glendon Bushell, was also a Santa.
"Not having the income this year is really tough," Bushell says. "I am struggling." 
Cadillac Fairview Corporation Ltd., one of Canada's largest mall operators, cancelled all live-Santa events at 17 shopping centres this year out of concerns for public safety. Because additional venues across Canada are ditching live Santa events, the pandemic means financial loss for many Mr. Clauses.
Santa income typically covers his basic living expenses from late fall to mid-February each year. 
Hire A Santa's "North Pole Operations Manager," Rozmin Watson, has been in the event planning business for 18 years. She contracts Santas out to live venues and Bushell is on her roster.
Compensation from employers for cancelled events is rare, Watson says. And only 12 of her 120 Santas are transitioning to Zoom bookings.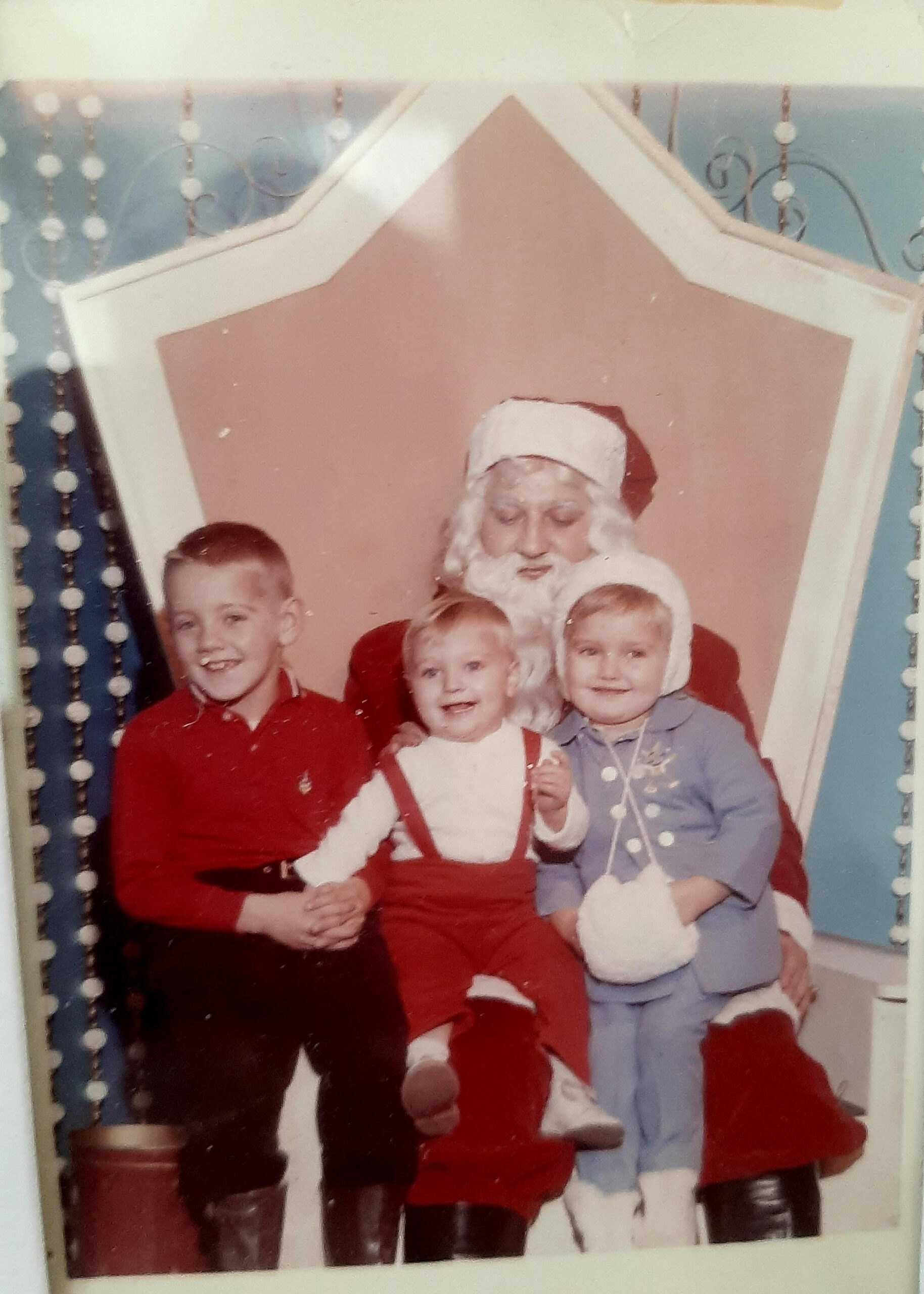 Dave Bushell (left) sits with his father Santa David Glendon Bushell, brother Darrell Wayne Bushell and sister Deanna Renee Bushell at Eaton's Mall in New Westminster, B.C., 1966. (Photo provided by Dave Bushell)
"Santas are not tech savvy," she says. They tend to be in senior age categories and "don't have the proper equipment to do virtual visits."
Skipping Santa this year may seem like a trivial concern, but for some, the bearded red and white figure is a symbol of hope.
"People don't realize that being Santa is a very big responsibility," says Bushell. "Santas carry a lot on their shoulders."
"We try to keep the magic alive," he says.
But the job also includes answering tough questions from those who struggle through the holidays.
"Sometimes people cry in your arms and they just want to be held," Bushell says. 
He adds kids sometimes make difficult requests too. "Children who have recently lost their mom or dad ask Santa to bring them back."
Being a Santa is a two-way street though. They also need their fans.
"I crave the interaction," says Bruce Marshall, 58. 
He has 25 years of Santa Claus experience but lost most of his work this season. The Kids Market, his main Vancouver-based client, cancelled all live Christmas events this year.
"People don't realize that being Santa is a very big responsibility[…]We try to keep the magic alive"

– Santa Dave Bushell
Marshall has a day job at a deli in Chilliwack, but being Santa is the highlight of his year. 
"Being Santa is the best thing ever," he says. "But I don't know what the season holds right now."
He hopes Zoom will facilitate the magic of being Mr. Claus, but says Christmas is "gonna be kind of odd." 
George McKay, 70, is a Brampton, Ont.-based Santa with 45 years of professional experience. He notes there are high costs to looking the part, including keeping his costume updated.
"You have to look the part," he says. "I am naturally bearded and my beard gets dyed  three times a year. Stone white."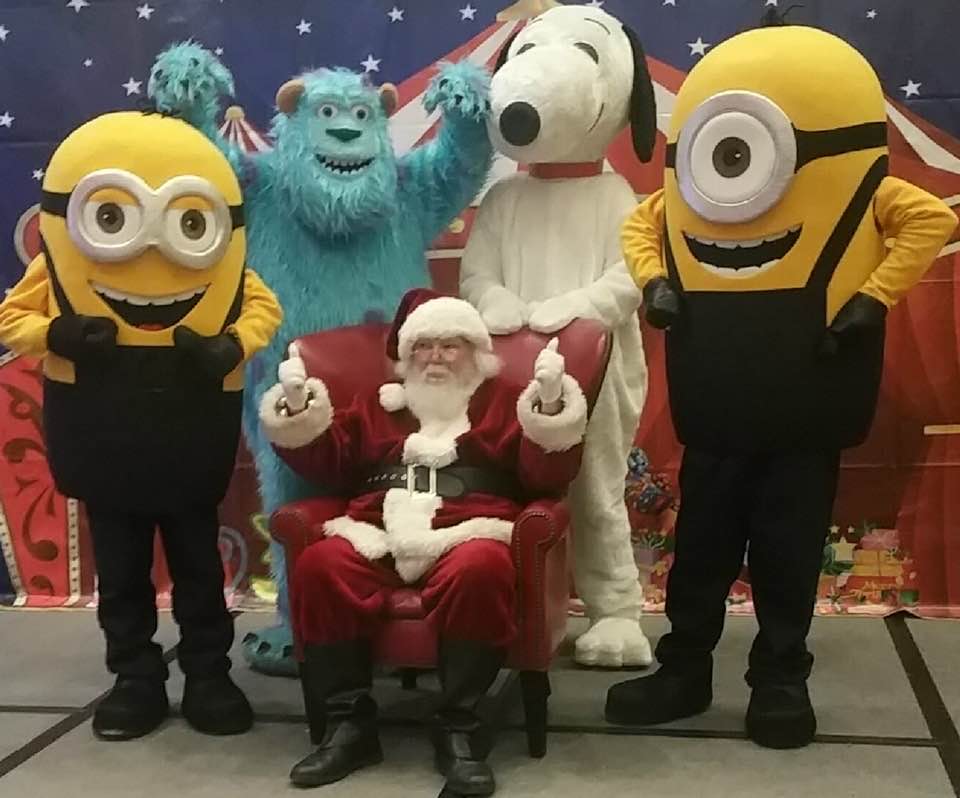 Santa George McKay poses for a group photo at McMillan Law Firm's office in Toronto during a Christmas event. (Photo provided by George McKay)
This year, McKay is performing outdoors, taking socially distanced photos and – if patrons ask him to – wearing masks. He expects his seasonal income to be less than a quarter of what it was last year. 
Because McKay is semi-retired, he needs Santa income to cover basic living costs such as home renovations and medications. He renovated his roof using Santa money last year and he is worried more household repairs may be needed in 2021.  
"We can't predict the future and we have no idea what will happen next year," McKay says. 
But McKay does know this: Santa will visit "all the boys and girls" this Christmas Eve.