Natalie Baker (Inuit) outside her family home and new isolation location in Arviat, Nunavut (Photo provided by Natalie Baker). 
MONTREAL – As COVID-19 cases continue to climb in the northern hamlet of Arviat, Nunavut, and as the days get shorter, community members worry about their mental health. 
"The youth are impacted greatly because we are told not to socialize, and most of the places they can go to are shut down right now," says Romeo Okatsiak, an Inuk youth pastor at the Glad Tidings Church in Arviat.
Nunavut saw its first case on Nov. 6, in Sanikiluaq. The territory now has 56 active cases. Arviat, population 3,000, has been hardest hit with all of the territory's total active cases at the moment. At its last peak, the community had over a hundred active cases. As the rest of Nunavut lifts lockdown, Arviat will continue its isolation period for another two weeks. 
"The health department did not want it [COVID-19] to spread, but it has spread significantly," says Okatsiak.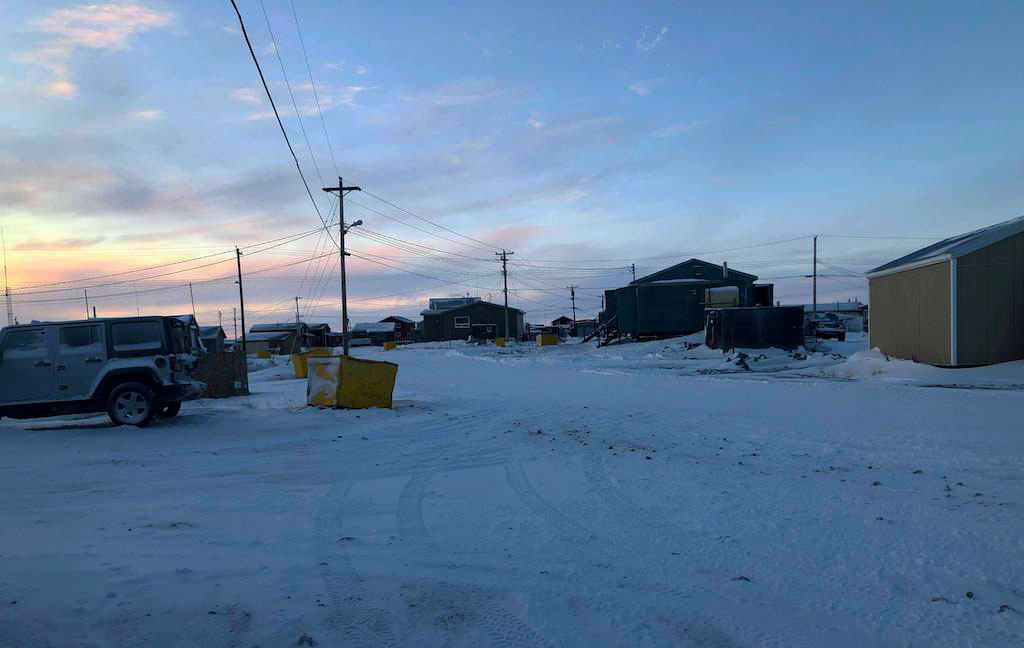 An empty street in Arviat, Nunavut as the sun sets at 3:30 p.m. (Photo provided by Natalie Baker (Inuit)).
Eighteen-year-old Natalie Baker, who is Inuk, was working at a local grocery store until a nurse told her that her pregnancy put her at higher risk of exposure to COVID-19. She's been watching movies and drinking tea with her parents and her seven-year-old twin brothers since. Now she says she worries about her grandmother, who lives alone. 
"Before this whole pandemic and lockdown situation, we always used to go to my grandmother's house. We haven't been able to go see her," Baker says. 
She keeps in touch with her grandmother by texting her, and other family members stop by for window visits. 
The lockdown has also resulted in the temporary closure of schools and youth centres.
Okatsiak has been working as a youth pastor at the Glad Tidings Church in Arviat for the past 12 years. They usually run programs for youth between the ages of 13 and 33, but for the last couple weeks, that's been locked down as well. He worries for the mental health of the kids in Arviat, including his three children. "They need to find other ways to spend their time during the evenings and during the day," he says.
Sites of COVID-19 infections in Nunavut as of Dec. 11, 2020. (Map by Sarah Pledge Dickson)
Nunavut Sen. Dennis Patterson says  suicide rates were already high before the pandemic happened. He worries what isolation may do to communities in Nunavut. 
In 2019, the Centre for Suicide Prevention in Canada, reported that Nunavut's rate 78.1 suicides per 100,000 people, more than eight times the national average. 
"Sunlight is basically our only vitamin, and we can't get it because of isolation and lockdown.

-Natalie Baker
A study published in September by the Canadian Medical Association Journal (CMAJ) said the Canadian government has implemented appropriate health guidelines. However, it added, "These measures require people to have housing, water, food and income security, which are often inadequate in Indigenous communities."
Indigenous communities are at even higher risk due to social and racial inequities. 
The federal government sent $19 million to the territory on Nov. 27 to help with testing, medical supplies, food support and internet services. Less than three per cent of that is specifically for mental health support. Even then, it's lumped in with child support and food hampers. 
"We are going to be very hard pressed to deal with those issues because mental health supports were severely lacking prior to the pandemic," says Patterson. 
In 2019, over 200 Nunavummiut put forward 15 recommendations for mental health support in the territory. Recommendations included in-territory and school support, and recreational and cultural activities. 
Arviat is located about 300 kilometres north of Churchill, Man. and is accessible only by plane and snowmobile. Baker says that right now, the sun sets at 4 p.m. and rises at 10 a.m. "It will just continue to get darker throughout the year," she says. 
"Sunlight is basically our only vitamin, and we can't get it because of isolation and lockdown," Baker adds.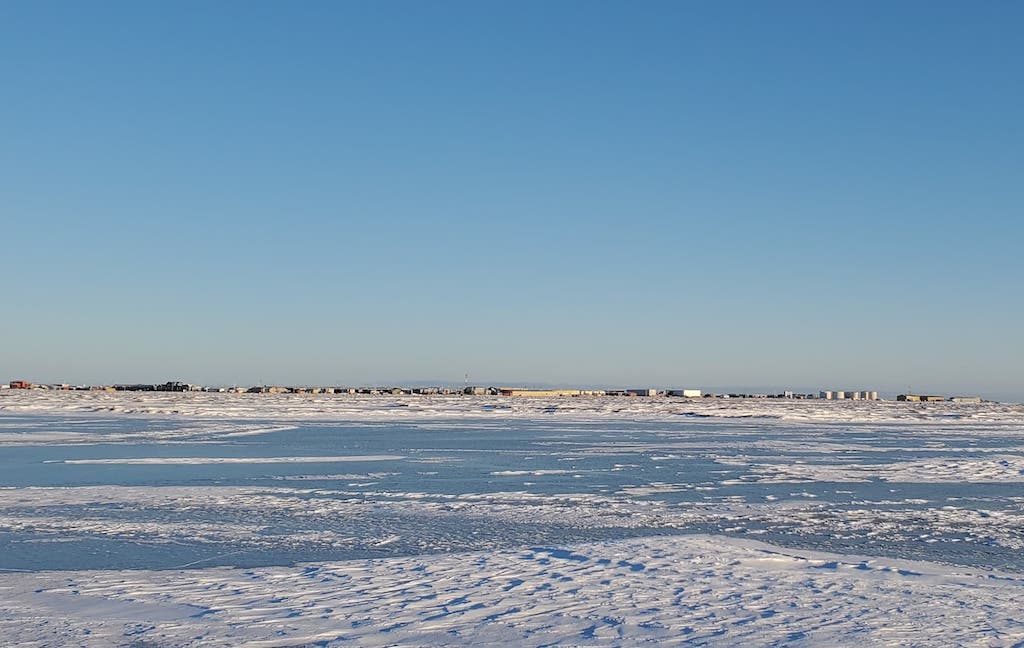 Panoramic view of the entire hamlet of Arviat, Nunavut. (Photo provided by Romeo Okatsiak (Inuit)). 
Patterson remembers how, at the start of the pandemic, it was spring. Nunavut experienced a lockdown period then, but now Arviat will be facing one under increasing darkness. 
"The challenges of isolation in better weather were much less. Now, with the dark season upon us, and people having to be confined, not just in their communities but in their homes, I have a great deal of concern about that issue of mental health," says Patterson. 
At home, Baker has been turning to her passion for makeup to help her mental health. "It just lets me get away from the real world and be in my own little makeup world," she says, "You forget about everything else that happened during the day."
Baker worries that people outside her community will judge the way Arviat has handled the outbreak. "Some people have been saying that we're not listening, and we're just socializing and visiting even though we haven't done that since the first case in Nunavut," she says, "Somebody said, 'Your community deserved it.' That hurt us, that's personal."
Okatsiak wonders whether the support from the Canadian government will be enough. "I think the federal government needs to do more because I have seen nothing yet that has changed since this pandemic came to our town," he says.
COVID-19 case counts for Nunavut, and for the community of Arviat, as of Dec. 11, 2020. (Graph by Sarah Pledge Dickson)
From measles, to smallpox and the continued impact of tuberculosis, Indigenous communities have a long-standing history with facing epidemics and pandemics. 
"I think people are acutely aware of their vulnerability to disease," says Patterson, "I do believe the lockdown restrictions are being taken very seriously."  
Okatsiak wants the rest of Canada to know that the Inuit people and the community of Arviat are tough.
"Thank you to the southern people who are thinking of us," he says, "We will be ok. I know this is a deadly disease and we are scared, but we have to face it."
Sarah Pledge Dickson is a white settler living on unceded Tiohtià:ke Territory