NEW DELHI – Vivin Rohan Shiri, 33, was in the middle of the Indian Ocean when he received a disturbing message from his sister-in-law: "Mummy has COVID."
And another: "When are you getting home?"
When Shiri signed a nine-month contract in November 2019 to sail for Danish shipping giant Maersk, the world was in a very different state. Student protests in Hong Kong, Delhi and Santiago were making headlines. Martin Scorsese had released his magnum opus 'The Irishman' on Netflix. And the biggest story about China was a New York Times investigation on human rights abuses in Xinjiang.
Shiri boarded the Maersk Taikung in his hometown of Mumbai on Nov. 9, 2019. It was scheduled to return to the same port in August 2020.
 "For the first few months, it was business as usual. There was certainty; I knew I would be back home in nine months," he said.
The COVID-19 pandemic upended shipping routes all across the world. With shipping traffic thrown out of gear, sailors faced uncertainty about when they would get home. "We thought it would be a few weeks, but [the] weeks became months," Shiri said.
By the time he received word his 69-year-old mother was ill, on Oct. 24, he was still on the ship.
Due to COVID-19 restrictions, route diversions and lockdowns in port cities, sailors couldn't disembark in the early months of the pandemic. Millions of seafarers were stranded on the ocean, with no certainty of finding a port that would let them get off. 
According to the International Transport Workers' Federation Seafarers' Trust, a U.K.-based international organization that advocates for maritime workers, around 400,000 are still stuck at sea as of Nov. 28. Most sailors, like Shiri, have gone "over contract," which means they have stayed on for months longer than they had signed up for.
"It's a ticking time bomb," said Katie Higginbottom, the head of the trust. She said the failure of governments to recognize seafarers as essential workers is leading to this global crisis."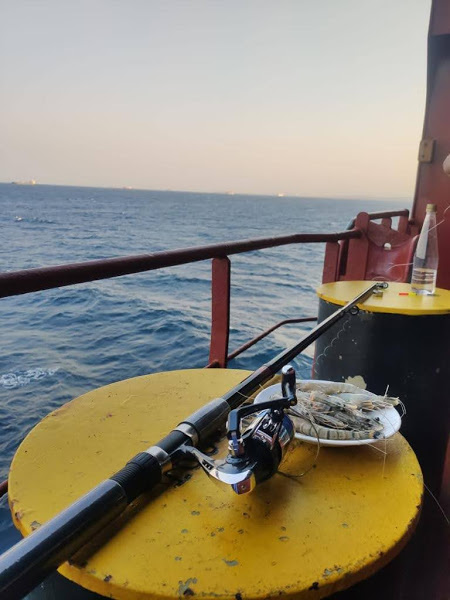 The crew of the Maersk Taikung kept themselves busy by fishing for shrimp in the Ocean (Credit: Vivin Rohan Shiri)
The majority [of them] are from the Global South – [the] Philippines, China, India and Indonesia," she said via email. "There is some movement on crew change but the number over contract is massive."
Higginbottom said this crisis has caused considerable mental strain for maritime workers.
By July, Shiri was feeling that strain. Back home, India was beginning to unlock slowly and he kept compulsively checking in with his family. "My brother was home, so my mother didn't have to worry much about things like groceries and medicine. But I was still anxious to be back home." 
While some basic communication apps, like WhatsApp, worked on the ship's Wi-Fi, it was human contact that kept him going.  Fishing for prawns in the ocean with his friends was a soothing balm in troubled times.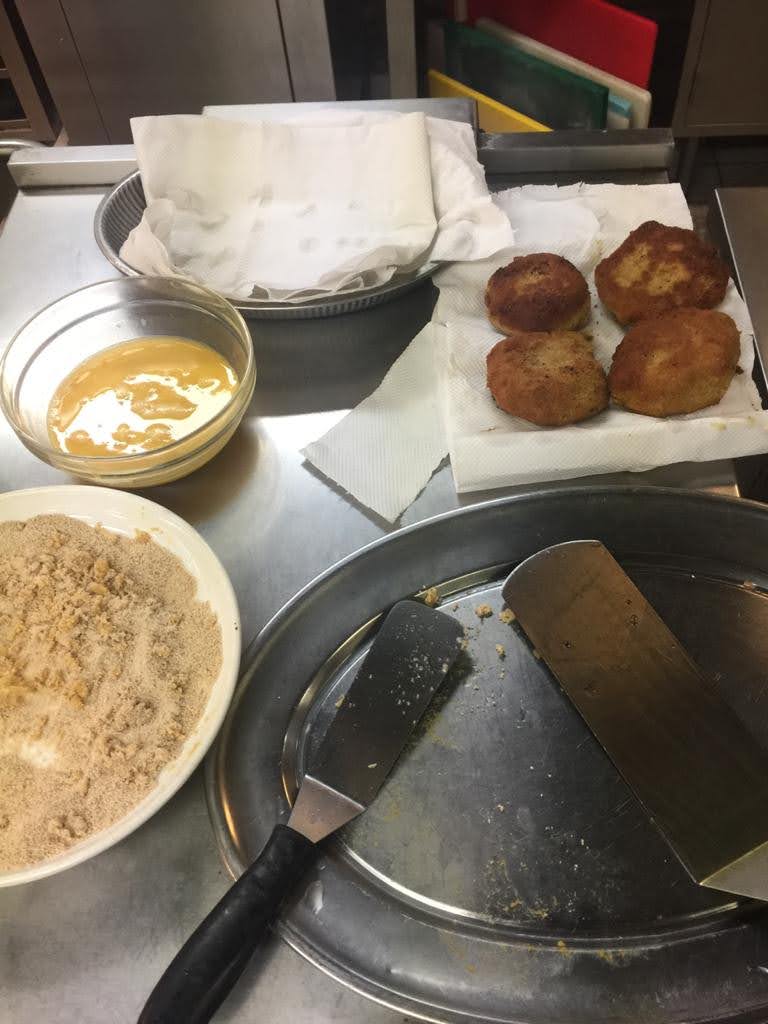 Cookouts were a bonding activity that brought the crew closer. (Credit: Vivin Rohan Shiri)
"My crewmates became a family away from family for me. We would hold barbeque parties on deck and unwind in the swimming pool," he said.      
In July, when the opportunity came for the first batch of people to sign off, Shiri's friend and crewmate Armanath Ram was able to disembark. "I know we are doing an important duty. The world economy rests on us. But I have to say, it was good to know I was going home," Ram said.
Seeing his friends leave dealt a crushing emotional blow for Shiri. "I knew I was going to over contract," he said. "What hurt me more was seeing so many of my friends leave. But I was also very happy for them."
His contract was due to end in August, but he only received permission to disembark by September. He was told he would be signed off at Hong Kong, where he would be relieved by a replacement crew. "I was excited and started to pack my bags."
The Maersk Taikung docked in Hong Kong on Sept. 29, but there was bad news. They had docked a day early and the flight carrying the replacement crew got delayed. "We had only a limited amount of time we were allowed to be docked there," he said.
His hopes dashed, he watched the Hong Kong skyline get smaller as the Taikung had to turn away from the city. "It was very disappointing," he said. After a few days, the Taikung got their next set of orders – they were to set sail for Africa.
The issue of stranded sailors is now gaining global attention. 
"Seafarers are the silent heroes and collateral victims of the COVID-19 pandemic, as travel restrictions have left hundreds of thousands of them stranded on ships, or unable to join ships," Kitack Lim, the secretary general of the International Maritime Organization, said in November.
In October, Shiri learned of his mother's COVID diagnosis. The next port was Mauritius, but here too, there was a problem. He was going to miss the weekly flight out of Port Louis, Mauritius. "The flight was going to leave in a few hours but we wouldn't get to Mauritius for another two days."
For the second time in a month, Shiri had come tantalizingly close to going home. For the second time, he would miss his chance. Once at Port Louis, he chose to stay with his crew and see this voyage to its end. "I thought to myself, my mother is a strong woman. When I was young, my father worked overseas. She could take care of herself. Besides, my father, brother and sister-in-law were with her."
On Nov. 4, after 362 days on the high seas, Shiri finally set foot on solid ground. He had been burnt twice, so this time he wasn't going to count his chickens before he was on that flight. "I knew it was going to be ok, but I felt relief when I was finally sitting in the airplane."
Two days later, he touched down in his beloved Mumbai. After spending seven days in quarantine, he was finally reunited with his family, just in time for his mother's discharge from the hospital. "I'm a Christian, so it means everything that I got home well in time for Christmas."
There won't be a Christmas feast this time to celebrate his homecoming, but he said he's just happy to be home.