Members of Pembroke's diversity roundtable meet online on Nov. 24. Left to right: Heather Salovaara, Cindy Tran, Ellen Wong, Penny Langois, Duane Gastant' Aucoin, Harry Algorbey, Mike LeMay, Elijah McKeown, Sandy Brannan, Karishma Daya, Cameron Montgomery and Karthi Rajamani. (Photo by Cindy Tran)
OTTAWA – In August 2020, my grandmother was physically and verbally attacked outside our family home in Pembroke, Ont., a town of 14,000.
Soon after, I joined the mayor's diversity roundtable, a group that provides space for people of colour to generate ideas.
Last month, when city council showed the roundtable their proposed action plan to combat systemic racism over the course of three years, it was met with little enthusiasm.
"It doesn't seem that urgent. It seems more like a general listing of things," said Harry Algorbey, a member of the diversity roundtable.
Algorbey pointed to the roundtable's agenda, in which city staff identified people of colour had not been hired to work for the city because of the colour of their skin. The proposed action plan indicates the city plans to launch anti-racism training by 2022 in response.
"That needs more attention than anti-racism training, it's unjust."
I agreed. The plan was too nuanced, too polite. Racism is not polite. The city's solutions should have already have been in place, including launching an official diversity committee.
This summer, Pembroke was faced with a racial reckoning with the Black Lives Matter movement and the act of racism against my grandmother, Nga Doan, 80, which sparked outrage throughout the Ottawa Valley.
Locals were spurred into action, some creating "neighbourhood watch groups" to patrol their neighbourhoods at night and Facebook pages to spread awareness of racism in their community.
Incidents of racism towards people of colour have not been limited to Pembroke. Over the summer communities were forced to acknowledge systemic racism and had to find a way to address it.
Pembroke Mayor Mike LeMay initially created the mayor's diversity roundtable in August as a preliminary step to creating an official diversity committee.
Our job as volunteers on the roundtable is to come up with ideas and spread awareness. Reforms have to be made by the city, which the roundtable has no part in. 
At our second meeting, the city unveiled its action plan. The first step in their proposed plan is to join the Coalition of Municipalities Against Racism and Discrimination. Its members include Ottawa and Gatineau, and joining the coalition will not only hold Pembroke to account but open access to anti-racism training resources.
When it comes to combatting systemic racism, communities need to re-evaluate their positions.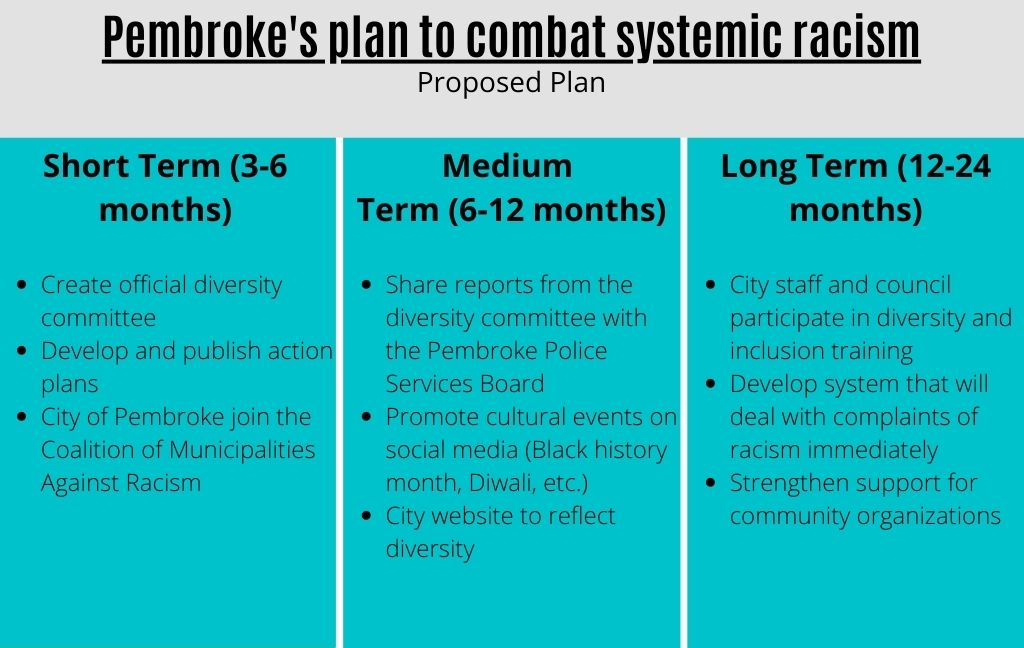 By 2022, Pembroke plans to be a member of the Coalition of Municipalities Against Racism, ensure its staff and council have participated in diversity and inclusion training, and develop a system to hear complaints about racism. (Infographic by Cindy Tran based on a Nov. 24, 2020 City of Pembroke presentation for members of the diversity roundtable)
Systemic racism
Political leaders such as Prime Minister Justin Trudeau and NDP Leader Jagmeet Singh have also addressed systemic racism in Canada. The impact of COVID-19 on racism towards the Asian community has grown substantially.
After the incident involving grandmother, I was hired to work at the Local Immigration Partnership in Pembroke under the anti-racism taskforce. My work has revolved around interviewing people of colour and allies about their stories to shed more light on the issue. 
Some of the stories I hear only enforce what I know – that systemic racism has been under addressed in Pembroke. 
One of the people I interviewed was William Mulvihill, who experienced discrimination at a young age.  
Mulvihill is an adopted Canadian-Korean who was raised in Pembroke. When he heard of the act of racism against my grandmother it reminded him of the verbal discrimination he experienced both at school and in the community.
"I was working at a fast-food restaurant and it got to the point to where I was insulted by the customers who made fun of me for being Asian," he said. "It was just terrible to experience and took a lot out of my self-esteem."
When I heard Mulvihill's story I wasn't shocked. I should have been. But nuanced racism and microaggressions towards people of colour is something that I have seen. It broke my heart that I wasn't surprised.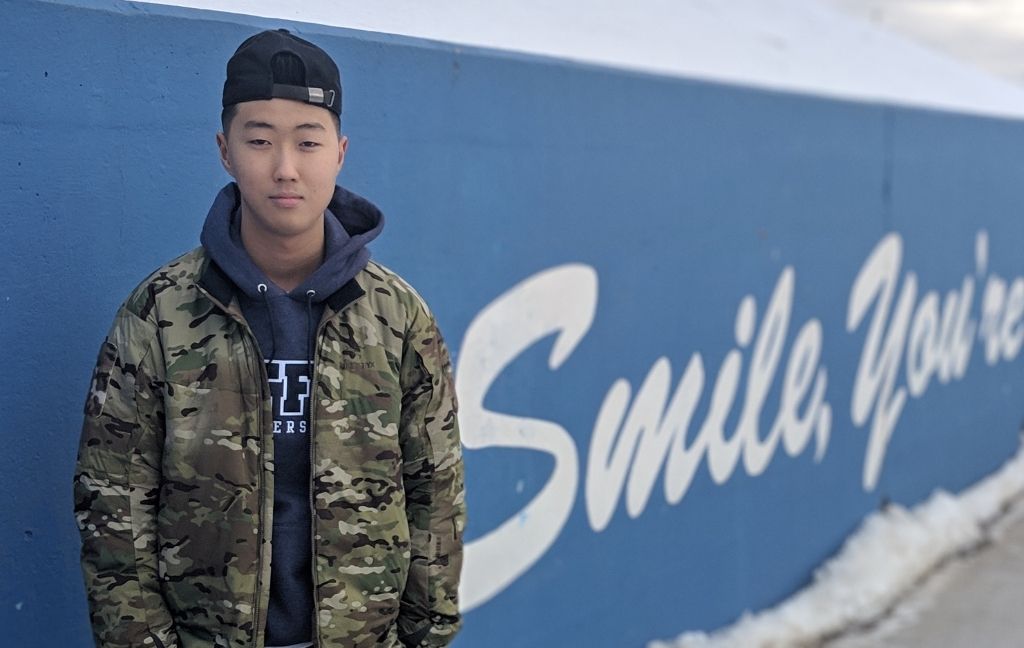 William Mulvihill grew up in Pembroke, Ont., and says the city's racial reckoning brings to mind his own experiences of being discriminated against. He stands outside St. Francis Xavier University in Nova Scotia in 2018. (Photo provided by William Mulvihill)
In my time on the diversity roundtable, I've been able to form many connections. I spoke to LeMay, who is in his second term as mayor.
When I asked him about racism in Pembroke he said, "Yes, there is racism. But as far as that being, say, a priority at the time when I first came to be mayor no it wasn't."
LeMay was a teacher prior to becoming mayor in 2015. He says that the incident with my grandmother opened his eyes to how the issue was ignored in the past. 
As someone who used to teach for a living, he hopes to remind people of the benefits of learning.

What it takes to make lasting change
I hoped that the diversity roundtable would bring about lasting change, but even as I sat in the meetings I felt little was being done.
There are still no reforms, no concrete action plans, only proposed ones.
The action plan should include giving a platform to marginalized peoples to tell their stories. It is important for people of colour to know that they are heard and recognized. Our education system also needs to change. No one is born hateful – it is taught. And so we must rectify that by providing a variety of texts that speak to topics of Indigenous struggles, the history of colonization, and the history of oppression of marginalized peoples.
The work that needs to be done in Pembroke is substantial, and it needs to be shared immediately. People of colour are pulling more than their weight – they are busy fighting a battle that was never meant to be theirs. It is not the role of the oppressed to fight what oppressors have done.
At the Local Immigration Partnership we are planning to partner with Branch Out Theatre ,an Ottawa organization dedicated to using theatre to promote social change.
Traditional means of combatting racism have not always been effective but being able to use other forms to talk about racism will hopefully get more people involved.
In a recent discussion, I voiced my concern about how long it is taking Pembroke to officially launch a diversity committee with a colleague at the Local Immigration Partnership.
They pointed out that creating an official committee means a commitment must be met. That people will be signing on for four years. Their goals must be realistic and must be reasonable.