A crochet cartoon character sweater made by Ella Milloy and inspired by @artbykaraleez. Photo taken by Ella Milloy.
When the COVID-19 pandemic moved life inside, students started looking for new ways to stay engaged while adjusting to online lectures and tutorials.
Emma Charpentier, a second-year economics student at Carleton University, knew she needed to find a way to stay focused while sitting in front of her computer screen for hours attending her classes.
Through Reddit, Charpentier discovered Carleton's Yarn for Change club, a member-based knitting and crochet group that actively recruits young people to attend meetings, learn new skills and create textile projects for donation.
"I started learning," Charpentier said. "I didn't get very far, but I did learn and it was pretty easy."
She soon picked up a pair of knitting needles and started her first project. Working with her hands to create a lime green square allowed Charpentier to shift her focus without missing any important information in class. She enjoyed the simplicity of the activity and felt accomplished upon completing her first project.
"For a couple of weeks, I would just sit in class and I would knit while I was watching lectures. It lets you do something with your hands," Charpentier said.
The pandemic provided many young people with the time and resources to discover and pursue new hobbies. Knitting and crocheting, two activities generally associated with an older generation, became the source of many viral trends and provided much needed relief from the stress of the pandemic. As a result, social media platforms like TikTok and Instagram quickly turned into hubs of creativity.
Not only were young people using these platforms to share videos of their creations, but they were also using them to start conversations about fast fashion and establish their own small businesses.
Over the course of the pandemic, 21-year-old American slow fashion designer Kara Lee used her growing TikTok and Instagram followings to pursue her passion for knitting and crocheting to sell her cartoon character cardigan design, establishing @artbykaraleez in September 2020.
TikTok became a space where many creative trends gained traction during quarantine and have lasted beyond the long months of isolation.
Videos of young creators crocheting giant bumblebees and knitting the famous J.W. Anderson cardigan sported by Harry Styles at a rehearsal for The Today Show in February 2020 filled users' "for you" pages. More recently, British Olympic diver Tom Daley caused a stir online as fans related to his knitting as a way of dealing with his stress and pre-competition nerves.
Club offers space to connect outside virtual classes
In Ottawa, Carleton University's Yarn for Change club welcomes growing interest in knitting and crocheting. The group charges a $5 membership fee to provide yarn for its members and make the student club more accessible. Members are encouraged to create projects such as dishcloths, mittens, hats and blankets for donation.
Like Charpentier, third–year Carleton health science student Malak Al Daraawi found the Yarn for Change club online. After coming across one of the club's Reddit posts she decided to join, despite not having much experience with knitting.
"I didn't have any experience, but the club is made up of so many different skill levels," Al Daraawi said. "They gave me so many instructions and videos that could be useful. I wanted to get away from studying and because everything was online, [the club] was one of the only ways I could reach out to people and interact with them outside of lectures."
Al Daraawi also noted that she grew closer to her mother and sister after learning about her mother's ability to knit. Discovering this family time helped Al Daraawi manage the pressures of online school.
"[Knitting] really helped me because I got to sit down with my mother and I found out that she also knows how to knit and crochet," Al Daraawi said. "I talked with my sister and had her learn with me. I've been able to find time I never thought I had to actually learn how to do it."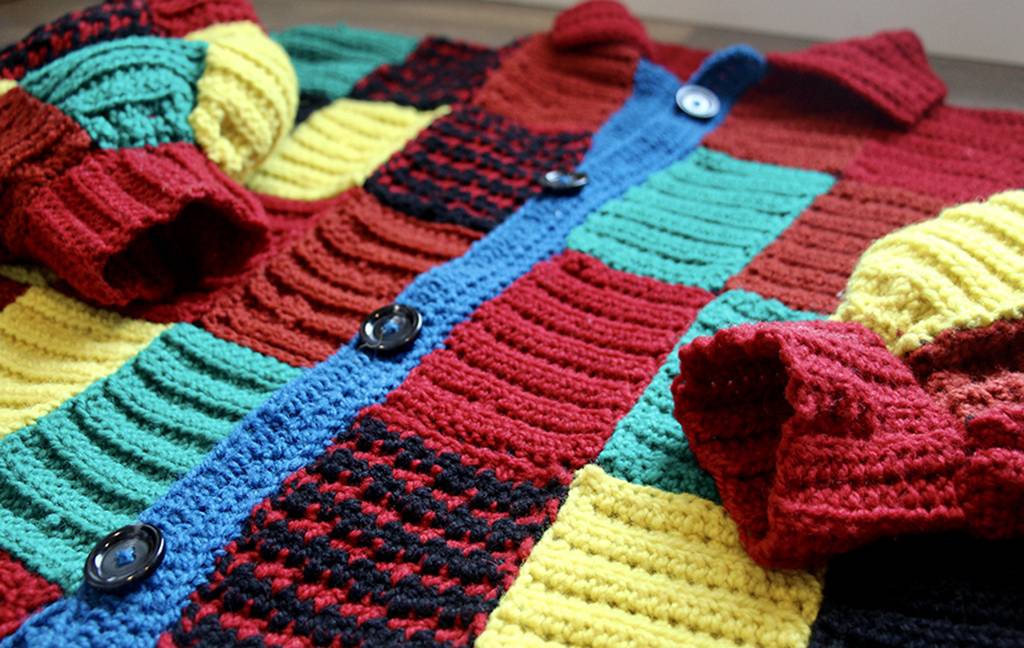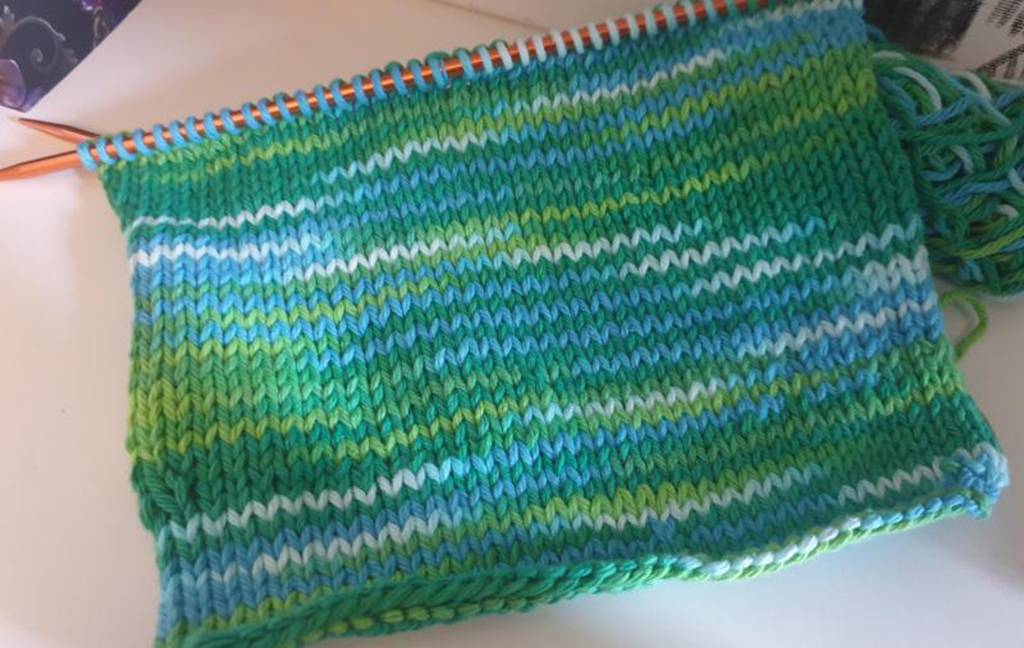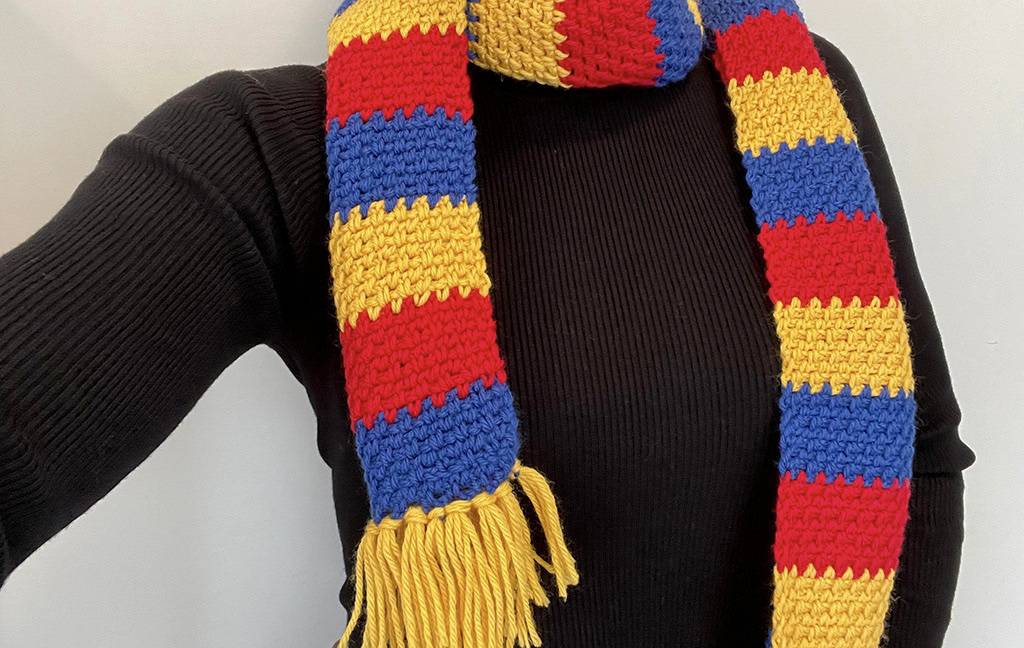 knitting-2
Thousands of knitters and crocheters created the J.W. Anderson cardigan worn by Harry Styles in 2020. This wool cardigan was made by Ella Milloy
knitting-3
The beginning of Emma Charpentier's first project. The finished square still hasn't been removed from the original needles. Photo taken by Emma Charpentier.
knitting-3
A crochet scarf made by Ella Milloy using the moss stitch technique and wool. Photo taken by Ella Milloy.


This program was put on hold during the pandemic, but as public health restrictions continue to ease and a new executive team steps in, the Yarn for Change club plans to restart its donations, including for ways to give directly to homeless shelters or community organizations.
Working with a group and giving back to those in need helps build a sense of purpose, said Dean Verger, a professor in the psychology department at Carleton University. Verger explained how creative outlets like knitting and crocheting can help balance out feelings of stress, anxiety and depression.
"Having a goal of any sort that channels our thinking allows us to focus on something positive," Verger said. "Even if you're following a pattern, that means you're counting stitches and all that processing is filling the space available for thinking, so that there's no space left for worrying."
In addition to alleviating feelings of stress and anxiety, knitting and crocheting also provide numerous other mental health benefits.
"There is a product that comes out of this activity that is tangible," Verger explained. "They're then going to give the finished product to somebody for a good cause. There are so many practical, mental and social benefits and the whole idea of doing something for someone else and doing something as a group for someone else is what makes us human."
'It feels good to give back'
At Carleton, the Yarn for Change club provides a space for young artists and designers to come together to socialize, create and give back to the local community. On a larger scale, the Ottawa Knitting Guild established a similar space for knitters across the National Capital Region in 1994.
The knitting guild sees the participation of up to 200 knitters every year. The guild's community knitting group creates a variety of items to donate to local organizations such as the Mission, Shepherds of Good Hope and Warm Hands Network.
Jean Grundy, the guild's current president, hopes more young people get into knitting and crocheting. Grundy sees an opportunity for collaboration and knowledge sharing between members as more young people get involved in the organization.
"The guild wants to serve Ottawa knitters," Grundy said. "We are a community of Ottawa knitters and if we are not involving all groups, and that includes students, then we are not representative or inclusive. We want to bring in new ideas and new techniques. We want to pass on this knowledge."
After learning how to knit as a child, Grundy picked the hobby back up when she attended Concordia University in Montreal and has continued to knit ever since.
Similar to Charpentier, Grundy uses knitting to relax and to keep her hands busy during work meetings.
"Your mind is free when you're knitting and yet you have to be present in the moment because of what you're doing." Grundy said. "Ultimately, it feels good to give back to people."