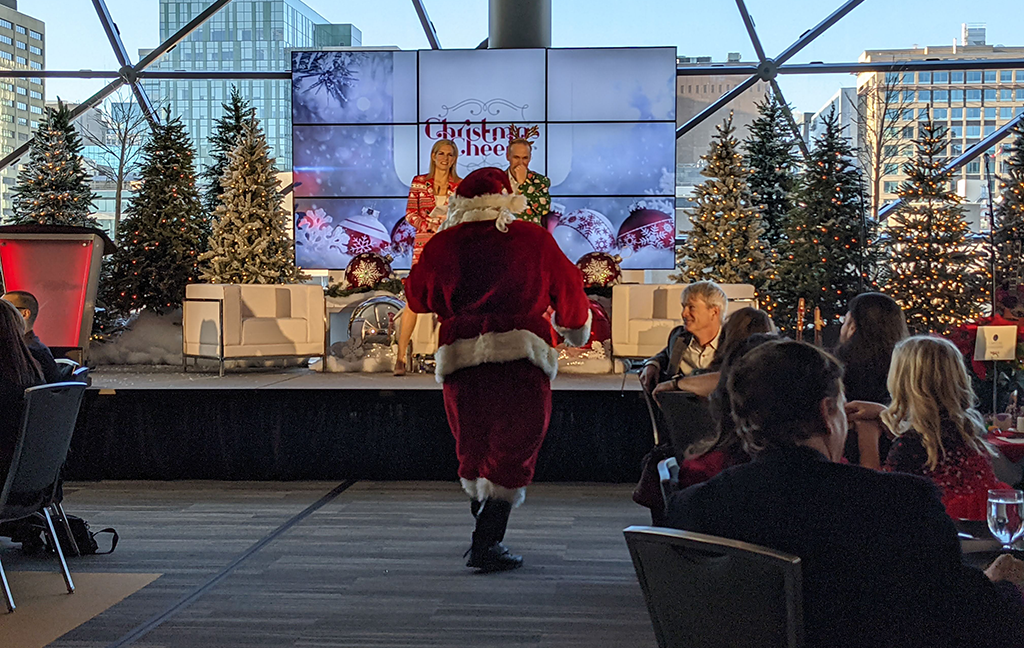 Santa takes a jolly stroll toward hosts Patricia Boal and Graham Richardson of Bell Media to take centre stage at the Shaw Centre. Photo by Rajpreet Sahota.
The Christmas Cheer Foundation hosted their annual breakfast fundraiser on Friday morning to raise money for local charities that provide community support services for young Ottawa residents in need.
The annual breakfast helps youth experiencing financial and mental health issues across Ottawa, which have been exacerbated due to the COVID-19 pandemic.
Bethany McNee received help from Youville Centre, one of the organizations supported by the foundation, when she graduated from their high school program as a teen mom in 2006.
"I started at the school when my daughter was six months. At the time I was in an abusive relationship and the counsellor I worked with there helped me build the courage to leave the relationship," McNee said. "If it wasn't for YouVille, I don't think I ever would have graduated."
Operation Come Home is another one of the charities that receives funding from the annual event. They offer multiple services including a drop-in center, food bank and mental health and substance use counseling.
"The average age of a homeless person is getting younger every year. We've seen more youth than we have before in spite of the pandemic," said John Heckbert, the associate executive director at Operation Come Home, explaining that there has been an increase of those reporting economic and mental health stress during the pandemic.
Marieanne Simard, a 23-year-old Ottawa resident, visited Operation Come Home for mental health and addiction counselling in 2017.
"Operation Come Home have and still helps me with mental health, housing, food bank and others. They've been and still are a big support in helping me become the better person I am," Simard said.
"It's an opportunity to come together as a community to see people in person [and] celebrate the Christmas season," said Christmas Cheer board chair Jim McConnery explaining that the donations from the event will be going towards 22 food-related charities.
"As a group, we're raising immaterial amount of money for charity. This is a great Ottawa tradition that we've had for so many years. It's a special way for the community to come together," he said.
The event was held virtually as well as in-person at the Shaw Centre. The event also featured performances by musicians Twin Flames, Steph La Rochelle, Natalie MacMaster and Ontario's first poet laureate Randell Adjei.