SHOW LINEUP
---
NOTE FROM THE PRODUCER
---
This episode of the 25th Hour is about ending long-held misconceptions. The stories and the setting of this show provide a new perspective on aging, dispelling the fears we may have and adding a new dimension to senior living. Throughout, we share stories about art, death, community, and love. We were given the opportunity to share in the warmth of Unitarian House while filming our show, an experience that brought our team closer to our subjects and our theme.
The other misconception we break is the assumption that students – those learning the craft, not working in the "real world" – are not capable of producing truly professional content. With our final instalment of the 25th Hour, we sought to prove that our skills are on par with those of mainstream media, of those journalists and producers whom we aspire to join. As high as our standards may be, meeting these challenges has created a deep satisfaction in our work.
I have immense pride in my colleagues' stories in this episode. We hope you enjoy our documentaries and take some new ideas away with you. Thank you, as always, for spending your 25th Hour with us.
– Craig Lord, Show Producer.
---
THE SHOW
---
---
THE mini-DOCS
---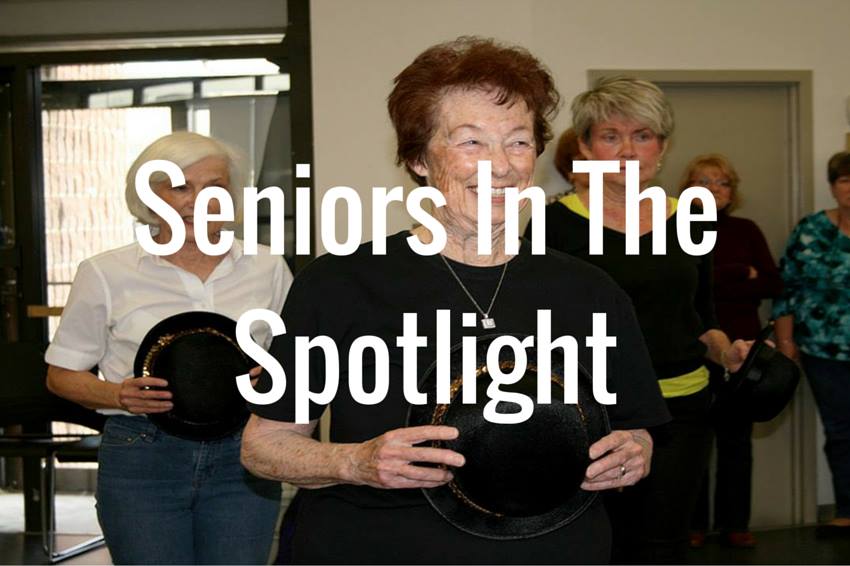 Her whole life, Vivian McLean wanted to learn to tap dance. After retirement, she finally had the time. She soon discovered most classes in Ottawa cater only to young learners. Determined, she kept looking until she found fellow retiree Myrna Milligan teaching stage and tap classes at the Nepean Seniors Centre.
She formed a strong bond with the other women in the class ("Men are welcome too," says Milligan, "but none have showed up yet!"). The women learn routines they perform at seniors' centres, retirement homes and nursing homes in Ottawa's west end.
"We have a sound that took a while to develop," McLean says. "And being a part of a community helps us to gel."
With a wide range of ages, the women in this song-and-dance community inspire one another with their dedication to learning their routines and their passion for performing them. Not only that, many in the group say doing it is important for them to stay fit, both physically and mentally. According to the City of Ottawa, only half of seniors perceive their health to be very good or excellent, and only 45 per cent report being active during their leisure time.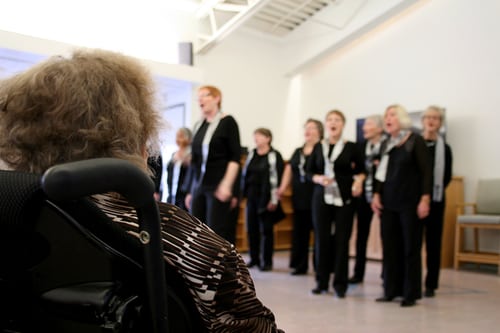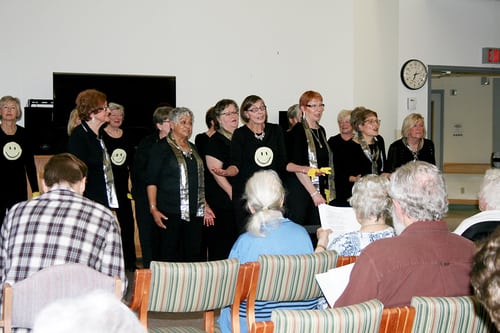 Pictured left: A senior from an Ottawa retirement home watches as the "Silver Tones" perform. Pictured right: "The Silver Tones" stage class perform a lively number for seniors in a retirement home. 
---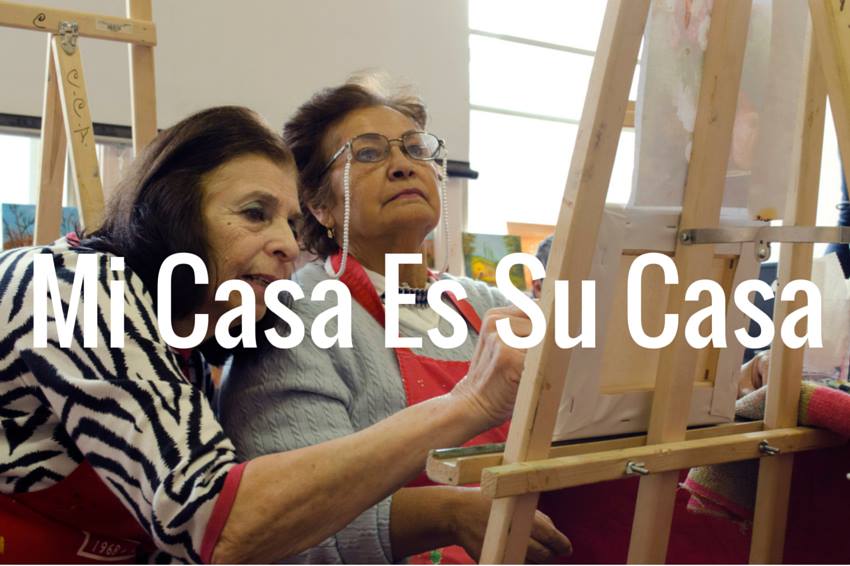 About Club Casa de los Abuelos:
Club Casa de los Abuelos, or "The Grandparents' House" in Spanish, is a community organization in Ottawa serving Spanish-speaking seniors in the city. It was formed in 2004 and primarily runs out of the Bronson Centre in Centretown.
The club works to provide a safe environment for Spanish-speaking seniors to meet and socialize with peers, with an emphasis in aiding Spanish or Latin American immigrant seniors with their unique challenges.
In combination with dealing with the struggles of aging, immigrant seniors – such as those at the club – must deal with communication issues and barriers as well as a general lack of disposable income. Mainstream services for seniors in Ottawa can often be inadequate in assisting immigrant seniors and this is the void that community organizations such as Club Casa de los Abuelos seek to fill.
The programs and activities that the club provides are organized for seniors, by seniors.  Nearly all of the volunteers and executive members are seniors themselves. Some of the seniors enjoy passing their skills on to other members through workshops for oil-painting, knitting, jewelry-making, exercise and the like. There are also social activities such as birthday and holiday celebrations, table games and open houses to showcase the seniors' accomplishments in their workshops. To learn more about the club, click here.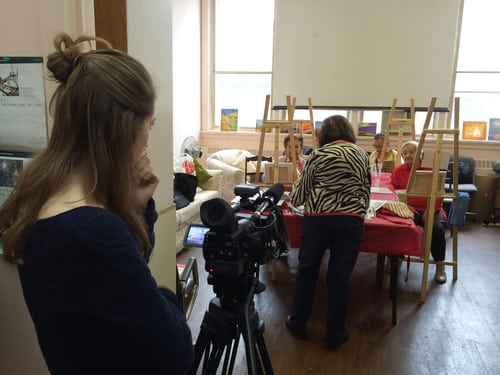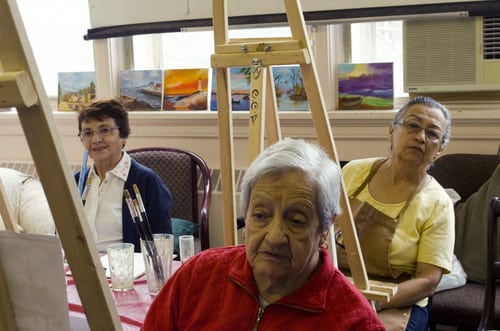 Pictured Left: Producer Amy Thatcher as she sets up the camera to film Irene's painting class. Pictured right: Irene's students hang on her every word as she teaches her class.
---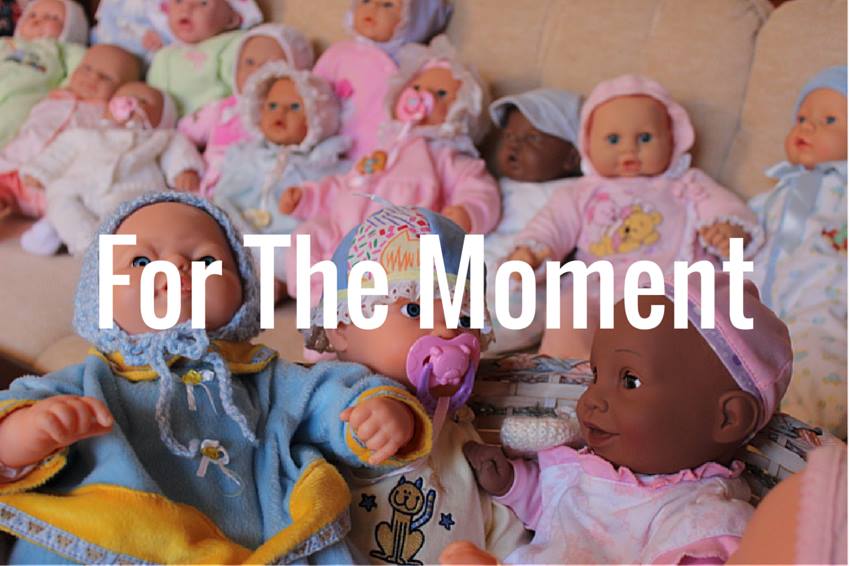 When you first look at these baby dolls – their delicate eyelashes, tiny fingernails and chubby cheeks – it is hard to believe they are made from plastic. But for seniors living with dementia, the dolls can be much more than a lifeless toy.
Research shows doll therapy can evoke memories from the seniors' pasts, increase positive behaviour and decrease depression for those with dementia or Alzheimer's.
Renée Gauthier and Pierrette Houde are members of the Ottawa Doll and Collectors Guild. Every week they run the Care and Share program, which aims to provide elders diagnosed with Alzheimer's disease and other related dementia the opportunity to experience doll therapy first-hand.
In November, they visited Unitarian House – a non-for-profit residence for seniors in Ottawa. With positive reactions and smiles all around, Gauthier says the therapy brings seniors a moment of comfort.
"They can reminisce over when either they were a little girl and had dolls, or when their own daughters had dolls, or it can also represent their own baby when they had a baby," she says.
"It is not a moment that you forget," adds Houde. "That is what we are trying to bring back."
Although it is difficult to watch the seniors progress further into their diagnosis from week to week, Gauthier says it is important to start the therapy sessions with no expectations.
"We go there to give them enjoyment with the dolls and whether they can appreciate it or not it doesn't really matter…we go in for the moment."
For more information, click here.
Producers' note: Unitarian House is an inclusive community which encourages interaction among seniors who have a wide range of experiences, talents and abilities. Several of the residents who participated in this trial doll-therapy session do not have dementia.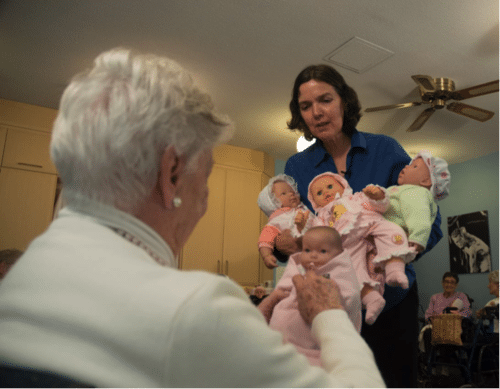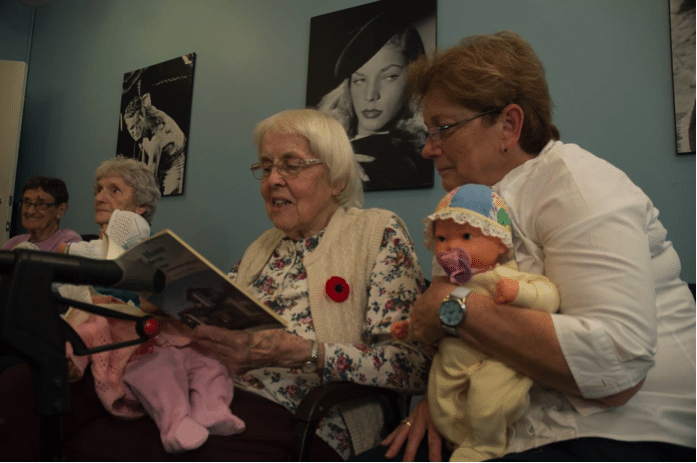 Pictured left:  Pierrette Houde hands out dolls during a therapy session at Unitarian House. Pictured right: Renée Gauthier interacts with seniors during a therapy session at Unitarian House.
---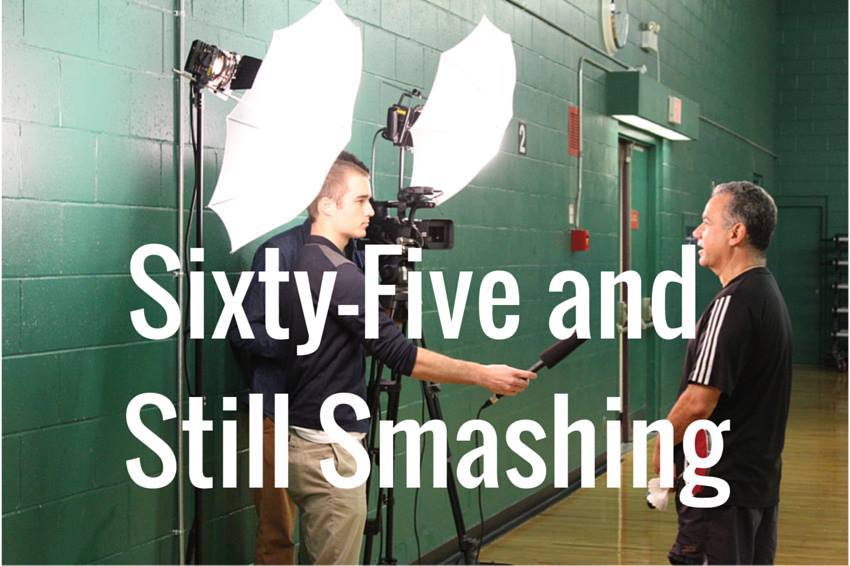 Shirley Graham is an 84 year old Toronto native who has played competitive badminton all her life. Throughout her time at school, Graham attended many tournaments and won numerous awards. Although she will soon be 85 years old, Graham has no intention of giving up the sport any time soon.
Graham plays badminton twice a week at the RA Centre with a group of seniors who share her love for the sport. Roger Huestis and Shirley Birnboim are two of the more competitive members of the group. Huestis and Birnboim have competed together in masters mixed doubles and are pursuing yet another national title. Both Huestis and Birnboim recognize the value of competition, community and activity and are contributing members of the Ontario Senior Games Association (OSGA).
According to Statistics Canada, in 2005, 52 per cent of men aged 65 to 74 were active or moderately active physically and among senior women, 44 per cent of those aged 65 to 74 reported being either active or moderately active physically. Charles Khazzam, a family physician from Ottawa says that keeping active is important at all stages of life and can be make a huge impact on the overall health of seniors. Competitive sports leagues such as OSGA are instrumental in this by giving Canadian seniors an outlet to remain active and social, despite their age.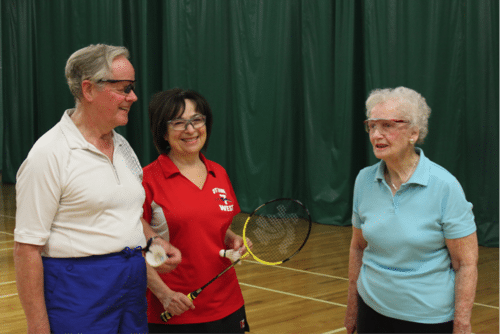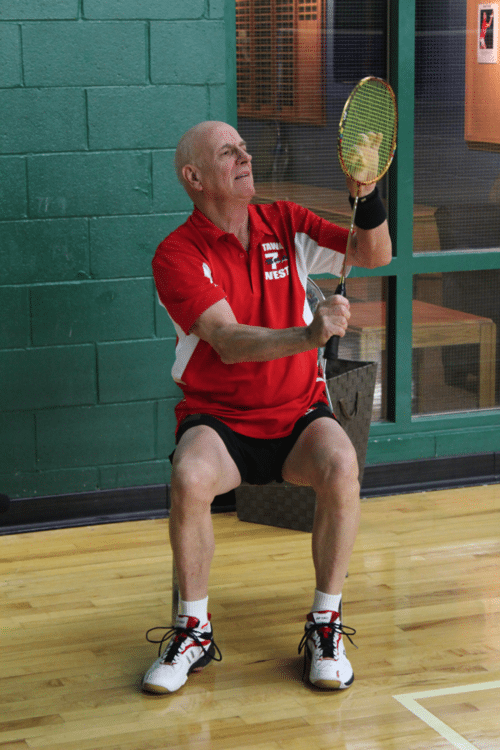 Pictured left: Some of the players are very competitive, the social aspect of the game is valued by all. Pictured right: Roger Huestis, the Ottawa West District Coordinator for the Ontario Senior Games Association, checks his racket before a Monday morning match.
---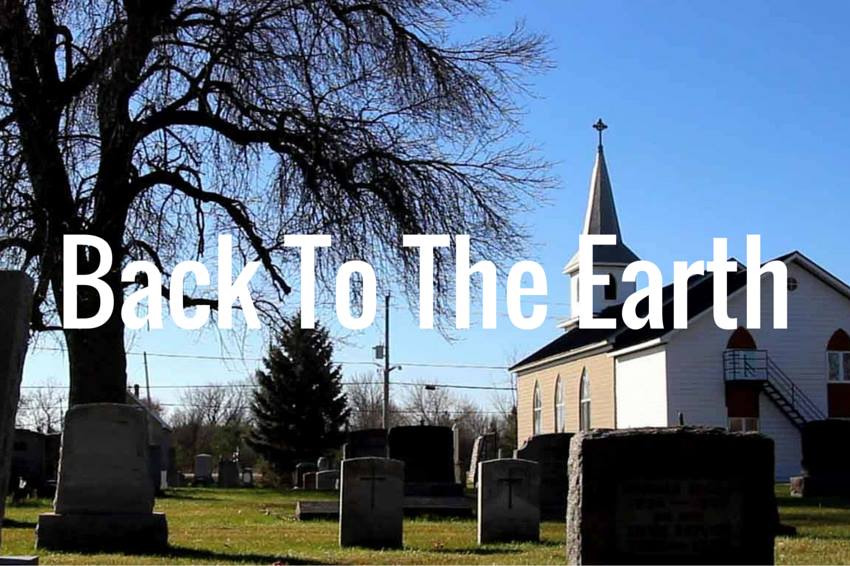 People die in every city, in every province around Canada, but many Canadians are unpleasantly surprised to discover how much a funeral in Canada can cost.
According to the Funeral Service Association of Canada, the price of a traditional funeral in Canada costs between $8,000 and $10,000.
Even cremations, which make up 60 per cent of Canadian funerals, are expected to become more popular, making up 64 per cent in 2016 according to the Financial Post. This is due to the rising costs of gravesites in Canada.
Approximately 244,263 Canadians died in 2011 according to Statistics Canada and that number only increased in 2012 with approximately 253,241 deaths.
With the baby boomers reaching an advanced age and the population of senior Canadians at record highs it appears that the more than 1,500 funeral homes across Canada stand to make a substantial profit in the years to come.
Death is a business, which is why natural burials without the bells and whistles, are so hard to come by in Canada. For cemeteries and funeral homes, offering green burials with "no frills" isn't good for business. They shy away from offering this, because if wouldn't make them money. Most provinces, including Ontario, only allow burials in registered cemeteries, leaving the options slim for those hoping for a green burial short of starting a new cemetery, but even then municipalities can reject new cemeteries on a variety of grounds including zoning and lack of interest.
Here's an article that discusses Canadian progress in terms of getting green burial sites.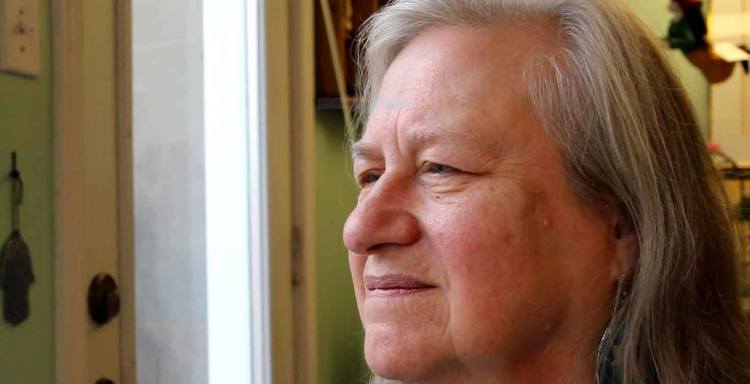 Pictured left: Judith Wouk, president of the Funeral Information Society of Ottawa. Pictured right: Mary Nash, green burial coordinator of the Funeral Information Society of Ottawa. 
---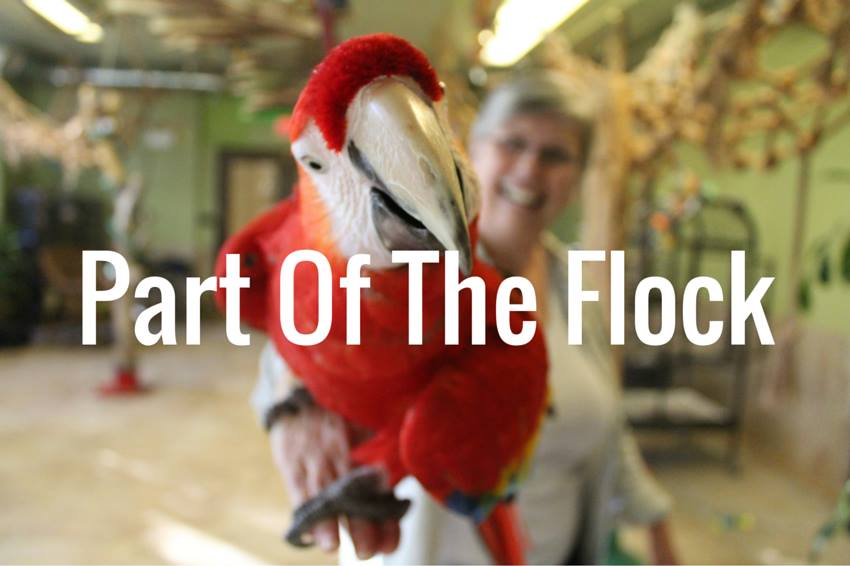 Deciding to bring a parrot into your life is not as simple as adopting a cat or dog. Since they are not domesticated and they can live up to 80 years, it is a huge decision and commitment. The cost of care increases when the birds become seniors, as it is already three times the cost to provide veterinary care for these tropical birds. Much like human seniors, more issues arise as these birds age. Judy Tennant runs Parrot Partner, a not-for-profit education, rehabilitation and adoption centre for birds in Smiths Falls, Ontario. Many of the birds were brought to her, as their owners had grown too old to care for them properly. This is a big issue since many parrots outlive their owners, and as Judy would tell you, they grieve just as much as people do.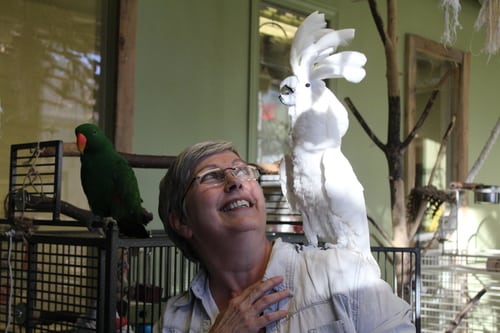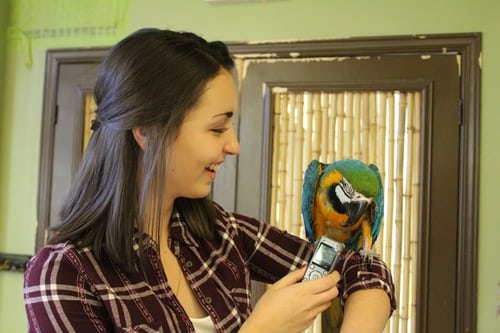 Pictured left: Judy, owner of Parrot Partner, works with one of the oldest birds at the centre. Pictured right: The 25th-hour's Bianca Pettinaro listens carefully as the birds speak to her. 
---
Family caregivers are individuals like Jan who may be a neighbour, friend or family taking on a caring role to support someone like Mike with a debilitating cognitive condition, a diminishing physical ability or a chronic life-limiting illness.
In 2012, 8 million Canadians, or 28% of the population aged 15 and over, provided care for someone with a long-term health condition, a disability or problems associated with aging according to the Stats Canada 2013 Report: Family Caregiving: What are the consequences?
Out of these family caregivers, 39% were primary caregivers for their father or mother, 8% for their spouse or partner and 5% for their child. The other 48% provided care to other family members or friends.
Stats Canada also discovered in 2013 that women represent the slight majority of caregivers in Canada at 54%. They were also more likely to spend more time per week on caregiving activities than did male caregivers.
Click here to read the full report.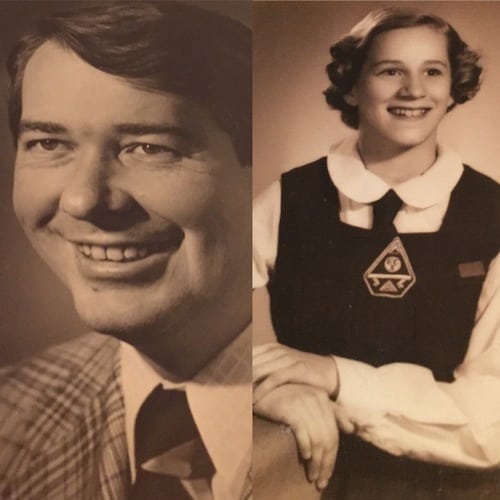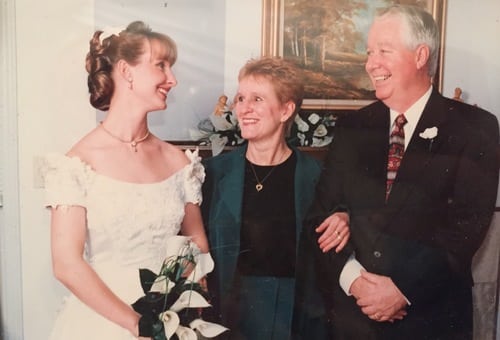 Pictured left: Jan and Michael in their youth. Pictured right: Jan and Michael at their daughter Tracy's wedding. 
---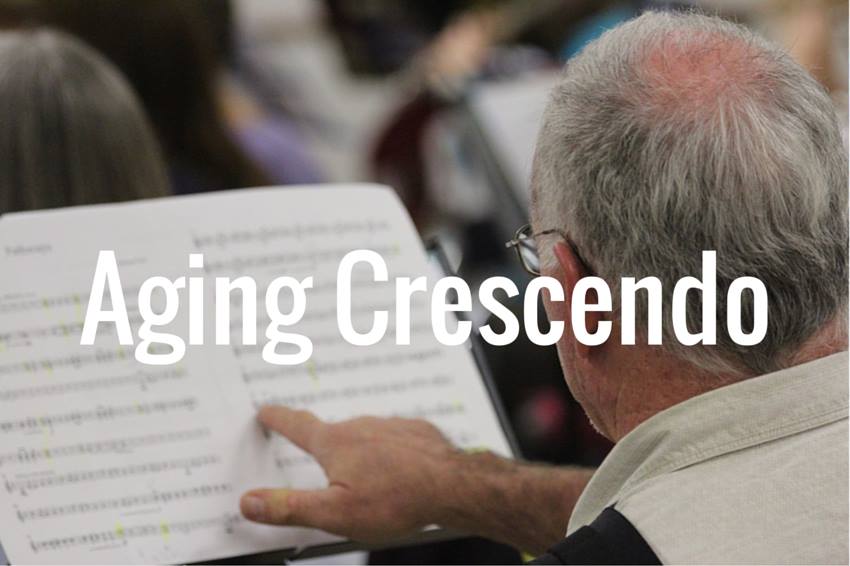 Kay and Ken Denison both participate in music programs for seniors in Ottawa. While Kay is 90-years-old, and slowly ending her long career, Ken, 65, is just beginning.
Ken has joined New Horizons to learn the baritone saxophone. His mother continues to play from Grey Jazz Band, a group full of former professionals that she has been performing with for decades.
The Ottawa New Horizons Band Program teaches seniors to play music and provides them with a band at their skill level to play with. There are five bands within the program, each of which is meant for a different level of musical experience, from beginner to expert.
The New Horizons Program was created by Dr. Roy Ernst in 1991 at Eastman School of Music in Rochester, New York. The program now has over 100 programs across the United States, Canada, Australia and Ireland. The Ottawa program was initiated in 2008 by elementary school music teacher Cathy Wilcox and includes 150 members.
The bands play a variety of musical genres, including marches, classical, folk, jazz, rock and musical theatre. The band will perform a concert at the end of each semester, where all the groups feature what they have been working on the months prior.
For more information on New Horizons, visit: ottawanewhorizons.com.
Grey Jazz Big Band is made up of retired professional musicians, like Kay Denison. The Ottawa-based band rehearses at the Good Companions Centre, and performs at homes, centres, malls and concert venues across the city. The band performs a range of big band classics and modern hits.
Grey Jazz are involved in multiple charity venues, including: CHEO Telethon, the annual Mayor's Break for Seniors, Ottawa Heart Institute, the Kiwanis Club and the Perley and Rideau Veteran's Health Care. The band also competes annually at the Ottawa Jazz Festival.
The band celebrated its 25th anniversary in 2012 and is currently led by musical director Stu Smith.
For more information on Grey Jazz, visit: greyjazzbigband.ca.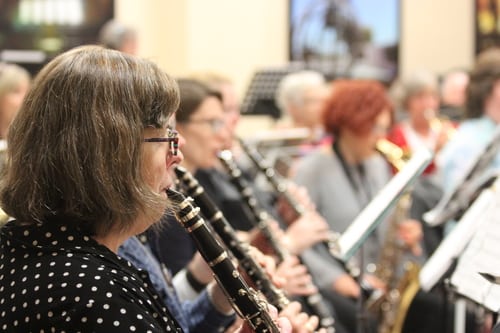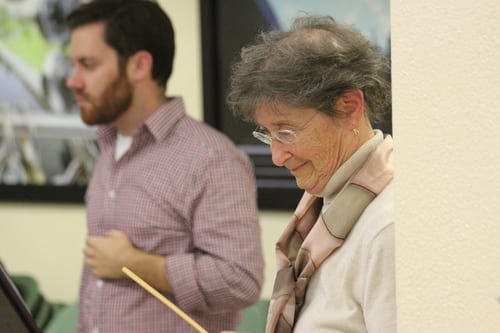 Pictured left: Seniors registered for the program get to choose what instrument they want to play during their first meeting with their band. Pictured right: Experienced musicians from around the city serve as conductors for New Horizons. They include professional musicians, teachers and students. 
---
Photo of the choir taken by Katie Hartai.
Unitarian House offers a mix of retirement and independent living for seniors in Ottawa. It is well known for its friendly atmosphere and abundance of activities held throughout the year. One of the organized pastimes connecting residents is the choir. This group of talented men and woman join together in song every Wednesday evening. The joyful group welcomed me to their first Christmas rehearsal of the holiday season. This multimedia presentation features some of the audio and photographs I collected at the practice.