By Liam Harrap
Nov. 8, 2016
POTSDAM, N.Y. – First-time voter Dameian Bossarte has been working the phones at the Democratic headquarters in St. Lawrence County, N.Y., since early Tuesday morning, trying to get out the vote.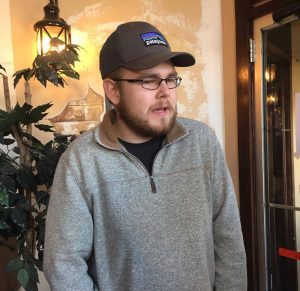 "It appears voter-turnout is high," says the government history student at St. Lawrence University in Canton, N.Y. That is good for us."
The Democrats of St. Lawrence County, who are running their campaign from an old Italian restaurant in Potsdam, are hoping there will be enough anti-Trump sentiment in this traditional Republican territory to bring victory to candidate Mike Derrick.
One new vote will come from Bossarte, who was only 15 when Americans last went to the polls in 2012.
As a volunteer, he says that technology is boosting the Democrat's organizing capabilities.
"This election is different than others," he says. "The biggest change has been technology. With social media, like Twitter and Facebook, people can get organised easier. We now have the technology to call hundreds of people at once, instead of one by one."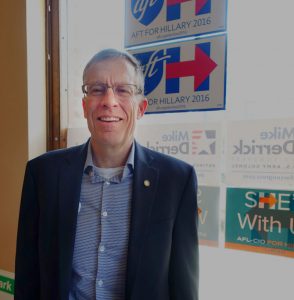 Campaign volunteers have been filing in and out all day. For Ches Ryan, the Democrat organiser for the 21st District, it's been a busy.
"I went to bed at 3 a.m., and got up a couple hours later," says Ryan. "But so far, the day has been going great. We're very hopeful."
Nan Clingman, an attorney for Mental Hygiene Legal Services, has been working the phones for a couple hours. She explains what she's doing and why it's important:
A colourful character with suspenders goes from volunteer to volunteer, shaking hands and introducing himself as Mark Bellardini. He is the chairman for the St. Lawrence Democratic Committee.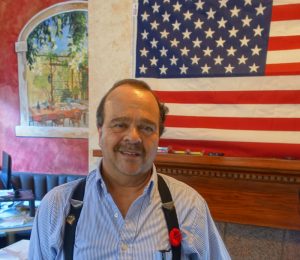 Bellardini says Derrick is a prime candidate and that the Democratic Party representative.
"He's a stateman. He understands the needs of the people," says Bellardini. "He pays taxes in this country. He lives here, and his kids go to school here. Elise Stefanik, the Republican Incumbent, does not."
While Derrick may not win the 21st District, Bellardini expects that Clinton will win the presidency.
"No matter what, it's going to be a party all day long," he says.