POTSDAM, N.Y. – Among the steady stream of people coming through Lee's Hawaiian Grill – a popular lunch spot for State University of New York at Potsdam students – is Liam Kingsley, a 22-year-old music and history major.
He's wearing an "I voted" sticker.
"More people are engaged in politics on both sides than have ever been," said Kingsley. "It feels like so much is at stake."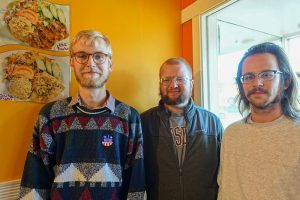 This year Kingsley and fellow music major Mike Bruns, 22, participated in their second U.S. presidential election. Kingsley voted early this morning, but Bruns decided to cast his vote through absentee ballot.
Bruns said he was frustrated by the absurdity of the 2016 U.S. presidential election.
"It didn't feel like an election. I didn't recognize it as political process," said Bruns. "All the elections that I can remember were all about Democrats and Republicans sparring. Now it's more that ideals are sparring," he added.
Down the street at the Democratic headquarters, Claudia Stankiewicz, 19, Northern Region Chair of the College Democrats of New York, is volunteering on the phone banks. Stankiewicz said that this election has made people more comfortable expressing certain views.
"They may have always been xenophobic or openly racist or sexist, but now they are more comfortable talking about it openly," said Stankiewicz. "I think Donald Trump has created an atmosphere in which language like this is okay."
Back at the restaurant, Kingsley stressed that regardless of who wins tonight, this election has made previously disenfranchised people feel included in the national discourse.
"Americans have underlying racism and we don't do much to confront it. I think that this election emboldens people that it normally wouldn't," said Kingsley. "People can now say that it's PC culture that's keeping them from saying things, when in reality it's human decency."