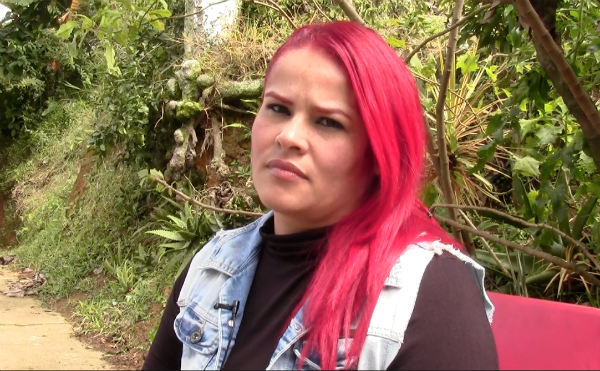 Paula Andrea Moreno said she felt abandoned and cheated by her surgeon who was supposed to be highly reputable. (Photo| Marina Wang)
Paula Andrea Moreno, 34, from Medellin, received breast implants from the Corporación de Cirugía Plástica de Antioquia (Antioquia Corporation of Plastic Surgery), which offers lower-income patients reduced-cost plastic surgery with an experienced doctor in a licensed clinic. However, Moreno was allegedly operated on by a resident being trained in the profession rather than a fully qualified SCCP surgeon, and a severe hematoma (a swelling of clotted blood) followed by infections left her with a dark scar where her left nipple would be.
Her case illustrates that even in above-board surgical settings, things can go wrong, and her legal fight shows how difficult it is to hold surgeons and clinics in Colombia accountable for malpractice.
Moreno said she feels cheated because she trusted that she was in the best of hands. "I feel completely abandoned," she said of her surgeon, the resident and the plastic surgery corporation.
Moreno is trying to sue her doctor for medical malpractice and to receive financial compensation, but her legal case has so far been suspended in limbo, as litigating medical malpractice is a lengthy and expensive process.
Daniel Trejos, a lawyer who specializes in medical law, had 20 clients suing for plastic surgery malpractice in the summer of 2017, including Moreno and two other women: Ivonne and Marie Kearse, who both suffered from necrosis following an abdominoplasty. Cases of malpractice can appear in both criminal and civil courts, and cases are also typically sent to the National Tribunal de Etica Medica (Court of Medical Ethics).
"Legal medicine does not have the resources — the staff, the equipment, to carry out an ample investigation regarding medical malpractice crimes," said Trejos. "The prosecutor's investigation can be very slow and sometimes fails."
Malpractice is investigated by the tribunal at the municipal level, and Trejos said there is a lack of communication between tribunals of different jurisdictions, so an alleged doctor can change locations without a paper trail. In addition, multiple charges against the same surgeon are not cumulative and prosecution occurs on a case-by-case basis.
"The prosecutor's investigation can be very slow and sometimes fails."
Making a claim in civil court presents its own problems, as it requires an investigation from a third-party medical professional, usually costing about $1,500 USD, according to Trejos. All surgeries come with risks, and in some cases the distinction between an inherent risk and medical negligence is difficult to establish. Trejos said the high fees and long wait times often deter patients from pursuing financial compensation in court.
In addition, prospective patients seeking plastic surgery are unable to check whether surgeons have a history of legal troubles. According to Trejos, the Tribunal de Etica Medica can withhold the legal history of accused surgeons.
"Vanity doesn't kill women. Women are killed by a lack of state control, legislation regarding specialties, and a lack of awareness,"
Victim Blaming
Victims of malpractice can also face a lack of sympathy — even victim-blaming — after an operation. Beltrán said that people often have a binary view of victims: if they sought the procedure for medical purposes, they are seen to be worthy of sympathy, but those who sought surgery purely for cosmetic reasons may have their plight disregarded. Beltrán's breasts were causing her shoulder pain, but she also thought they'd be more aesthetically pleasing if they were smaller.
"When I made my case public a lot of people said this happened to me because I'm dumb — that I'm vain and that I didn't like the way I was born in to this world," said Beltrán. She noted that a common adage is "vanity kills women."
"Vanity doesn't kill women. Women are killed by a lack of state control, legislation regarding specialties, and a lack of awareness," she said.
Beltrán compared the double standard to receiving a bad haircut — in which case the barber is blamed for doing a poor job, not the victim for pursuing a haircut.
"Modifying the body is part of developing your identity and it's a right that I will defend until I die," said Beltrán. "I believe that women, men, and transgender people are free to modify their bodies as they wish but always in safe conditions.