Shoppers take home a Christmas tree in Courtenay, B.C. (Photo by Jen Osborne)
Christmas tree farm owners across the country say they are selling out early due to competitive COVID-19 shopping tactics.
"It's just so frustrating this year because the trees have sold out so quickly. You know, it's kind of taken a little bit of the gloss off of the operation," said Michael Day, 65, the owner of Doveside Christmas Tree Farm in Courtenay, B.C. 
The retired school counselor sold out of his trees on Dec. 2.
In a year that has seen public anxiety fuel waves of pandemic panic buying, the holiday season appears to have triggered advance tree buying. 
Out of concern for safety due to COVID-19, Day encouraged his customers to reserve trees early to avoid large crowds on his property. 
The first reservation tag was placed on a tree in October. In 17 years of business, Day said usually the first reservation happens in late November. 
"I don't want to sound melodramatic," he said, but, "Christmas is an opportunity to experience the best part of what I remember as a kid growing up." 
Christmas tree shopping is more competitive this year, he said. His farm typically offers a more collaborative, community-based experience involving wagon rides and Christmas carolling.
This year's wagon rides are sold out, too. VIDEO HERE
Michael Day takes visitors on a wagon ride at his Christmas tree farm in Courtenay, B.C. on Dec. 4. (Video by Jen Osborne)
The situation is similar at Quesnel Christmas Tree Farm in Collingwood, Ont. Lynn Quesnel, 68, and her husband Blair, 68, are retired teachers who produce Christmas trees on 1.4 hectares of their farm.
"We sold out on Nov. 30," she said. "We were only open for 10 days. It completely took us by surprise."
She believes the pandemic caused the early sell out. "We had a lot of people say, 'We just need something happy,' something to look forward to." 
Quesnel said she misses the interaction with guests this year but has mixed feelings about the premature sell out.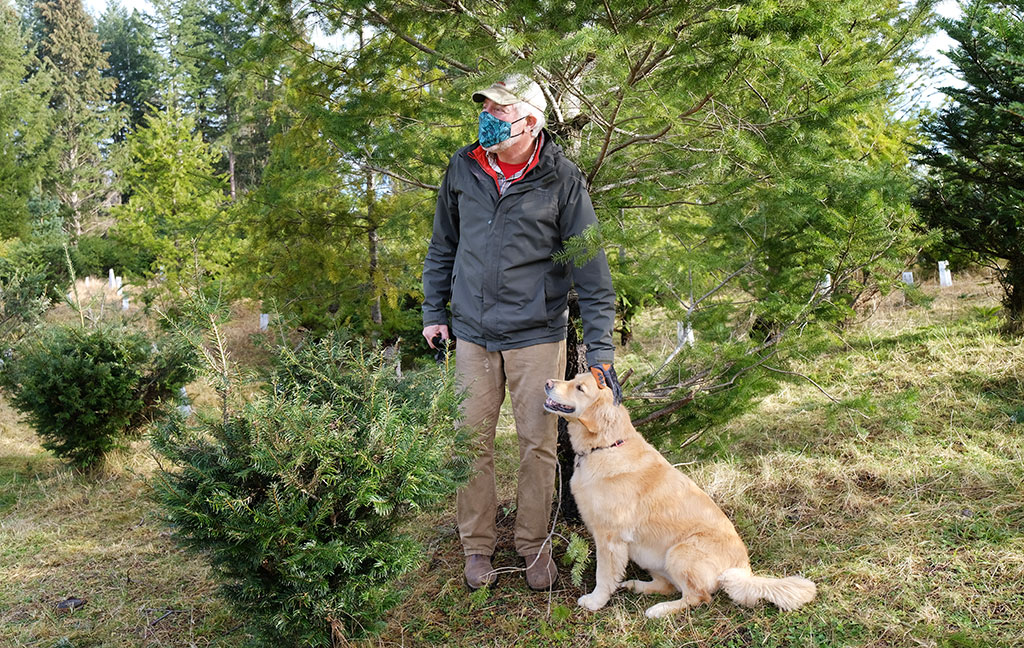 Owner Michael Day stands with his dog at Doveside Christmas Tree Farm in Courtenay, B.C. on Dec. 4. (Photo by Jen Osborne)
"It was hard for my husband this year because he normally gets hundreds of hugs. I was going to make a sign for him this year that says 'sorry, no hugs,'" she said. 
The preparation was very intense this year. "We're totally worn out," she said. 
On the East coast, panic buying also appears to be an issue. Sid Watts, 67, is the owner of Watts Tree Farm, in Kilmuir, P.E.I. 
"There's a sense of panic" over tree shortages, he says. His tree farm was unusually busy during the last two weekends of November. 
"With our limited number of trees, we may have to close early and we never had to think about that before." 
Watts is retired and has always worked with wood throughout his various careers. 
"I love trees," he says. "Hopefully everyone out there gets the tree they really want and has a Merry Christmas."