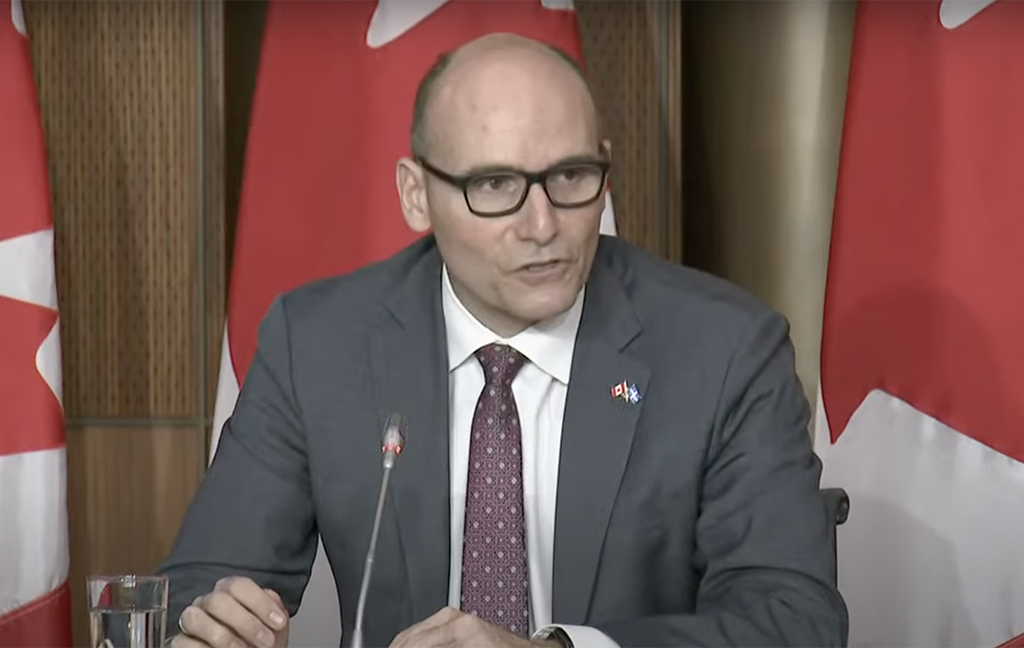 Health Minister Jean-Yves Duclos announced new restrictions for travellers from seven southern African countries at a press conference on Friday. The government also urged Canadians to avoid travelling to the region. Screenshot taken from CBC live broadcast.
By Sophie Kuijper Dickson & Adam Beauchemin
Canada will implement travel restrictions to mitigate the spread of the new Omicron coronavirus variant recently detected in South Africa, federal officials announced Friday.
"Emergence of new variants is unfortunately not unexpected," said Chief Public Health Officer of Canada Dr. Theresa Tam during press conference on Friday, adding that, to date, there are no indications of the variant's presence in Canada.
Health Minister Jean-Yves Duclos and Transport Minister Omar Alghabra announced Canada will impose restrictions on travel from seven countries in southern Africa: South Africa, Mozambique, Namibia, Zimbabwe, Botswana, Lesotho and Eswatini.
The Omicron variant was first detected by South Africa and announced in a press conference Thursday.
While South Africa has seen an acceleration in cases, Tam said it's too soon to say whether it is because of more relaxed health measures or because the virus has gained a biological advantage.
All Canadians who have arrived in Canada from any of the restricted countries within the past 14 days must remain in isolation until they receive a negative test result.
Canadians arriving from travel-restricted countries will be tested upon arrival and asked to quarantine until they produce a second negative test. Foreign nationals will be prohibited from entering the country if they have been in any of the seven restricted nations within 14 days.
Duclos noted the number of travellers Canada has been receiving from the restricted nations is small, an estimated average of 50 people day, which he said will allow the government to closely monitor the isolation and testing of those individuals.
While officials only announced restrictions on seven countries, Alghabra stated the government has not ruled out the possibility of adding more measures as events unfold.
Tam explained this variant is of significant concern because of the high number of mutations it contains, which may cause increased transmissibility as well as a weakened immune response among carriers.
However, she emphasized there is still not enough information on the nature of this variant to fully understand its potential impact.
"We know very little about this variant right now including how transmissible it is and whether it increases severity of illness or what the impact is on the vaccine," Tam said, adding the vaccine is still the most important and effective means of protection against all strains.
"There are still approximately three million Canadians, 12 years and older, who haven't received a single dose of vaccine," Duclos said, urging Canadians to get vaccinated now.