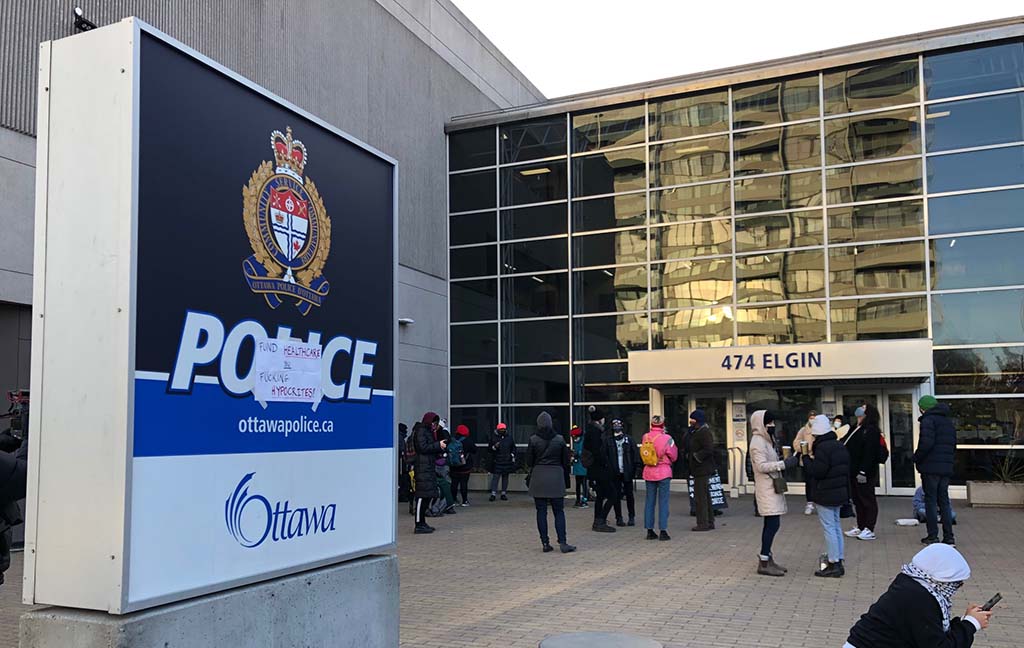 Residents gathered outside Ottawa Police Services headquarters on Tuesday evening to protest a proposed increase to the police budget.
Back in October, Catherine McKenney called for a judicial review into the city's LRT service during a virtual council meeting. At the time, the city's Confederation LRT line had been stopped in its tracks for weeks following a Sept. 19 derailment.
The Somerset councillor's push for a judicial review led to a heated debate regarding council procedure, during which Mayor Jim Watson muted Gloucester-Southgate Coun. Diane Deans' mic as she was making a point of order.
Watson later apologized to Deans, saying in a radio interview with CFRA's Leslie Roberts he had only done so to maintain "some semblance of order."
But after a move by protestors this week to block a busy downtown intersection in response to a police budget increase, Watson tweeted he welcomed "protests that are peaceful and not those that break the law," leading some to wonder if the mayor is out of touch
Less than a year remains before Ottawa residents head to the polls and cast their ballots in the October 2022 municipal election. Between the string of LRT service interruptions, increases to police funding despite demands to defund and concerns of developer influence, there is growing dissatisfaction among residents who feel their concerns are ignored by the city council.
McKenney, who says they are seriously considering a run for mayor next year, believes the discontent felt by residents stems from feeling dismissed and disregarded by the way the council conducts its business.
"People are asking for one thing and the majority of council is doing another," McKenney said.
"People are asking for real action on climate, and we're not funding that. People are asking for less developer influence and we're not doing that, the tax break to a Porsche dealership is an example. People are asking us to refund social and mental health services … and we're not doing that, we keep providing huge increases to the police budget. People are asking for better transit, put the LRT aside for a minute and just think about transit and how we move around the city. We're not doing that."
These issues, McKenney believes, will likely be top of mind for frustrated residents when next year's election day finally rolls around.
McKenney stopped short of assigning blame to any individual councillor but emphasized that the "strong mayor model" of the current council prevents elected officials from effectively responding to the concerns raised by those they represent.
By "strong mayor model," McKenney is alluding to the group of city councillors, sometimes dubbed "the Watson Club," who regularly vote in line with the mayor.
"The evidence is there, the mayor has almost 15 votes on every issue," McKenney said, adding the city would suffer if debate during council meetings is not permitted. "Once you have a process where the mayor wins every single vote, where there is a group of councillors who will always vote with [him], it does not do this city any good."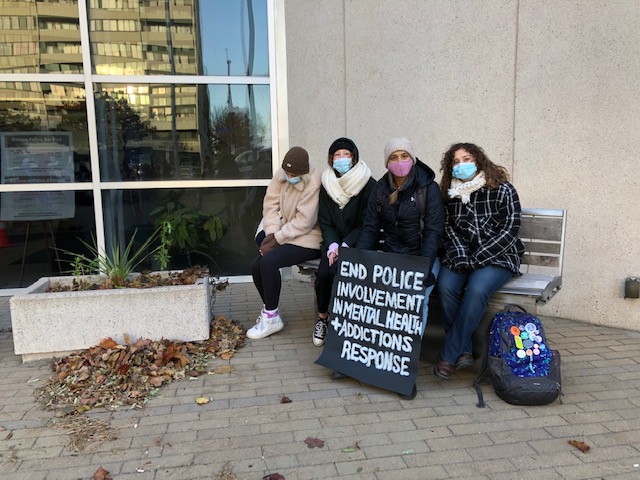 "Of course, a mayor wants to see the city evolve in his or her vision. But you must have a debate and sometimes you have to lose because no one person, no matter who you are, knows what's best for the entire city on every issue."
McKenney isn't the only councillor who has observed Ottawans' rising discontent.
On Tuesday evening, Capital Coun. Shawn Menard tweeted: "I don't think people realize the demand for change that this term of Council is creating in Ottawa. It's larger than anything I've seen in recent history, much bigger than the 2010 sentiment."
Menard was referring to the 2010 municipal elections that saw seven incumbent councillors, including then Mayor Larry O'Brien, lose their jobs following a protracted months-long transit strike. It was the same year that ushered in the Watson era.
Residents who were frustrated with the 51-day long strike – a result of OC Transpo bus drivers and city hall failing to reach an agreement on scheduling – headed to the polls and chose to elect an almost entirely new council.
The 2010 municipal election was first time since the city's amalgamation that an incumbent councillor lost their position.
Watson, who has yet to confirm whether or not he has decided to seek re-election, has dismissed speculation his decision would be impacted by recurring issues facing the city's LRT services, including the public inquiry announced by the provincial government on Nov. 17.
Should he run, he will be a force to reckon with. In the two previous elections, Watson has captured more than 70 per cent of the vote.
Rideau-Goulbourn Coun. Scott Moffatt, who was first elected in 2010, said concerns about councillors voting in line with the mayor are exaggerated.
"It's not uncommon … there are members of council who are adamantly against the mayor and don't want to be seen voting with him and there are members of council who vote alongside the mayor without ever really knowing why," said Moffatt, who has announced he will not seek a new term of council in 2022.
"But I think there's far less votes where this is the case."
Too early to predict how elections will go but some residents are adamant that change is necessary
Even though some pockets of the city's population are becoming increasingly vocal with their frustrations, it is too early to predict whether the Watson era will end in 2022.
"In some ways, people have been a bit shell shocked ever since the amalgamation of the city," said Donald Swartz, a long-time member of Free Transit Ottawa.
According to Swartz, when the eleven neighbouring municipalities amalgamated in 2001 to become the city of Ottawa, it significantly altered the composition of city council.
Swartz, who is Free Transit Ottawa's representative at the Ottawa Coalition for a People's Budget, said he believes the work community groups are doing may impact how council approaches the way it serves residents.
The coalition is made up of several community groups who joined forces to release the 2022 Alternative Municipal Budget to pressure Ottawa city council to reconsider how funding is allocated to the city's budget.
"Whether it's going to be enough to change the composition of the next council, in any significant way, is far from clear. But I think it will push us in that direction," Swartz said.
Farnaz Farhang, a member of Coalition Against More Surveillance, points to decisions made by councillors sitting on the Ottawa Police Services Board as a further example of city officials ignoring community demands.
Rideau-Rockliffe Coun. Rawlson King has said delegations who show up to Ottawa Police Services Board meetings and demand board members vote to reallocate police funding towards social services simply do not understand the division of power between municipalities and provinces.
"The type of advocacy and questions isn't suited to the Ottawa Police Services Board," said King, adding that residents should take their concerns to the provincial government, not city councillors. "The reality is we're constrained by what we can do."
But Farhang doesn't buy it. She said she believes councillors have the power to reallocate funds to community services and supports and said community organizations are determined to keep pressuring councillors to better meet the needs of residents.
"Whatever happens we'll keep pushing and we'll keep showing up and we'll keep working together," said Farhang. "It's just about keeping this pressure and momentum on them and make councillors think twice about what they're doing."
Voter turnout in municipal elections is notoriously low
But will this determination to push for change translate into votes next year?
As the municipal elections draws near, the old concerns about voter turnout will become more relevant.
Elections Canada data shows that voter turnout federally is low, especially among younger demographics, but it hit a record low of 59 per cent in 2008.
Although there was a spike in youth voter turnout in 2015, the year Prime Minister Justin Trudeau swept to power, the voting rate for younger Canadians was still more than 20 percentage points lower than that of the older 65 to 74 age group.
By 2019, the gap had widened to 25 percentage points lower.
Similar data doesn't exist to indicate the level of engagement of younger Ottawans in municipal elections, but if it did, it may tell the same story.
Which is cause for concern considering the impact local politicians can have on the day-to-day lives of residents.
Though younger residents may find the mechanisms of municipal politics opaque, difficult to understand and even alienating, McKenney stresses decisions council makes impact their lives to an extent other levels of government don't.
"I tell people all the time, 'If you're going to vote in one election, you should vote in the municipal election because what [council] can do in four years [can] change how you live.' There's nothing close to that with a member of provincial parliament or member of parliament."
Ultimately, it's in the best interest of younger Ottawans to get involved in local politics and vote, the councillor said.
"Given that we're only 11 months from an election, get involved now. Make sure to cast your vote so that we can represent you in the best way that we can."