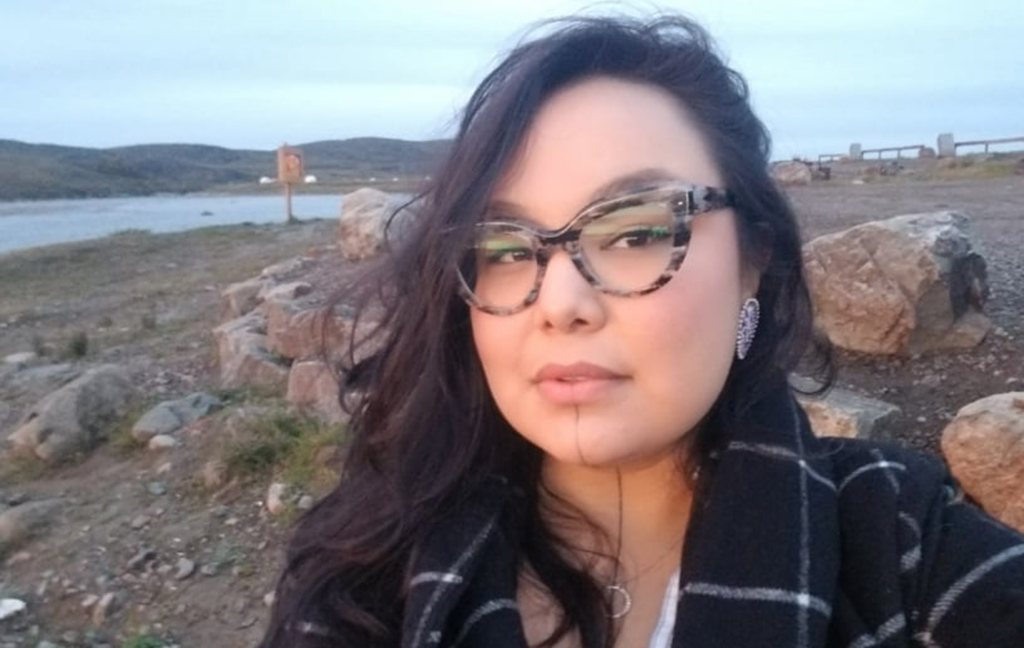 Inuk comedian Nicole Etitiq will be attending Ottawa's Crackup Comedy Festival in March 2022. Photo by Nicole Etitiq.
The first time Nicole Etitiq set foot on a comedy stage, she was 19 years old. She had just moved back to Iqaluit, Nunavut after having spent her childhood and teenage years in Ottawa. It was Halloween night and she was at an open mic with some friends. In a moment of spontaneity, she got up in front of the crowd and improvised her way through her first set.
That was seven years ago. Today, this haphazard approach has cemented itself as Etitiq's artistic process.
"I don't really like to prepare too much because then I'll start overthinking it and get stressed out," she laughed, explaining the reasoning behind her resistance to rehearsing any material. "Just telling very real stories that are relatable and embarrassing really helps."
For Etitiq, "relatable" and "embarrassing" include everything from detailed accounts of online dating in a city where she might accidentally swipe right on a cousin, to sharing her strategies for coexisting with her upstairs neighbour's very loud sex life.
"I try not to be [political] because I feel like a lot of the time it's so easy to become political," Etitiq said. "For me, stand-up is very much energy exchange. When you go up on stage you are giving people a piece of yourself and I think that's how it makes people laugh the most."
While she rejects an overtly political approach, her raw and honest use of anecdotes from her personal life indirectly tackles topics of colonialism, racism, the housing crisis and mental health.
At a time when there is increased attention and pressure on Indigenous people to educate the country's settler community about what their experiences have been, Etitiq is using the spotlight to do something radical. She is taking space to share stories about dating or picking up her Amazon-ordered vibrator at the post office. And it's being noticed.
"Having Indigenous women, women of colour, women who are at higher risk for sexual violence and at higher risk for going missing, there is an empowerment for sure, to be able to explore that," said Jenn Hayward, long-time Métis comedian and organizer in Ottawa's Indigenous comedy community.
She met Etitiq four years ago, when they did a show together, and has been watching Etitiq get comfortable in the spotlight.
Etitiq has been invited to Ottawa's Crackup Comedy Festival in March, where she will perform at the "Got Land" show alongside other Indigenous comedians from across the country. Aside from a smaller event in Nunavik before the pandemic broke out, this will be the first time she is invited to travel to share her art.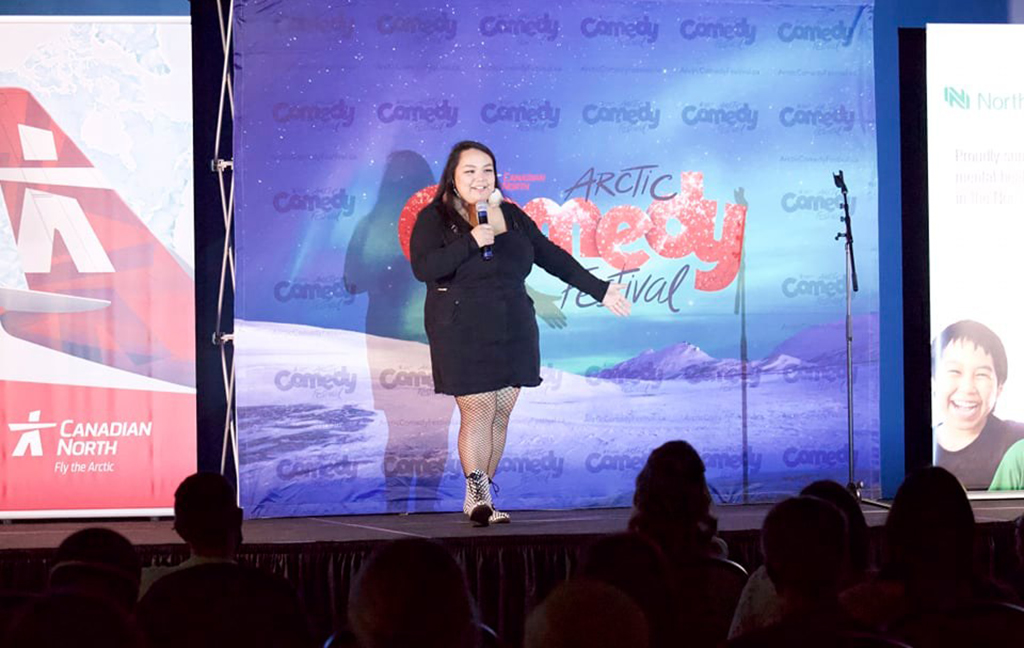 "Every comedian brings their life experience to the stage," said John Helmkay, founder and president of Crackup Comedy Festival. "To have Indigenous comedians who grew up in small communities, or in different environments than Toronto or Ottawa, it brings a different perspective."
As a 26-year-old Inuk woman dreaming of a comedy career, Etitiq has her feet in two worlds. She was born into a community where most women have at least one, if not many children, by her age, and yet she lives in a city where produce prices make avocado toasts as laughable a concept as home ownership.
Etitiq's experience as a millennial involves the difficult work of reconciling the typical anxieties around what she is going to do with her life with her Inuit culture, that prioritizes community. Weaving together the different strands of influence that shape what she wants for her future is not straightforward.
"I think that it does really feel like two different worlds," she said.
Through the week, she works as an Inuit employment analyst with the Government of Nunavut, a job that she loves. On weekends, she likes to do absolutely nothing, or as close to nothing as she can get.
This can mean lying around for hours watching TikTok videos, playing Mario Party with her friends or, when she needs a good cry, driving around town in her recently paid-off car to the tune of Adele's latest album.
Etitiq grew up in Ottawa, away from the community where she was born and where she felt most at home. Her dad moved her south when she was young in order to try to give her a better education.
"It was hard trying to understand my own identity of being Inuk and also living down south," Etitiq said, explaining that she often struggled with feeling simultaneously "not Inuk enough" for her community in the north and culturally isolated in the south.
In an interview, Etitiq explains what it was like to experience micro-aggressions and field questions about being Indigenous as she was growing up.
Etitiq used humour to process the frequent racist micro-aggressions she experienced.
"It's the only way I really knew how," she said. "My dad always jokes that I've been making myself laugh since I was a kid."
As a child, Etitiq said she instinctually turned to humour as a coping mechanism. Now, her relation to it as a tool for healing has become much more deliberate.
"I really think that being able to cry and laugh is super crucial to looking at things in a holistic way," she said. "Having people laugh, especially when we're talking about serious things, helps people feel less embarrassed about things. We're all human, doing human things."
Nicole Etitiq shares her feelings about why she chose to do a comedy show on Canada's first National Day for Truth and Reconciliation.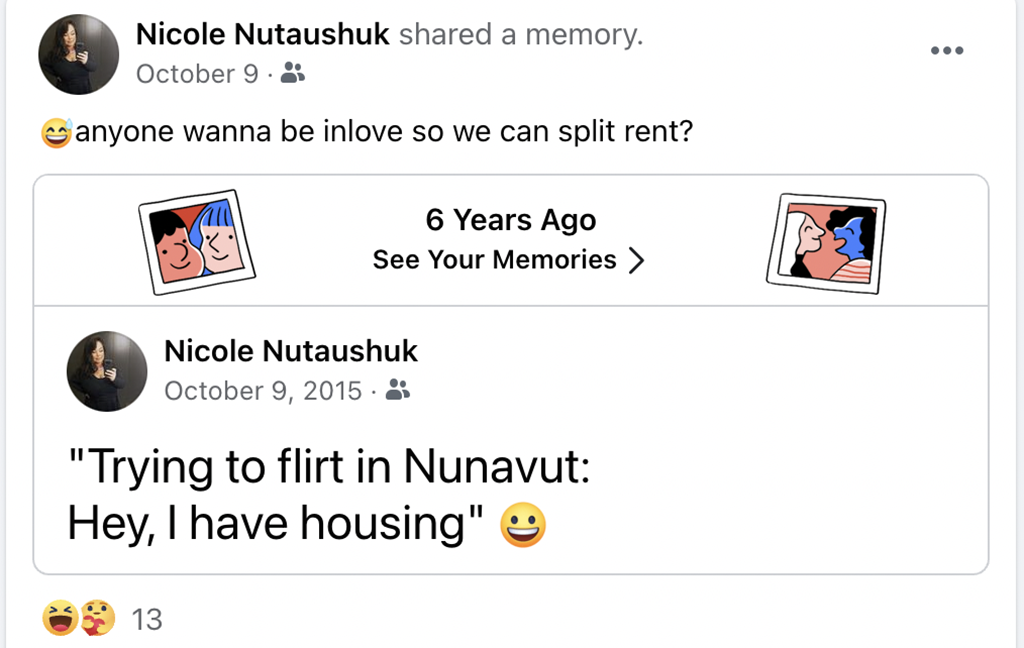 Etitiq uses her comedy to live out the Inuit societal values that were instilled in her by her parents.
"It's an everyday decision on how you interact with people," Etitiq explained. "It's about thinking outside of yourself and trying to work towards what's best for my community, my family and my friends, and also the connection to the land."
Etitiq explains why comedy has been so instrumental for her in reconnecting her with her community.
Beyond uplifting her community, Etitiq uses comedy to reconnect with herself.
"Being able to comfortably talk about sex and things that happen in my own experience as an Inuk woman, to me that's my own step towards decolonization and my own step towards reclaiming my identity as an Inuk."