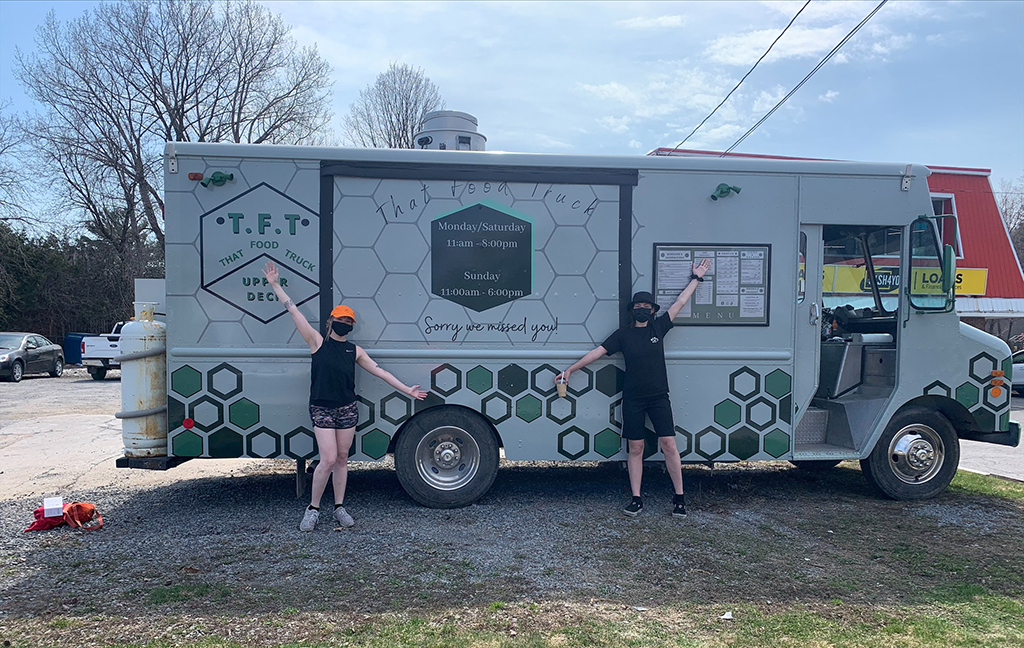 Meagan MacKenzie and Kitana Samson show off their food truck. Photo taken by Mandy MacKenzie.
In August 2020, after finishing high school, Meagan MacKenzie began working at a food truck to earn money. She found herself working alongside a friend from high school, Kitana Samson.
Fast-forward five months, and the pair were signing documents in January for their very own food truck.
MacKenzie and Samson are among some of the young entrepreneurs who seized the pandemic as an opportunity to turn their business dreams into reality.
But these endeavours are not without their challenges. Learning the financial side of business, finding a work-life balance, and the unique difficulties of working through a pandemic are among some of the hurdles these business owners have faced.
The Raging Twenties reached out to the owners of two small businesses to learn more about the challenges and opportunities that arose during their first year.
From best friends to business partners
MacKenzie and Samson, both 22, just wrapped up their first year of business along with a third partner, Owen O'Donnell.
"I've always wanted to own my own business," MacKenzie said, "But when you express that as a kid, you're kind of told: 'Slow your horses there.'"
They run their business at a permanent location on St. Joseph Boulevard in Orléans. Their truck, T.F.T That Food Truck, offers gluten-free, keto, vegan, and vegetarian food options.
With minimal business knowledge and experience, the pair found themselves on a steep learning curve to get T.F.T That Food Truck off the ground. Their former employer, turned mentor, helped guide them at the start.
"He flat out just found a truck for us and showed us what you would look for in a food truck, and what inspections you need, and then the cost behind that," Samson said.
MacKenzie recalled certain benefits of opening their business during the lockdown in April. With restrictions on indoor dining in place, their truck proved to be an accessible and safe option for people to come and pick up their orders outdoors.
They were also able to spread the word about their business early through various social media platforms. Sharing their business on the Orleans Ontario Foodie Facebook group with the group's 11,000 members helped drum up excitement for the opening and even helped them gain some regular customers.
TikTok was another platform that came in handy, giving them an opportunity to show the human side of setting up a business.
"It's been fun for us to be able to document the process and show people like, not just the food and advertise it, but show the process of starting a business especially in 2021 when it was a bit more challenging," MacKenzie said.
"It shows the transparency, we're real people, and you know it's tough work," Samson said. "And we wanted to show people that, because sugar-coating it sometimes isn't the best way to go."
The duo experienced long waits for permits, found themselves ordering pieces of equipment for the truck without seeing them in person, and had their opening pushed back a few weeks due to delays related to COVID-19 regulations. Despite the challenges, they have found the experience rewarding.
"I've always enjoyed cooking. I mean, there are days where I didn't want to be cooking in that truck," MacKenzie said in a Zoom interview in November. "But the fact that I could spend most of my days doing what I liked with my best friend was just so great."
"Basically, it was a healthy work environment," Samson added. "So many places you work are toxic, and they affect you in your personal life. The truck, during the summer season, it is our life every day. So, it's just nice to have a place to go where you enjoy."
In the future, they hope to expand their business to include catering services.
"We want to be able to eventually invest in a second truck that's just for catering, like weddings, events, concerts, anything like that," MacKenzie said. "It seems like something we're very interested in doing. We're gonna give it a try next year."
From hobby to career
Lydia Hanna, 23, followed a different path when she started her crochet business, Crocheting Giraffe, in May 2021. For the most part, she runs her business solo, with some help from her husband to oversee the financial side.
Hanna runs her shop online but said most of her sales are done across several Ottawa markets where she tours as a vendor.
"I didn't really decide to start a small business," Hanna said. "It kind of just happened. I wanted to do something that I love, and I just decided to make the Instagram account. Just seeing how supportive everyone was, I just kept going with it, and then it turned into doing markets, and now it's my small business."
Social media marketing is a significant part of how she runs her business, but Hanna said it is also very demanding.
"It is really hard to reach people because each day it's basically 24/7. Like I'm sharing people's posts, I'm interacting with as many people as I can," Hanna said.
Hanna devotes a large part of her time to growing Crocheting Giraffe's online presence especially on Instagram where she shares behind the scenes updates to her following of 4,000 people. She also posts photos of her creations, with some recent highlights including hats, pumpkins, dog accessories and even the occasional crocheted Batman.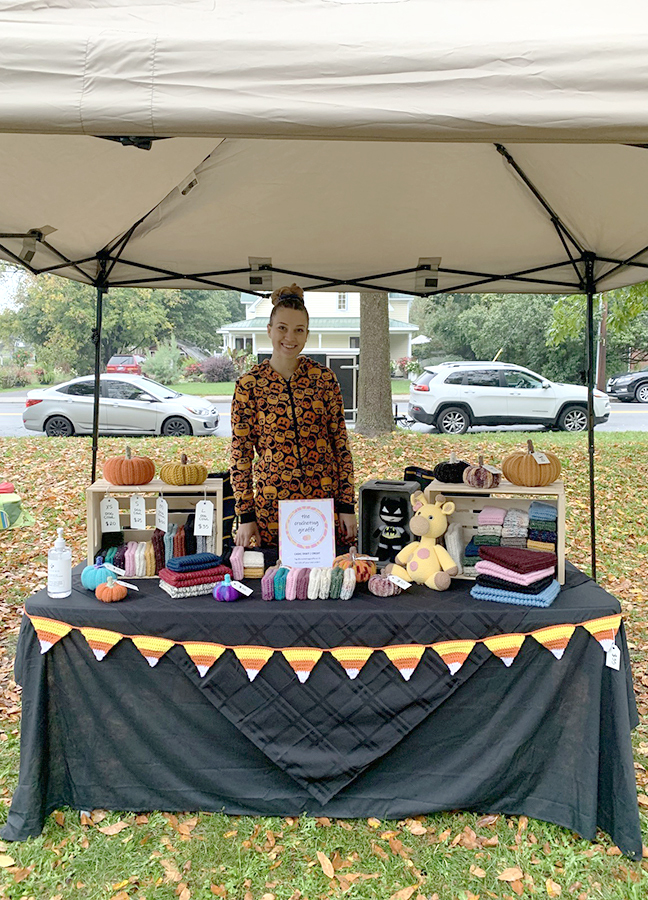 Hanna said that time management and finding a work-life balance are some struggles she deals with as a small business owner. She found sticking to her own schedule and transitioning her hobby into a business a particular challenge.
"At first, I thought it would be super fun, you know, like I'm gonna love it. And I do love it. But I did kind of struggle. It's hard to balance your time too, have your time away," Hanna said, adding that in the end it's all about time management.
Aside from selling her creations, she has also considered writing and selling her own crochet patterns, so customers would be able to make the crafts for themselves.
"I can have people from around the world messaging me for help with crochet stuff, which is really cool. … Maybe that's something I'll be able to do next year," Hanna said.
Small business owners remain optimistic
Isaac Kinsella, a policy analyst at the Canadian Federation of Independent Business, finds that small business owners are usually an optimistic bunch. The pandemic, however, might have changed that.
"[Due to] the current state of things, a lot of what's been going on is the optimism has been dropping over time," he said.
The COVID-19 pandemic, the labour shortage across the country and the debt that small businesses may have accumulated are factors that Kinsella said may be adding to the drop in optimism.
According to Kinsella, small businesses are also more likely to feel the effects of certain fees or costs compared to larger businesses which are able to absorb the financial hit due to their size.
"For businesses that are already pushed to the brink a little bit, additional changes or additional taxes and things like that aren't welcome at this time," Kinsella said.
According to a CFIB survey from November 2021, 43 per cent of small businesses in Canada are fully staffed and only 36 per cent are making normal sales.
"When you're only making a fraction of your potential normal sales at any given time, any extra [financial] burden on top of that is really going to be felt," Kinsella said.
Government subsidies over the pandemic worked well to give some businesses the cushion they needed to stay afloat. However, programs such as the Canada Emergency Business Account have since been replaced with new ones like the Hardest-Hit Business Recovery Program, which offers rent and wage support for businesses with at least a 50 per cent loss of monthly revenue.
Twice a year, Statistics Canada releases Canadian Business Counts, with employees. This data shows the number of businesses, by number of employees, for December of each year. The 2021 data is based on the June report.
Kinsella also spoke to the importance of small businesses within Canada's economy. According to Statistics Canada, small businesses employed 9.7 million individuals in Canada in 2020, which is around 64 per cent of the total labour force.
"And so, throughout the pandemic, I think what it's done is we've had a little bit of an awakening to see how important that small businesses are, not only just to local communities, but also just the Canadian business economy as a whole," Kinsella said.
Regardless of the challenges, small business owners remain hopeful and resilient. "It's a lot of work, and it's exhausting in every sense, mentally and physically," Samson said. "But at the end of the day, I can look in the mirror and feel rewarded for what I've accomplished."
To learn more about side hustles and women entrepreneurs, check out Rukhsar Ali's article, From passion to side hustle: How women entrepreneurs are building their dream careers on the side.