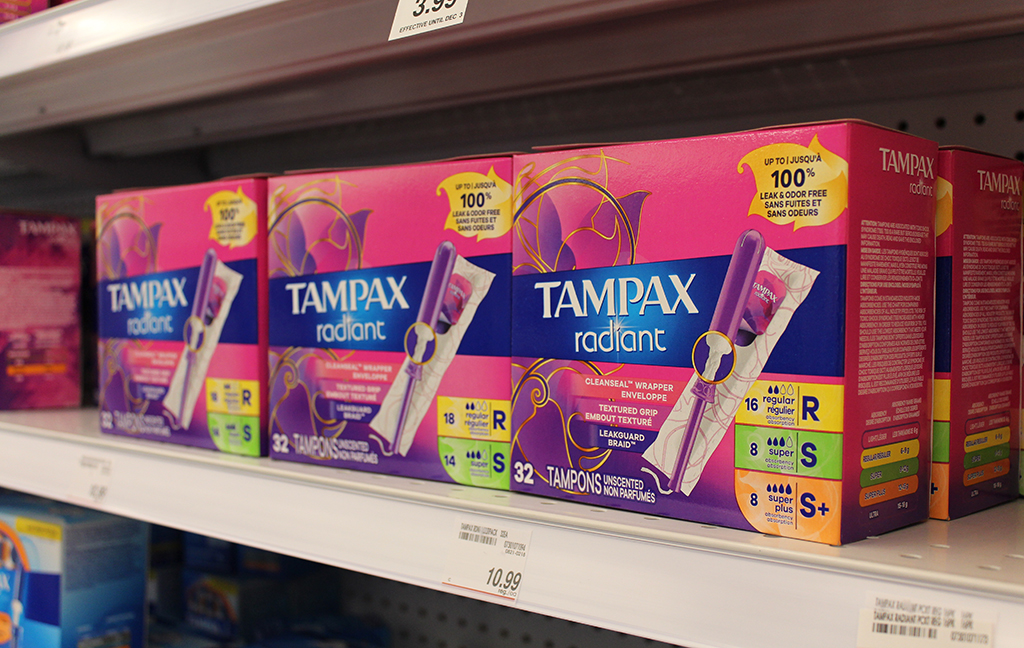 A partnership between the Ontario government and Shoppers Drug Mart to supply Ontario schools with free menstrual products has sparked controversy among period equity organizations. Photo by Lilian Fridfinnson.
When the Ontario government announced its partnership with Shoppers Drug Mart to provide free menstrual products to schools across the province in early October, organizations who have spent years working to address period poverty claimed victory.
"It was a huge win," said Tait Gamble, lead volunteer with The Period Purse, a Toronto-based organization working to ensure people who menstruate have safe, healthy and dignified periods by providing access to free menstrual products.
But the triumph was short-lived. Upon taking a closer look at the details of the plan, its limited and exclusionary nature became apparent.
On its surface, Ontario's plan to provide menstrual products in schools looks like a meaningful step to address period poverty. But period equity organizations say the program fails to appreciate the true extent of period poverty and excludes vulnerable populations.
"This program was designed to not actually meet the need," said Meghan White, co-founder and executive director of Ottawa-based Period Packs. "There's simply not enough product being offered."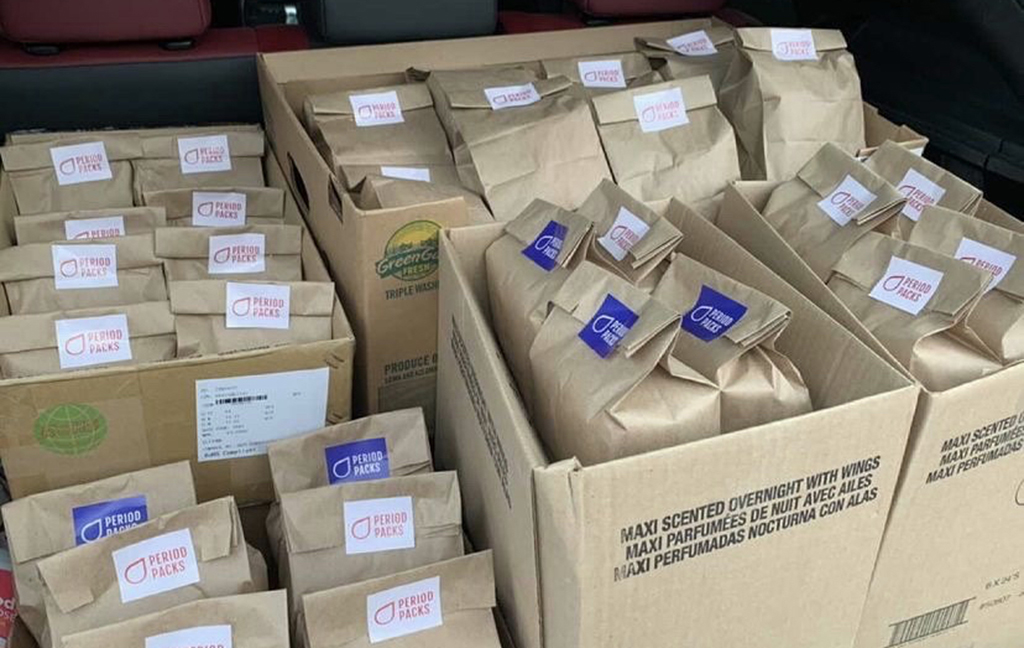 According to White, the 18 million pads donated over three years will only equate to six pads per menstruator per year and the 1,200 dispensers promised means roughly one for every four schools.
The long-term viability of the deal raises alarm bells for White, as the partnership does not require any financial commitment by the province.
"The partnership with Shoppers Drug Mart is very peculiar. Those are all donated products. They've come at no expense to the province, although the way they've explained it, you wouldn't know that," she said.
Veronica Brown, founder of Moon Time Sisters' Ontario chapter, which supplies menstrual products to northern communities in Quebec, Nunavut and Ontario, shared in this skepticism.
"Although it's a start, it is a private/public corporation partnership … there's obviously a money trail going somewhere that is not transparent," Brown said.
Another pressing concern for period equity organizations is the province's exclusion of First Nations schools.
"I read the article and I was like 'Wow! OK, this is great, but is it including Indigenous communities?,'" Brown said. "Is this going to on-reserve high schools? No, it's not."
"Ninety-eight per cent of our communities are fly-in. The focus is on those without access to stores and products," Brown said. "It's really just one store called Northmart … they really drive the prices cause there's no competition."
"It's big companies profiting off a bodily function"
This monopoly on period products in northern communities means prices for these necessities are often more than double the cost of menstrual products in urban communities —illustrating a very serious gap in equitable access.
"A box of tampons can range from $16 to $45, leaving people to choose between these products or food security," Kiiwetinoong MPP Sol Mamakwa said in October in Queen's Park after the government announced its plan.
Mamakwa, a New Democrat MPP, has been outspoken about his disproval toward the deal between the Ontario government and Shoppers Drug Mart for dividing provincial and First Nations schools.
"Why is this government discriminating against First Nations schools?," he asked.
The exclusion of Indigenous youth from this plan speaks to a wider issue of inequity and the long-standing conflict among various levels of government regarding who is responsible for funding First Nations community services.
"This is for the federal government to speak to, as First Nation schools fall under their jurisdiction," said Caitlin Clark, spokesperson for Education Minister Stephen Lecce. "First Nation schools are not under the purview of the Ministry of Education."
But Davenport MPP Marit Stiles, also a New Democrat, said access to menstrual supplies "should not be a jurisdictional game."
"Just pony up and cover the cost of it. It's a very simple thing and it has very immediate impacts on children and youth's access to education."
"If you get your period and can't afford period supplies, you're probably not going to school."
Stiles first called for free menstrual products to be made available in school washrooms in 2019 but was met with a lack of urgency toward the issue of period poverty, which was disappointing given the prevalence and impacts of this issue.
Data from UNICEF and Plan International Canada. Visual by Lilian Fridfinnson.
Following backlash to the provincial program's exclusion of First Nations schools, Minister of Indigenous Services Patty Hajdu issued a statement and tweet last month suggesting Fist Nations schools across Canada can expect free menstrual products "in the coming weeks."
Despite this encouraging pledge, no further information about precisely when First Nations students can expect these supplies has been released, nor has information about whether Inuit and Métis communities will be included in the plan.
Where government lagged, non-profit organizations led
Meeting immediate community needs is a "top priority" for Period Packs, White says.
"We service about 450 people a month in the Ottawa area by providing them with enough menstrual products to manage their cycle safely and with dignity," she said.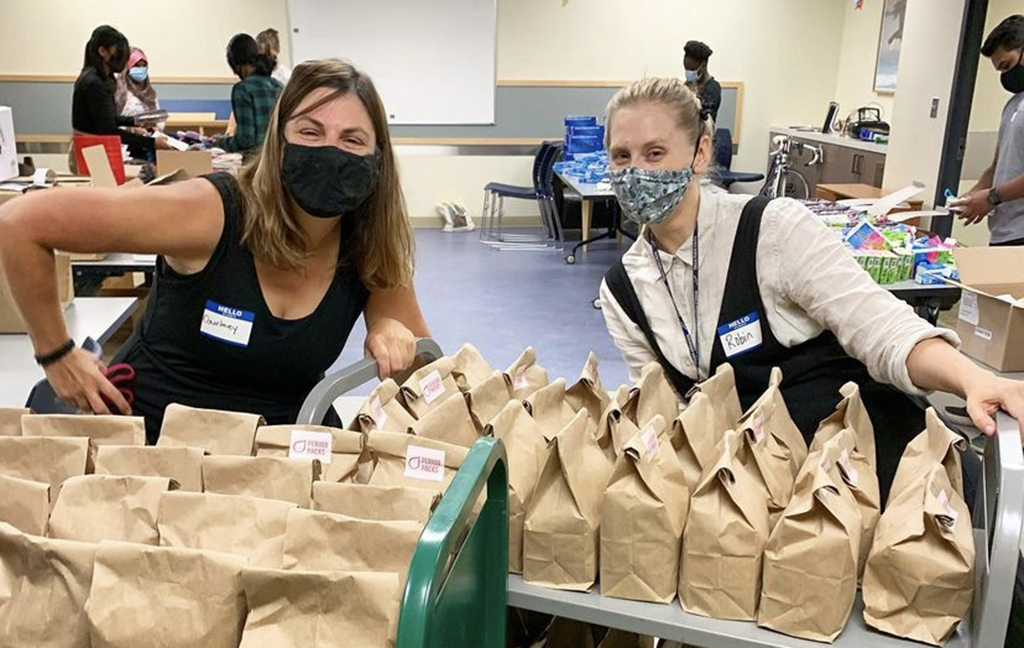 Despite Period Packs' advocacy for period equity and work toward policy reform, the organization was insulted by the province's plan to provide menstrual products in schools due to a lack of consultation with grassroots organizations who have been tackling period poverty for years.
"We were all really taken aback," White said. "Nobody working in this sphere was brought into the conversation. That's really reflected in how ineffective this program is bound to be."
"They looked at some reports and came up with high-level answers to a complex, intricate, serious community issue and didn't take the reality or peoples' lived experience into account, which was wildly disappointing."
This "lived experience," for many individuals facing period poverty, looks like finding alternate ways to manage one's cycle, particularly in situations where budgetary sacrifices are necessary to afford menstrual products.
"I've heard of people using sponges or rags," Gamble said. "If you're facing homelessness or financial insecurity and you're forced to make a choice between food or period products, period products come second."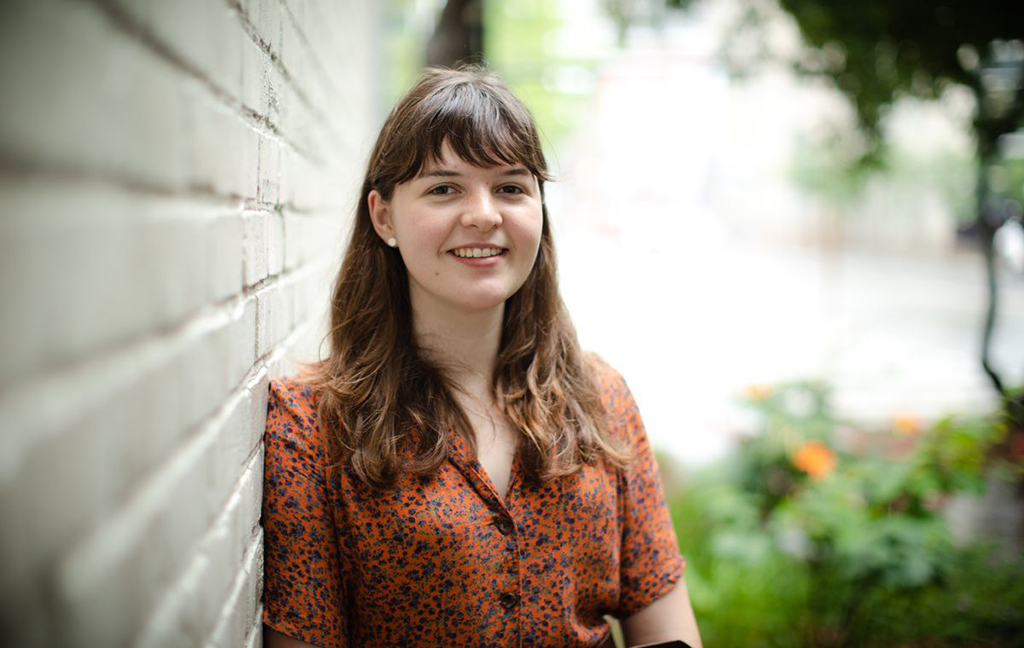 For McGill University medical students Jiayin Huang and Owen Dan Luo, period poverty is much more than not being able to afford tampons. Lack of access to hygienic products is a health risk.
"We've seen examples of patients utilizing dirty fabrics … this increases risk for a series of infections," Dan Luo said.
"If people start using alternative products that are less sanitary, there is an increase in urinary tract infections, as well as bacterial vaginosis," Huang added.
Another practice associated with period poverty involves using a tampon for longer than it's intended, which can cause a deadly infection called toxic shock syndrome
"There has been some documentation of individuals with period poverty experiencing toxic shock syndrome," Dan Luo said.
Despite the serious physical health implications of period poverty, this type of marginalization also has mental health impacts.
"There's quite a bit of research that demonstrates people experiencing period poverty are more likely to have signs of clinical depression and clinical anxiety," Dan Luo said. "A lot of it comes down to stigma, and we don't do a great job of addressing it."
Period stigma is pervasive, particularly among school-aged menstruators, according to Stiles.
"There's a lot of shame," she said. "It has a big impact on participation of youth and children in schools."
Stigma and shame associated with menstruation will likely not be mitigated by the current program, as the partnership only involves supplying products to high schools, Gamble said.
"Most people get their period between 11 and 13, so only having them in high schools … it's not going to be sufficient," she said.
Brown – who has spoken against the provincial government and this narrow attempt at period equity – shares the dissatisfaction.
"It's just not enough, so they don't get a pat on the back."